Students recognize Pres. Thomas' unique accessibility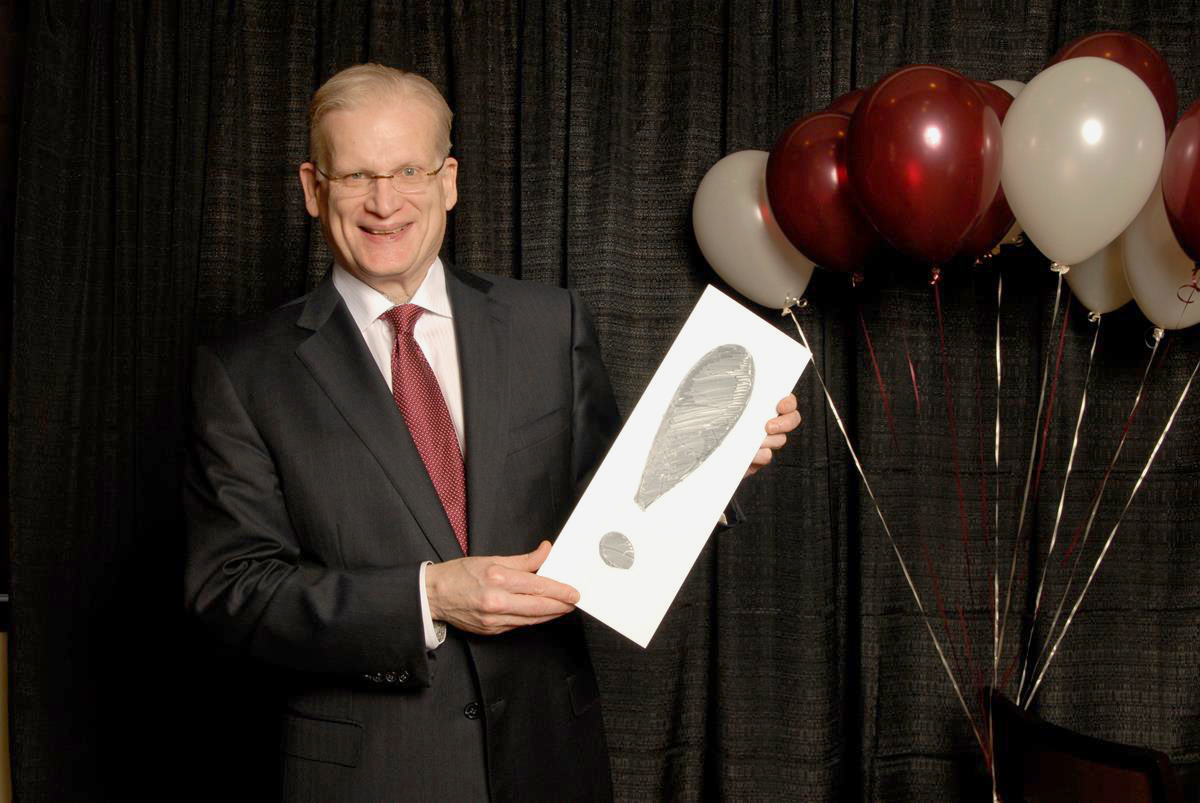 It's no secret that the president of our university is quite the campus celebrity. President Ronald Thomas has achieved almost mythological status here at Puget Sound, inspiring memes, Facebook pages and Twitter accounts. Students literally sprint to sign up for the Fireside Dinners and other events hosted at his home, eager to check off another item on their college bucket lists.
Not only is President Thomas a widely renowned scholar and an accomplished author, but he can walk by many students and greet them by name. On very few campuses does the university president make such an effort to establish personal connections with students, from holding weekly office hours in Diversions to guest hosting a KUPS radio show or two.
Students from larger institutions are often surprised at the affinity we feel for "Ron Thom," as he is affectionately known to students and faculty alike. A student from UC Davis describes her interactions with Chancellor Linda Katehi as limited to annual public service emails.
"I know nothing about Katehi as an individual, only as a figurehead," the student said.
Another student from UC Berkeley conveys a similar sentiment regarding Chancellor Robert Birgeneau, whom she has seen on campus several times but doesn't know personally (and doesn't know of anyone who does).
Ironically, President Thomas was on the road when I first contacted his office regarding this article. I was encouraged to reach out via email, and sent a few brief questions, fully expecting that his busy schedule would likely not permit a response.
By the next morning, however, I had received a reply with thoughtful answers to all of my questions, along with the regret that we could not meet in person.
Grace Heerman '13, a writer for the Tacoma-based online magazine Post Defiance, had a similar experience when interviewing President Thomas.
"Meeting the president of my university was a great honor … It made me feel like I was valued within the campus community, and that I had something worthwhile to contribute. Every student should feel that way, and in my experience, President Thomas is committed to making that the case," Heerman said.
President Thomas started his career as a college professor, teaching for more than 20 years at University of Chicago, Harvard and Trinity College before coming to Puget Sound. He admits that while he loves his job, he misses being a full-time faculty member.
"When I became president at Puget Sound, I wanted to create as many opportunities to stay connected with students as I coul— find I always learn from students," Thomas said.
This would be no easy feat for the president of any university. Not only does President Thomas have a full schedule of meetings on everything from student recruitment to campus construction, he also represents the University to the community at large and  serves on two national boards of higher education.
In fact, he is currently attending a meeting for one of these boards seeking to influence public policy in support of students at independent colleges. "All this can easily absorb all my time if I let it—which is why I schedule in as many opportunities to be with students as I can," Thomas said.
I asked President Thomas how his concentrated efforts to foster personal connections affect the campus community. "The first effect … is on me. They remind me what is most important about Puget Sound, the reason we do everything we do—our students."
Thomas values any opportunity to view the
University through the perspective of the student, and is consistently inspired by the energy, creativity and ambition of the student body.
"I hope these encounters might have the effect of strengthening the sense that we really are a community… all working together for a common goal." His weekly café hours at Diversions are a prime example, which he hopes demonstrate his approachability as president.
He doesn't take all the credit for his reknowned Fireside Dinners, however. That tradition was started by President Phibbs in the 1970s, and President Thomas and his wife Mary have simply continued the tradition, adding a few personal touches to the event.
They also hold a lecture series and frequent receptions at their home to celebrate the many achievements of distinguished Puget Sound students, such as Phi Beta Kappa inductees, leaders of the Greek community and varsity athletes.
The effect? "I hope they all convey that we notice and admire our students' achievements and commitment to the University," Thomas said. "They keep me grounded in our true mission—our students—and they give me the pleasure of being around exciting and smart young people. It's the best part of my job."
It would be easy to argue that we choose to attend a liberal arts institution precisely for this level of accessibility to faculty and staff. But I don't think the size of our campus has everything to do with it, and neither does President Thomas.
"Puget Sound is a uniquely wonderful place where the sense of community and collaboration is in our DNA," Thomas said. He admits that the smaller size helps, but that even at Trinity College, where he and Mary held similar events during his time as acting president, the result was not the same as it is at Puget Sound.
"Nowhere have we seen people like those at Puget Sound, who are so different from each other and yet so capable of coming together … This quality is, in my experience, unique to this campus and is a very precious asset."
When asked if any experience with a student has particularly stood out, it is understandable that he couldn't choose just one. President Thomas recalled the house being evacuated during a fireside dinner due to a stuck flue, and a student from Iran who brought them beautifully embroidered handmade pillow cases (which are on their sofa today).
He was especially impressed, however, by one senior who shared his resolution of having coffee with 75 people he had never met before graduating. "To me, this story sums up what is special about Puget Sound, and why we love being accessible to each other on this campus. I just wish we had time for many more such experiences with our students."
When Board Chair William T. Weyerhaeuser announced President Thomas' appointment in 2003 he said, "Ron Thomas is an outstanding choice to lead Puget Sound at this time in the school's history." A decade later, President Thomas has more than lived up to this statement, not only in his success as an administrator but as arguably one of the University's most beloved presidents.