Francis Fukuyama inspires students at lecture, dinner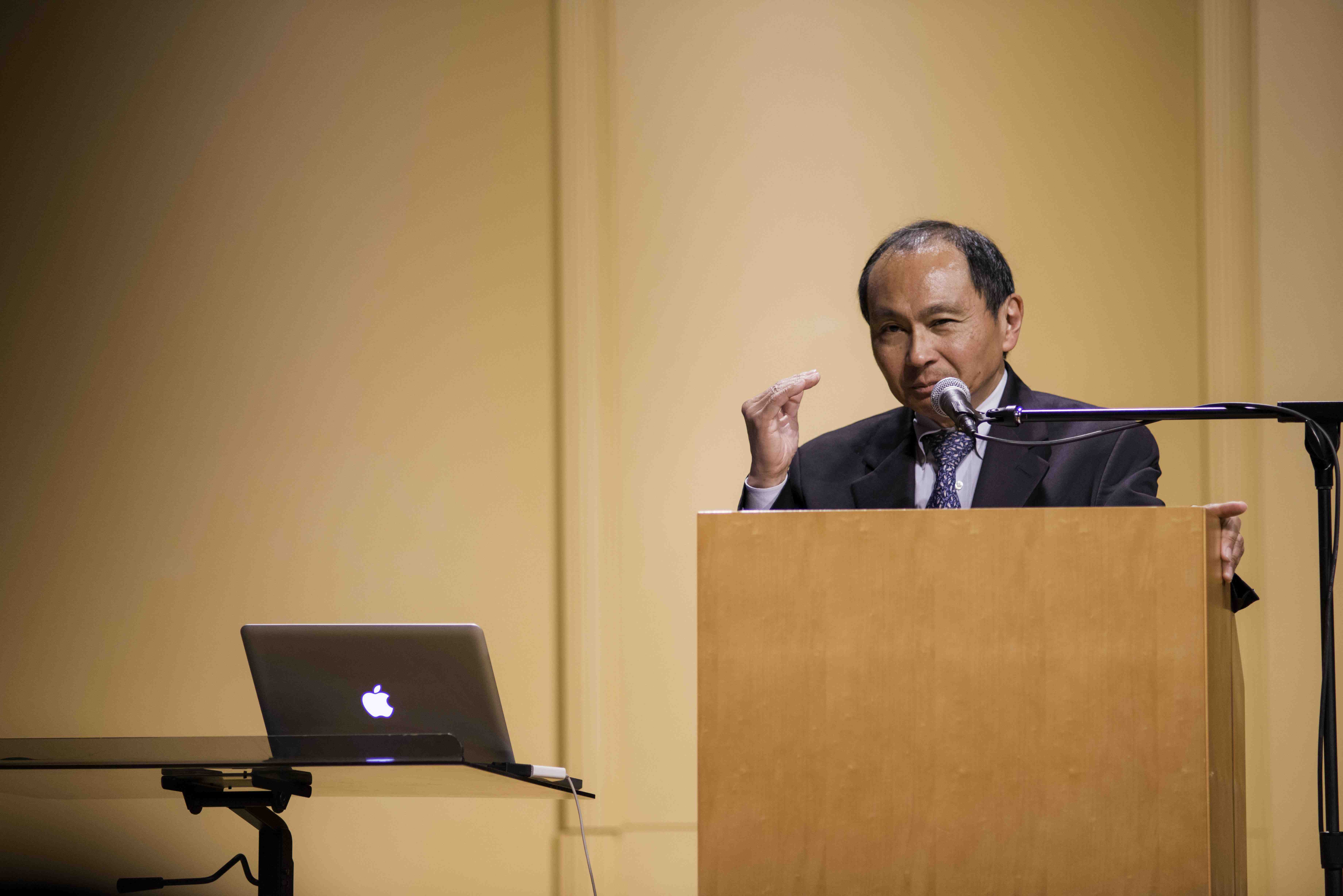 On Wednesday, April 3 Professor Doug Sackman introduced this year's guest for the Brown and Haley lecture series as a "one-man interdisciplinary force who can range over the word's societies, histories and cultures quite elegantly." This assessment was no exaggeration.
Over the course of two lectures, Francis Fukuyama evaluated the emergence of political order and covered essentially all of human history from tribal societies to the present day.
On Tuesday, April 2, Fukuyama focused on his most recent book, The Origins of Political Order, which The Wall Street Journal described as "a sweeping survey that tries to explain why human beings act as they do in the political sphere … magisterial in its learning and admirably immodest in its ambition."
On Wednesday, Fukuyama spoke publicly for the first time on his upcoming book, which evaluates the emergence of the modern state. Fukuyama's knowledge and extensive research spanned the world, and in the restricted time of his lecture, he spoke about Greece, Italy, Germany and the United States and obviously had much more to say about each of them.
Fukuyama's works have been required reading in politics and government classes at Puget Sound, so these lectures offered many students the opportunity to see and interact with the man behind a familiar and influential voice in their studies.
The campus community received  Fukuyama with a general sense of reverence and awe. Schneebeck Concert Hall was exceptionally well-attended on the first night and full on the second, a testament to his success as a speaker.
In 1953, the Brown and Haley company (most well known for producing Almond Roca candy) started the Brown and Haley Lecture Series, the first endowed lecture series at Puget Sound. The vision of the series is to bring in distinguished scholars to speak about vital or urgent issues from a social science or humanities perspective.
In the past, speakers like John Kenneth Galbraith, Henry Nash Smith, and others from diverse backgrounds and areas of study have come to Puget Sound via the Brown and Haley Lecture Series.
Sackman, a professor in the history department and a member of the Brown and Haley Lecture Series committee, said that Fukuyama was invited to speak because "He certainly has the credentials and is one of the major public intellectuals of our day … He's kind of a big thinker."
Fukuyama is the author of nine influential books covering all aspects of politics in several countries and dozens more articles. Currently, he is the Olivier Nomellini Senior Fellow at the Freeman Spoglie Institute for International Studies at Stanford University, and in the past he has held positions at Paul H. Nitze School of Advanced International Studies at Johns Hopkins University and at George Mason University of Virginia.
Before the lecture on Tuesday, students from the senior seminar in comparative politics were given the opportunity to have dinner with Fukuyama and talk to him about their thesis topics. Leah Kennebeck said that this experience was one of her favorites at Puget Sound.
"For how well-known and intelligent Professor Fukuyama is, he was a humble individual and incredibly easy to talk to," she said. He offered two pieces of advice to these seniors about to be released into the "real world": He advised working for the government at some point, whether in politics or academia, and not to do anything without having a moral reason behind it.
"Fukuyama offered up the idea that nothing is worth doing unless you fundamentally believe it should be changed and to do so with moral reason," Kennebeck said. "He believes a lot of people in politics and academia get caught up with the methodology of what they're doing instead of why they are doing it."
Although students were at first a little intimidated, especially because they were sitting amongst their professors and a figure so prominent in their area of study, the atmosphere of the dinner became more relaxed as the dinner went on, and Fukuyama offered feedback for each student at the table.
"I feel incredibly lucky to have been able to interact with Professor Fukuyama on such a personal level, especially after reading and studying his work for the majority of my years at Puget Sound," Kennebeck said.
Tags :
Brown and Haley Lecture Series
Doug Sackman
Francis Fukuyama