Coley reminds students not to write off passions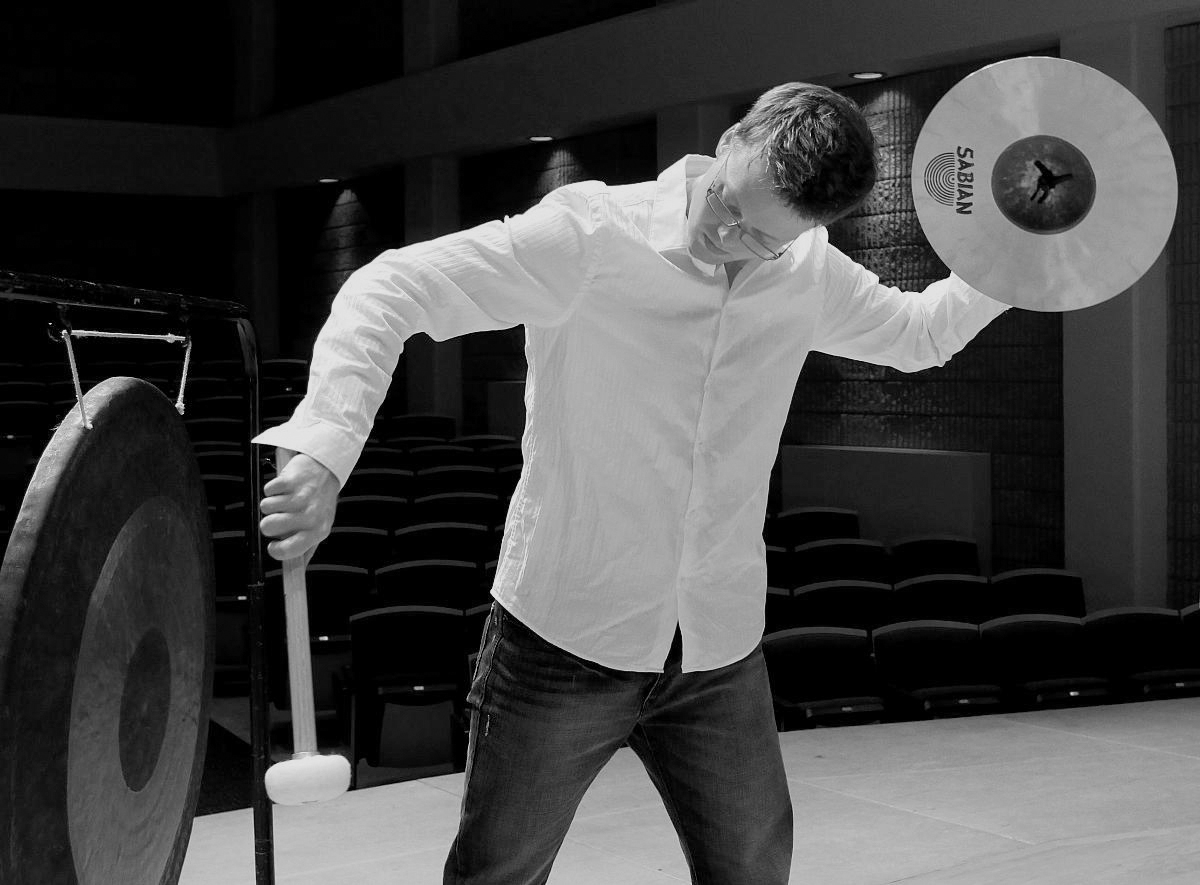 As part of National Entrepreneurship Week, Matthew Coley presented his experiences of creating a career from his passion for music in his talk The New Music Business: DIY and Etch Out a Career. Coley, a percussion soloist and composer as well as lecturer for Iowa State University, gave his talk in the Murray Boardroom of the Wheelock Student Center on Tuesday, Feb. 19.
Coley began by talking about his experience after receiving his Masters in Music from Northwestern University, and how as a student he couldn't help but ask himself, "Why am I doing all of this?"
Like many other graduates, Coley knew that a career in the arts is difficult to come by these days, but eventually he took up a side job as a modern dancer along with teaching music lessons.
"I had sort of an interest in movement," Coley said, speaking about his interest in dancing.
He also related this to playing percussion instruments, which involves "moving around the instruments to control sound and control energy."
Eventually, Coley went on to perform as a solo percussionist in many competitions and received prestigious awards, such as the 1999 Yamaha Young Performing Artist award.
He also performed with many percussion ensembles at the University of North Texas and Northwestern University, along with other collegiate collaborations.
Coley is also the founding artistic director of Sonic Inertia, a contemporary ensemble mainly dealing in the areas of dance and electronic music.
In fact, he has worked on a variety of different projects, including a collaboration with composer Andrew Ardizzoia. Coley and Ardizzoia offered a panel discussion on Feb. 20 in which they talked about their art.
Throughout his own talk, Coley offered various pieces of advice on how to become successful in a career that you're passionate about. He emphasized the fact that a career in the arts, at least a successful one, sometimes needs to start from scratch.
"I really like to have a hands-on approach to my career," Coley said, "and to have control over what I do."
"You have to take a lot of it into your own hands and do it yourself," he went on, and this passion to go out and discover new ideas is probably much of the reason why Coley has become involved in so many different projects.
"If I wanted to do all those things, all I had to do was look around me," Coley said.
While it's easy to see how trying to "move up in the business" can seem single-mindedly selfish, Coley points out the importance of helping others become successful as well, saying that he "look[s] for really unique collaborations, that benefit more than just me and my career."
Of course, as important as it is to seize opportunities as they come, Coley added that he "learned restraint in marketing myself."
"If you don't use some restraint," he said, "it's going to seem a little overbearing to the public."
Coley also spoke specifically about the music business, including how—or rather, whether—universities prepare students for developing careers from their musical passions.
"The great music schools focus on a very small part of music careers," Coley said. "We have to learn the business of it."
With this argument, it's no surprise that many college graduates, including Coley himself, enter the so-called "real world" with little to no idea about how to start their careers, especially those graduates with degrees in the arts.
In the development of his own career, Coley was very interested in modernism and technology as well as percussion, resulting in very innovative music techniques, such as playing a xylophone made of roofing slate.
"I wanted to bridge that world into the world of music," Coley said.
The idea of the music business may seem off-putting to some at first, as the name seems to indicate the use of art to gain money rather than art for art's sake.
However, Coley entreats future business-savvy students that "first and foremost, you must play your instrument."
The notion of creating a steady career from something that society views as impractical seems romantic and far-fetched, especially in today's economy, but Coley and many others like himself have managed to do just that.
As a liberal arts university, especially one with such an extensive music department, it's important for us students not to write off our passions as unimportant, and to know that we are not all doomed to a life in a cubicle. Matthew Coley's talk was a refreshing reminder of this fact.
To learn more about Matthew Coley, visit http://www.hearmatthewcoley.com/.
PHOTO COURTESY / HEARMATTHEWCOLEY.COM
Tags :
Matthew Coley
music business
National entrepreneurship week