Backpacks of Hope helps local hungry children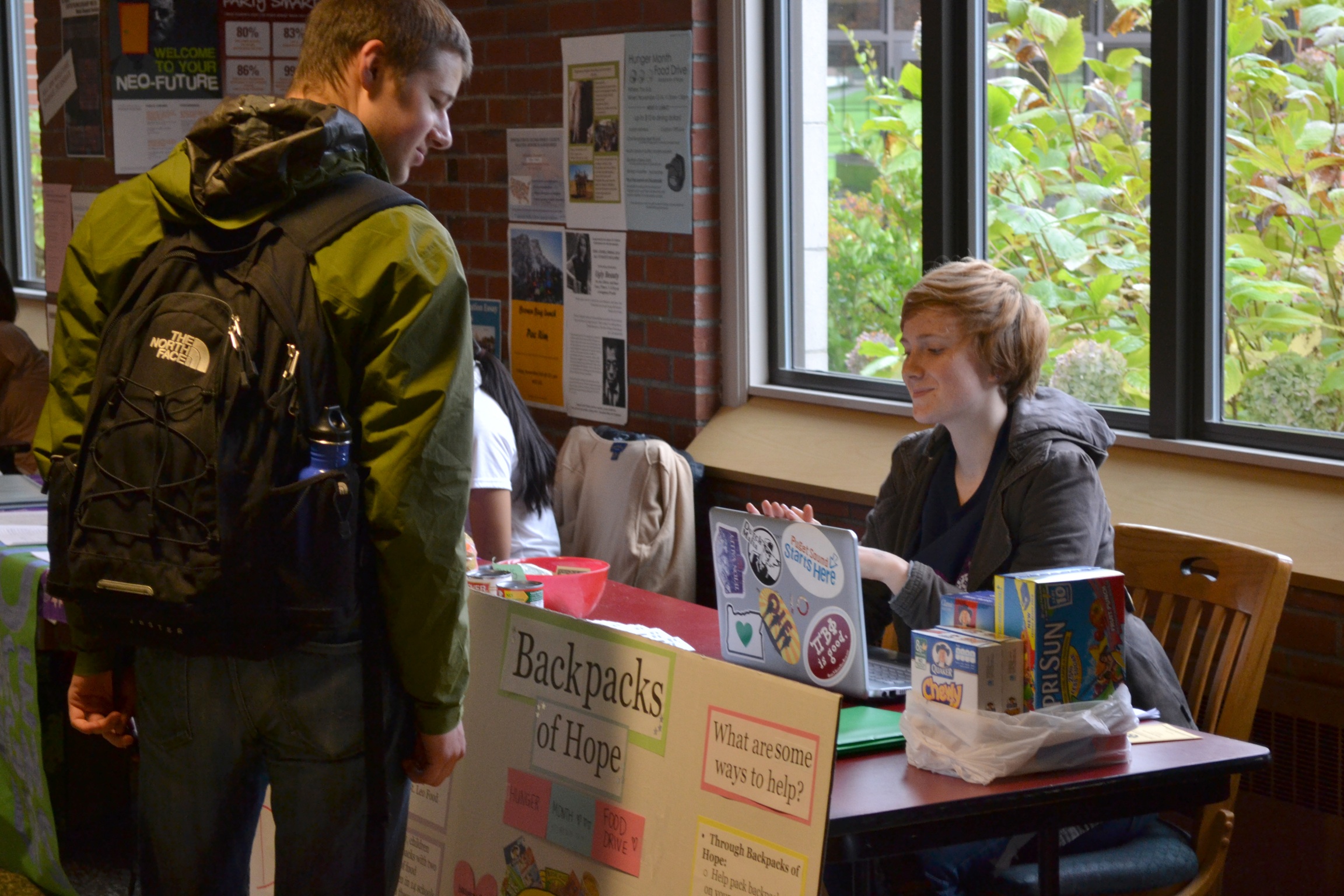 So here we are in the holiday season, a time of fuzzy feelings, Frank Sinatra, giving and receiving. Giving takes different forms for different people, but for student Jasmine Kaneshiro, giving manifests itself in service.
"My passion for community service has definitely grown since my freshman year at Puget Sound. It's so important to me because I have been given a lot that I don't deserve," Kaneshiro said. "For me, since I have been given so much, I must give back."
As this year's Hurley Community Service Scholar and the founder of Backpacks of Hope at Puget Sound, Kaneshiro is taking the opportunity to give back. She used the funding from the scholarship in combination with her own passion to start Backpacks of Hope in conjunction with St. Leo's Food Connection, which provides bags of food for children in Tacoma public schools who have been identified as at-risk for hunger.
"These children may not otherwise be able to eat over the weekend," Kaneshiro said. "This project aims to empower Puget Sound students, faculty and staff to help fight childhood hunger in Tacoma."
Though Backpacks of Hope originally collected backpacks, Kaneshiro said that it has evolved to focus more on collecting food and money, which are more pressing needs for the Tacoma community.
Backpacks of Hope has been proactive in involving the campus community and providing a variety of ways to give. This semester, Kaneshiro organized a food drive at Log Jam, held a hunger month food drive in November and sends two groups of students weekly to help pack bags of food with St. Leo Food Connection. A number of student organizations (Sigma Chi, Sigma Alpha Iota, Justice and Service in Tacoma, Lighthouse, Gamma Phi Beta) have helped to pack bags of food.
Senior Rebecca Short has been volunteering with St. Leo's since her freshman year, and when she heard that Backpacks of Hope was a direct connection between campus and St. Leo's, she was "ecstatic."
"Other students should become involved with Backpacks because it's a small time commitment with a big reward. The jobs are simple, and it's great to get to know your fellow volunteers and their unique intersections with volunteer work in the local Tacoma area," Short said.
If students are too bogged down in work and activities to go and pack food bags, Kaneshiro encourages them to donate if they can.
"Regarding the food drives, though it may not seem like donating some packets of instant oatmeal can really make a difference, in reality, that oatmeal is sustaining a child throughout the morning and helping them focus. The oatmeal helps take care of a child's hunger, so they can concentrate on other things," she said. During the latest food drive, students could donate a number of ways, including donating Dining Dollars and library fines.
"I've had a wonderful experience in running Backpacks of Hope, in large part because of the great support I've gotten from members of the campus community. Also, I think Backpacks presents significant, meaningful ways for the Puget Sound campus to get involved with community service and fighting hunger," Kaneshiro said.
Both Kaneshiro and Short have high hopes for the project's future.
"Should Backpacks of Hope continue past next semester, I would love to see Backpacks get more involved in advocacy and educating the campus about food security issues," Kaneshiro said.
"We're volunteering into next semester, and we would LOVE to see this program have a legacy and continue next year as well," Short added.
If you are interested in volunteering with Backpacks of Hope, you can e-mail Jasmine at backpacks@pugetsound.edu or visit their Facebook page at facebook.com/BackpacksUPS.