Professor Spotlight: Art History's Prof. Kotsis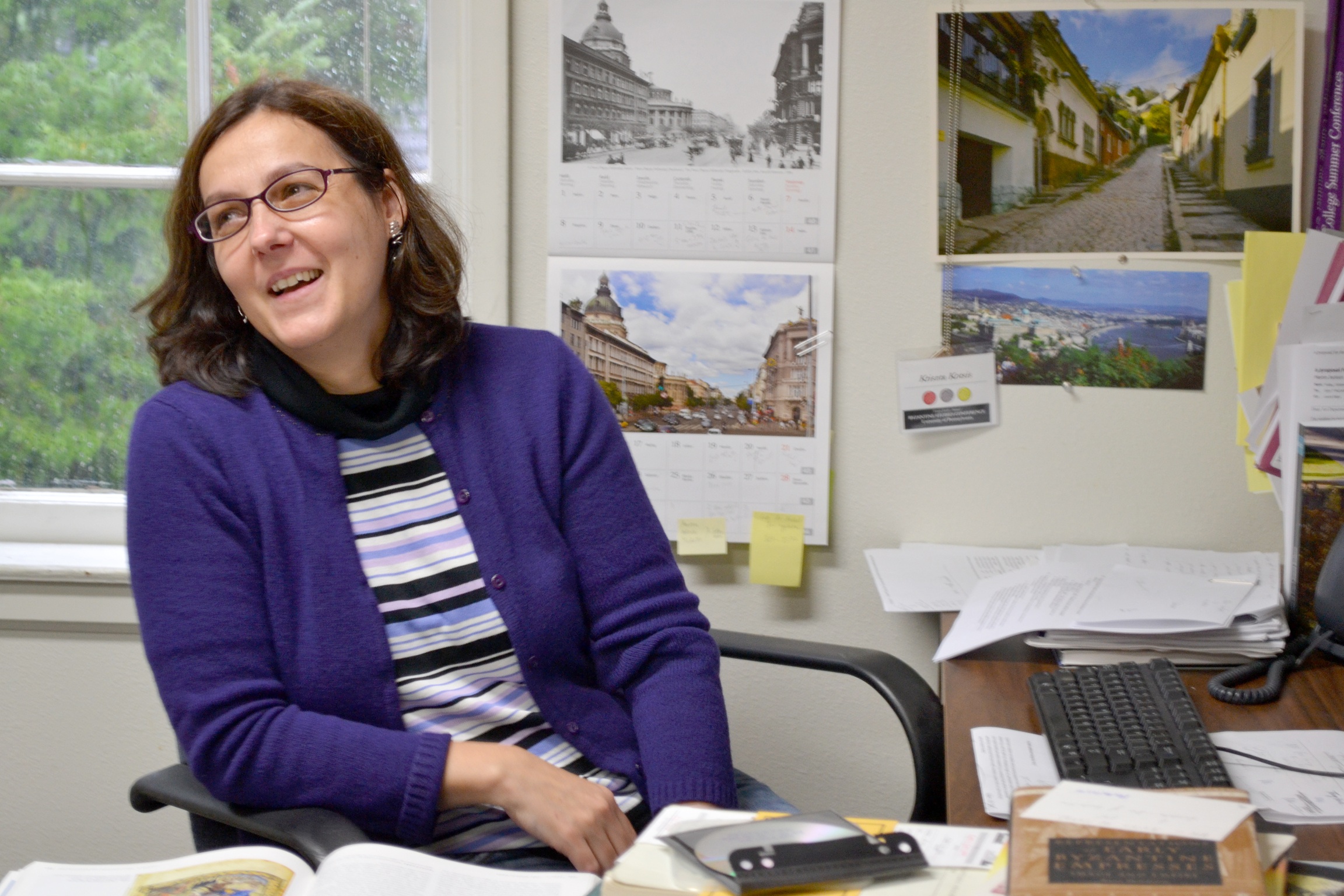 In what was my first time in the Art building, I was lucky to have the opportunity to speak with Art History Professor Kriszta Kotsis, about how she came to Puget Sound, her scholarship outside the classroom and how she spends her free time.
Where are you from originally?
A small town in Hungary called Veszprem.
How long have you been at Puget Sound?
I have been here on tenure track since 2006, but I served as a replacement for another professor from 2002-2003, and again in 2005. So I have a long history here, but it has not been continuous.
What drew you here?
From my two earlier experiences, I knew I really liked working at this school. My graduate schoolwork was at the University of Washington, which is a very big school, so the opportunity to actually get to know, and keep track of my students was appealing. This is also a very nice department, with wonderful colleagues and that was a big attraction for me.
How did you come to focus your life's work around art history?
It was actually two books I had when I was a kid. My parents had a coffee table book of the Louvre, and in it was an image of St. Sebastian, with arrows piercing his body. I found the image tremendously intriguing: repulsive and attractive at the same time. It inspired and focused my curiosity in visual images.
Later on there was also a biography that I read when I was about 14, on the French artist, [Henry de] Toulouse-Lautrec. Reading that book pretty much sealed the deal for me.
What is your favorite class to teach?
I of course love them all, but because I teach wildly outside my field, whenever I get the opportunity to teach a course in early Christian and Byzantine art, which is my focus, it is a great thing for me. Working with students in an area that I research is wonderful.
I only get to teach it every two years or so because I am also responsible for teaching five other 300-level courses covering ancient and medieval art. But I enjoy all the courses I teach.
What is your biggest pet peeve/frustration in the classroom?
I once had a student a few years back who was constantly late or would leave class to get coffee and come back to class with it. This student was solely responsible for me including an entire page in my syllabus on classroom etiquette.
What scholarship are you working on right now outside of teaching?
I am putting the finishing touches on an article that should come out any minute now, on three medallions showing Byzantine empresses in unusual positions where they encounter holy figures. In the article, I try to provide an interpretation on what this says about female power in Byzantium in the 11th century, when these pieces were made. It has been a long time in the making, though; I have been working on it off and on for a few years. It tends to take a backseat to the busy semester, which is often why articles like this take so long.
In addition, I am working on a piece that will be going into a handbook on medieval art, which talks about the Greek Orthodox Church.
What do you hope your students gain from graduating from Puget Sound as apposed to another University?
The most important thing is the tremendous personal interact students gain. Within the major students take four or five classes from the same professors and we develop a vested interested in them and their work. They have our complete support. When many go on to graduate school, they often maintain that connection. That same level of personal interaction cannot exist at a bigger school at the undergraduate level.
Some students are also able to work on archival work and museum work, through things like our Abby Hill collection. It's hands on experiences that provide a great entrance into a field that is not easy to get into otherwise. They also see artwork that is being produced around them by their studio colleagues. At bigger schools, students are in classrooms listening to lectures, where as here we have a constantly changing landscape of work going on around us.
If you could say one thing to a first year student on the first day of school what would it be?
Take advantage of all the resources we have on this campus that many students forget to explore; we have museums, archives and shows going up and on.
I always assign my students visual analysis in the gallery downstairs, just to get them to come, see the space and know that it is here for them. And every semester I have students who have never been in the building.
Really try and get to know your campus.
And would you say to students before they graduate?
They should keep in touch with the community: their classmates and professors. Networking today is one of the most important tools.
How do you spend your time outside of campus?
I read a lot, primarily fiction.
I also have an eight-year-old son. So we frequently go to the Seattle Children's Theater several times a semester, and the Tacoma Musical Playhouse when we can, so that he sees stories come to life in person. It's wonderful because I also get to see some wonderful shows! We saw Peter Pan and are going to the Wizard of Oz later in the semester.
What's one thing that you don't think many or most of your students know about you?
I only learned to drive a few years ago when my son started pre-school and there was no way to get there on public transportation. So I finally had to bite the bullet and learn. I have failed the test a few times, so I was very intimidated and had to face my fear. I finally made it and have become comfortable driving in Tacoma.
Favorite place to hangout in Tacoma?
Candle Park, which was just reopened, was nice in the summer when the splash pool was open, and now we go there with my son because they have some lovely play areas for kids and a small skateboarding area. It's also just on 26th and close to Pearl, so it's not that far.
Favorite type music, theater or entertainment?
I watch Project Runway regularly and religiously! So I am very excited about the end of the season.
I stumbled upon it one night, and got hooked on the second season. To see the creative process, even under this staged, constructive process is really enjoyable.
PHOTO COURTESY / FAITH MATTHEWS