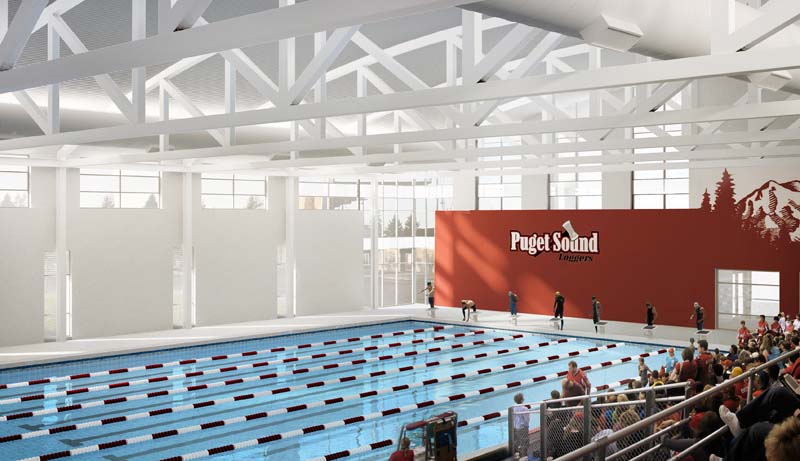 As many loggers know, a lot has been happening lately to improve the University of Puget Sound campus. A more accessible and enriching campus has been the goal since about 2003 in what administrators affectionately call "The Master Plan."
For the past nine years, new developments have been assessed, approved and brought to life on the Puget Sound campus. Although the plan is only nearly halfway complete, the already completed developments have altered the campus immensely, including the opening of Weyerhaeuser Hall, the new health sciences building which was unveiled in fall 2011, as well as Harned Hall, the science laboratory facility, which opened in fall 2006.
Many other renovations and unveilings in the past nine years, including Thompson Hall and Commencement Walk, have greatly impacted the magnetic pull the University of Puget Sound has on all of its faculty and students.
Currently, two big projects at the University have been the buzz on campus since fall semester began about four weeks ago.
This includes the incredibly organized construction of the new residence hall on campus, with a scheduled opening date in fall 2013.
The layout for this hall, which can be seen on a large sign strategically placed on Commencement Walk for all to see, is impressive in size and capability. Besides a plentiful number of dorm rooms and space, the design includes a meeting room and a seminar room to enrich learning.
The other new development, which is still under wraps, is the fundraising and progress of the new Athletics and Aquatics center on campus.
This project has been highly anticipated for quite a long time, and many students believe that the expansion and refurbishment of a new gym is long overdue.
Junior Marissa Florant, a varsity volleyball player, commented on the athletic facilities' lack of space. "The facilities are so small. It's hard to  complete a thorough workout and training when there isn't enough space to do it."
Florant went on to comment on the capabilities of the new facility, saying, "Although the new center won't affect me, for people in the future I think it is going to be a great opportunity. It will provide student athletes with more assistance and more space to work harder and do more."
When one enters the gym to work out for an hour at around 3:15 p.m. on a regular school day, it is very difficult to get in the proper workout.
The University of Puget Sound's student population is made up of about 20 percent student athletes, a hefty number that believes it should be well cared and supplied for.
With this new center, it is hoped that all of the student athletes will have enough space to complete their workout regimens in peace.
The fundraising has been a grueling process. In July this past summer the University excitedly announced a $1.1 million dollar donation from the Names Family Foundation, a foundation that dedicates time and effort to philanthropy while also promoting health and fitness.
Erin Shagren, a trustee and administrator of the foundation, as well as a class of '88 alumni of the University, said she is "excited about the new athletics facility because University of Puget Sound has been important to her family."
This enthusiasm that Shagren displays towards the athletic center is just what this campus needs to make it happen thoroughly and swiftly.
With this donation, the new and improved Athletics and Aquatics center will become more than just a dream for students and faculty alike, campus-wide.