Let's play ball: Logger baseball is hitting hard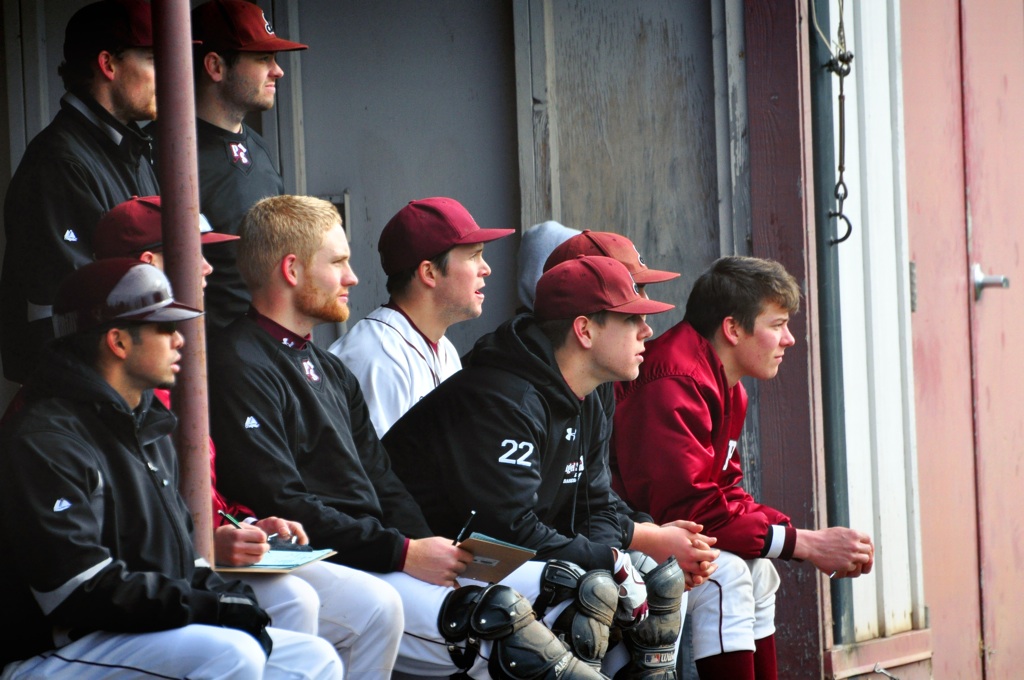 Spring is in the air, and that means it's time for the Puget Sound baseball season.
The baseball team has begun their season with the opener at the Tri-Cities tournament, where they won against Corban and Lewis and Clark and lost games against Corban and Whitworth. This weekend, they battled the Whitworth Pirates, losing one game and tying the other.
As the season is just beginning, the players are aiming to reach their individual and team goals this season.
"I definitely would like to improve on my fielding percentage and improve on my hitting as well. I'd like to see extra base hits," senior Andrew Grady (Cave Creek, Ariz.) said. Grady plays shortstop for the team with a career total fielding percentage of .893.
"[I would like to] bring a leadership role to the table and pass on the things that I know to the guys below me and keep carrying on the tradition of what Logger baseball is and also keeping the community and the baseball team together," Grady said.
There are currently eight seniors on the team.
After eight months without playing baseball, play time gives the members of the team to brush up on their skills.
"Getting a lot of playing time is really critical. Seeing the pitching was good after not seeing a whole lot of live pitching in a long time," sophomore Lucas Stone (Ashland, Ore.) said.
"And that's just being tuned into every pitch and every player, so another year of experience is good…. I have a better idea of what hitter can do and how to read them. It's about putting yourself in the situation and being successful," Stone said.
Stone is both a pitcher and a right center fielder.
"[Last year I] was filling a role, being used as I could be," Stone said. "I'm expecting to be a game three starter so I'm expecting to get a lot of time on the mound. In the outfield, I'm expecting to get a little more time out there. It's fun to do both."
"It's all about winning games for me so I would like to win more games this year than I did last year," junior Matt Robinson (Lafayette, Calif.) said.
Robinson is a captain on the team and is the only captain who is a pitcher.
"My main role is making sure the pitchers are doing everything they need to be doing," Robinson said.
This year, the roster has 34 players with 12 freshmen. The freshmen bring a key aspect to the team.
"I hope to bring some diversity and whatever I can to make the team stronger," freshman Nick Cochran (Alamo, Calif.), said. "We're a lot of strong freshman and as the years go on, we're going to get better and better."
Cochran is a catcher on the team and has an important defensive and leadership role on the team.
"I make sure that I'm a wall behind the plate and not let any balls go past me, and be a leader on the field," Cochran said.
Another freshman, Steven Wagar (Yakima, Wash.), is a key member of the team, as both a pitcher and a first baseman.
"As much as I can bring will probably come from pitching," Wagar said on his input for the team.   He hopes to contribute by helping the pitching rotation stay strong through their busy season.
There are currently 13 pitchers on the roster, Wagar knows that he has a valuable place in the rotation.
"You always need a lot of long relievers and closers," Wagar said.
Another key pitcher in last weekend's 2-2 game result was freshman Logan Day (Citrus Heights, Calif.).
"When you're a pitcher only it's tough to be everywhere all the time, always making an influence like you could if you played the field," Day said. "But when you're only given a few innings a weekend, as a pitcher you have to be able to make the most of them. I've been working as hard as I can ever since I was made a pitcher only so that I have the talent and poise that it takes to make the most of those few opportunities."
Day became the pitcher of note in the Tri-Cities Tournament, where he only allowed two runs on four hits and recorded a pair of strikeouts. Day no longer hits, so he spends his time focusing on his pitching.
"I'm currently working on improving my curveball which is a project all in itself, and I'm constantly tweaking my form to get the most power out of my body," Day said. "Another huge aspect is the mental side of the game. Since I was a pitcher and a shortstop in high school, I never really learned the entire mental mindset that goes with being a pitcher, so whether at practice or in the game I'm constantly trying to pick up on the nuances that the older guys have that make them successful."
Sophomore Jeff Walton (Carmichael, Calif.) was another key pitcher in the games at Tri-Cities.
"I came into this year not thinking I was going to pitch much at all, and they told me that I would just be a short late relief guy, and then I ended up starting the very first game of the year," Walton said. Every season, the coaches evaluate the team and rank it based on the talent they see.
"At the beginning of the year the coaches' poll ranked us fifth in conference which was basically a slap in the face, even though we took second in conference last year, and we have all of the same people, just with another year of experience and more depth than we had last year," Walton said. "I feel like we are a very, very talented team, and I look forward with seeing what the team can do this year. The most important part to win this conference you have to go 19-5 or 20-4 in order to win the conference, we need to take it to basically every team that we face, and sweep the teams that we need to sweep, and take 2 out of 3 from everyone else."
Everyone on the team is eager to accomplish more and more every year, and continue to strive for more, hoping to improve upon their second place finish from last year.
"I'm expecting to do something similar to that, if not better," Grady said. "I think we have a good team and we have a lot of new, young guys, who are very talented."
The team is away until Mar. 10, where they will be facing Whitworth in a double header.
PHOTO COURTESY/DAVID PENDLETON
Tags :
Baseball; Puget Sound