Women's basketball falls to George Fox in NWC semi-final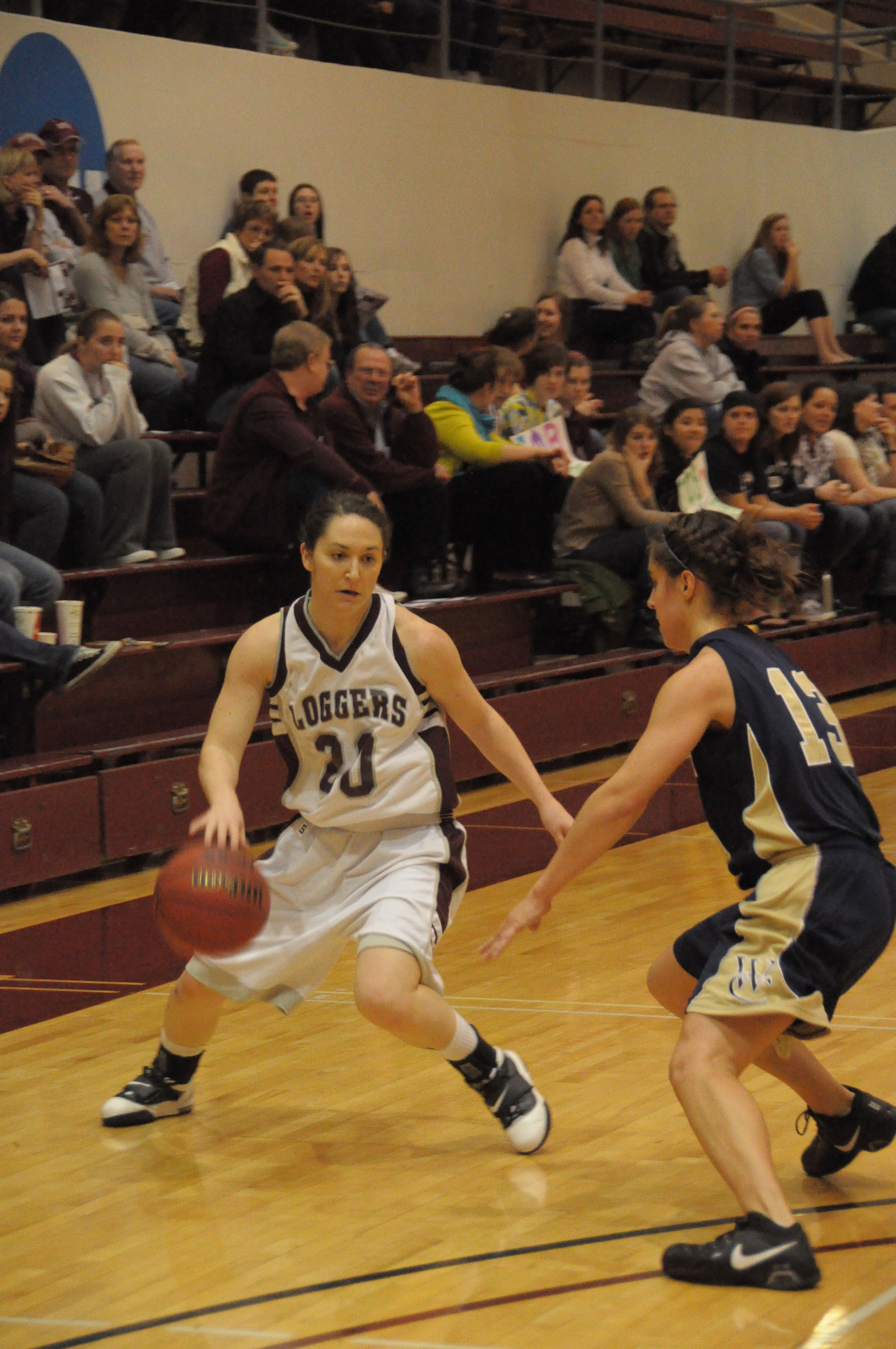 The Logger women's basketball team had a better go around this time with the George Fox Bruins, but the result was still a 62-56 loss.
It was uphill from the beginning for the Loggers, who played the number two ranked Bruins on their court. The Loggers led the Bruins for most of the first half with sophomore Kelsey McKinnis (Ashland, Ore.) shooting for 19 points on the game. The Loggers had an impressive effort, but after the score had reached 45-43, the Bruins never looked back and held the lead until the end.
This season for the women's basketball team was marked with many changes, including a new coach, a new attitude and new players, all of which were key aspects in their 3rd place conference finish.
The season started out rough for the lady Loggers; the team suffered 4 consecutive losses, including games against Lewis & Clark and George Fox. From there, the Loggers picked up the pace and at one point had a nine game winning streak.
New Head Coach Loree Payne has a plethora of experience, both as a coach and as a player. Payne spent her college years playing for the University of Washington basketball team and earned Pac-10 honors several times.  As a coach, she has been instrumental in the Loggers keeping their pace as a top ranked conference team.
"My first season at Puget Sound has been amazing," Payne said. "The girls are incredible, and together we have learned so much. Puget Sound is a wonderful university, and I feel very honored to be a part of it."
Junior Jocelyn Riordan (Lake Forest Park, Wash.) and McKinnis both earned all conference honors; Riordan making the first team ranks and McKinnis earning second team recognition.
This year the women's basketball team graduates no seniors, an achievement on its own which gives the staff an opportunity that they cannot miss out on.
Coach Payne said, "We are very excited about not having any seniors on the roster. We established the foundation of our program this past season and look forward to building on it for next year. The ultimate goal each year is to advance into the NCAA tournament, and we look forward to having that opportunity next season!"
Not only does Coach Payne have plenty of returners to work with, but she also will have new freshmen to help build her program. Freshmen who have just ended their first season as Loggers are excited for the rest of their years to come.
Freshman Melissa Cachopo (Morgan Hill, Calif.) said, "College basketball is much more fun and exciting, because of all the preparation. I enjoy stepping into the gym, knowing I am with such great team members and coaches, and that I will always learn something new.  I hope to learn and continue pushing myself and others throughout my career.  I hope to keep learning more about the game, physically and mentally.  Being a part of this team, with amazing girls and great coaches has been an honor and a spectacular experience thus far. I can't wait for next year!"
It is obvious to all that the women's basketball team is so good not only because of their skill but their obvious care for one another on the team.
Cachopo mentioned, "The team has amazing talent and heart for the game. Everyone gets along and enjoys one another's company on and off the court.  As a team we are a family. When playing we always push each other to be better, whether it is practice, or a game."