Alumna's Memoir Teaches Finding Joy When Things Don't go as Planned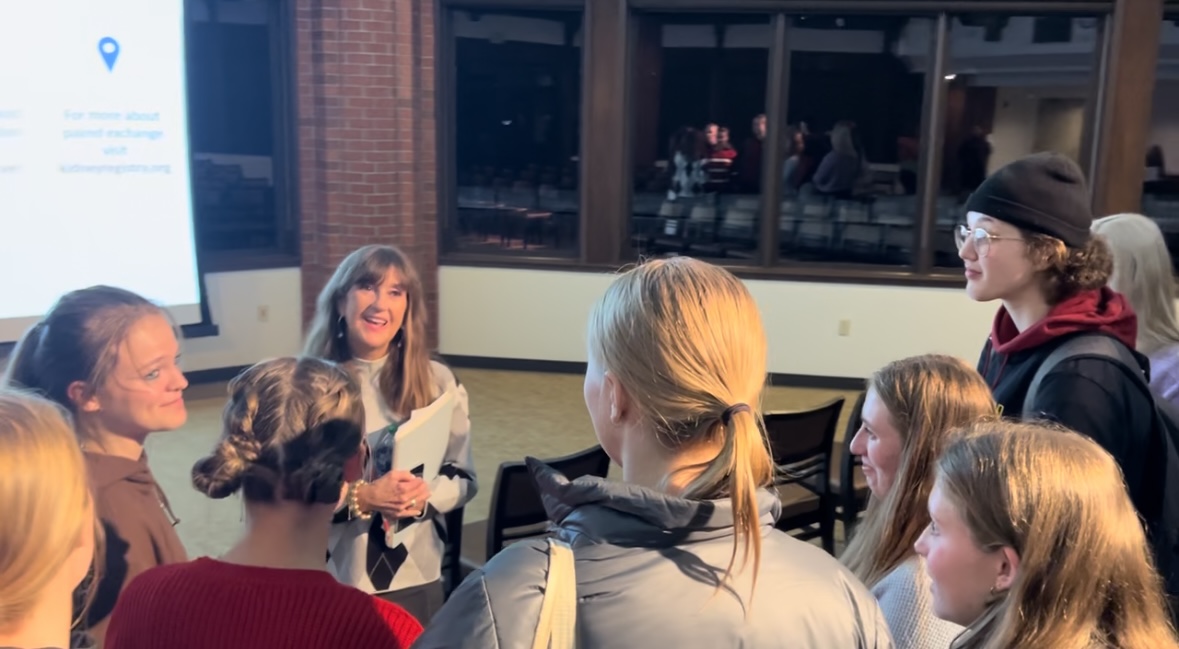 Jennifer Cramer-Miller (center) talks with students who attended her talk in the Rotunda on Oct 24. Photo provided by Jennifer Cramer-Miller
By Andrew Benoit
A few months after graduating from the University of Puget Sound, Jennifer Cramer-Miller's ('87) life was going about how she expected – and hoped – it would. She had good friends, a nice apartment, a partner and a promising career. So when she was diagnosed with an autoimmune disease, it seemed like her whole world was changing. She moved across the country, away from the Seattle area she had fallen in love with, back home to Minnesota. 
  Today, after four kidney transplants, she still has all those things. Cramer-Miller is also the board chair for the National Kidney Foundation, an ambassador for Donate Life, and an advocate for organ donation. Through her experiences she developed a unique outlook on life that she shares with the world in her new memoir "Incurable Optimist: Living with Illness and Chronic Hope." 
  As her title suggests, Cramer-Miller finds a little bit of joy even in the toughest situations. "My book is really about 'what do we do when things don't go according to plan?' and 'how do we hold on to hope and find joy?'" she said. 
  Cramer-Miller has had to learn this lesson through her own experiences. It wasn't easy, especially at first. She was only 22 when she was diagnosed, and didn't want to leave her new home of Seattle behind. "I really felt like I had been ripped away from my rightful place in the world as a young person," she said. For the longest time, she didn't even want to share that part of her life with people. "I just wanted to have my professional self be very separate from my medical self and over the years – I think – I never wanted my kidney disease to define me," Cramer-Miller said.
  So she built a successful career and a happy life, keeping her kidney disease private. But at a certain point, Cramer-Miller realized that she hadn't let health define her. Instead she had defined herself with so many other things: her work, her family and all that she had accomplished. She realized that she had a chance to give back and to help people. After that, she began to dedicate herself to advocating for people with chronic disease. 
  She learned a lot through her journey. An excerpt from Cramer-Miller's book published in Arches describes how she perceived two outcomes when she was diagnosed with her autoimmune disease: heal or fail. Today, she says the real prize is living. She uses the example of the proverbial glass: is it half empty or half full? Cramer-Miller says we should be thankful for the glass in the first place. "The glass is the container and it contains our life. And life is filled with beauty and bummers, but as long as we have a glass and we're alive we need to really appreciate our lives," she said.
  A lot of this boils down to cultivating joy, something that Cramer-Miller focused on as a dialysis patient. "I've really learned that I feel like joy is always available to us, no matter what we're going through, because I've been a dialysis patient, which is a hard way to live, and I still could access plenty of joy," she said.
 It isn't all cultivating. Cramer-Miller is still thankful for the miracles of life. She mentioned that she got pregnant after her second transplant, which came from someone who was deceased. "And that gift of life not only gave me more life, but it allowed me to create a life and so everything seems like it came with a miracle," she said.
  Today, Jennifer Cramer-Miller beat the two outcomes that defined her early treatment. She's transcended the heal/fail dichotomy, and realized that living, especially in the service and care of those around you, is what is important. Catch her book "Incurable Optimist: Living with Illness and Chronic Hope" at the Logger Store.