Athlete of the Issue: Sara Olsson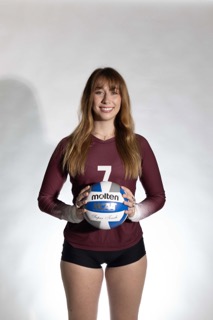 Photo credit: Alex Everrett
By: Kate Patterson 
Big shoutout to Athlete of the Issue and senior Sara Olsson! Olsson is one of six seniors on the volleyball team this year, and plays the position of outside hitter. In a recent game against Lewis & Clark College, she had a .875 hit rate, and 20 kills. Last year, Logger volleyball earned the title of Northwest Conference champion. On Nov. 4, Logger volleyball finished up its last regular season with Olsson with a match against Pacific University. Thank you to Olsson for her spike-tacular responses to the questions below! 
Q: What position do you play on the team? For those of us who don't know as much about volleyball, what does this position look like, and how does it relate to the other positions?
A: I came here to UPS as a right-side hitter but later transitioned to an outside hitter. In volleyball, the right-side hitter, or opposite hitter, stands on the right side of the front row and specializes in attacking and blocking, while outside hitters, positioned on the left side, are responsible for dynamic offensive plays from the left side. Both play essential roles in attacking, blocking, and defense, with outside hitters also involved in digging and receiving serves and attacks. Both positions collaborate closely with the setter to execute effective attacks, contribute to blocking, and participate in defensive duties. These positions, alongside middle blockers, liberos, setters, and back-row players, form a multifaceted volleyball team.
Q: What are your strengths as a player and team member that help you find success? 
A: My strengths as a volleyball player and team member have been my strategic thinking, court energy, and skills gained from prior beach volleyball experience. I strive to apply strategic planning, adaptability, and recognizing opponent flaws, to adapt my play to target their weaknesses. I hyperfocus on maintaining a positive atmosphere and supporting my team's morale with court energy. My background in beach volleyball has also helped me develop communication, ball control, and adaptability in less structured environments/plays, and has helped with overall personal and team success throughout these past four years.
Q: Logger volleyball plays multiple matches per week, a busy schedule. What times do you find it hard to continue to put in the work (if any), and how do you persevere? 
A: I function best in the morning, so I arrive at Oppenheimer cafe every morning at 7:30 a.m. to complete homework and to set the right tone for the day. I think this has become the sole reason why I have been able to stay afloat with schoolwork throughout our season. With majoring in Biology and minoring in SOAN I have consistent labs throughout the week forcing me to be very efficient with my time and prioritize resting when necessary. Burnout is incredibly common and comes in waves, but having a great support system like my amazing friends and teammates, has kept me from deviating from my schedule and keeping a healthy school/athletics/social life balance.
Q: How will you measure your success as an individual and as a team for the rest of the season?
A: Before every practice, we have volleyball families, which are created at the beginning of the season for us to share our goals and focuses each practice. The completion and execution of these goals are often the way I measure my success. The way we measure the success as a team is the improvement over the season of our statistics that are collected during the match such as passing accuracy, kill/serving efficiency, and the amount of blocks per set in a match. 
Q: What's your favorite memory from Logger Volleyball? 
A: My favorite memory from Logger Volleyball has been each of the Halloween practices throughout my four years here. Every year, individual graduation classes dress up together and surprise the rest of the team. This year the seniors dressed up as the Adams family and played in wigs and face paint throughout the entire practice which makes the day that much more fun. I feel like there have been countless amounts of memories that will last me a lifetime and makes me incredibly grateful for the Logger volleyball program.