Don't Stop the Party: How a Few Houses Keep the Party Scene Alive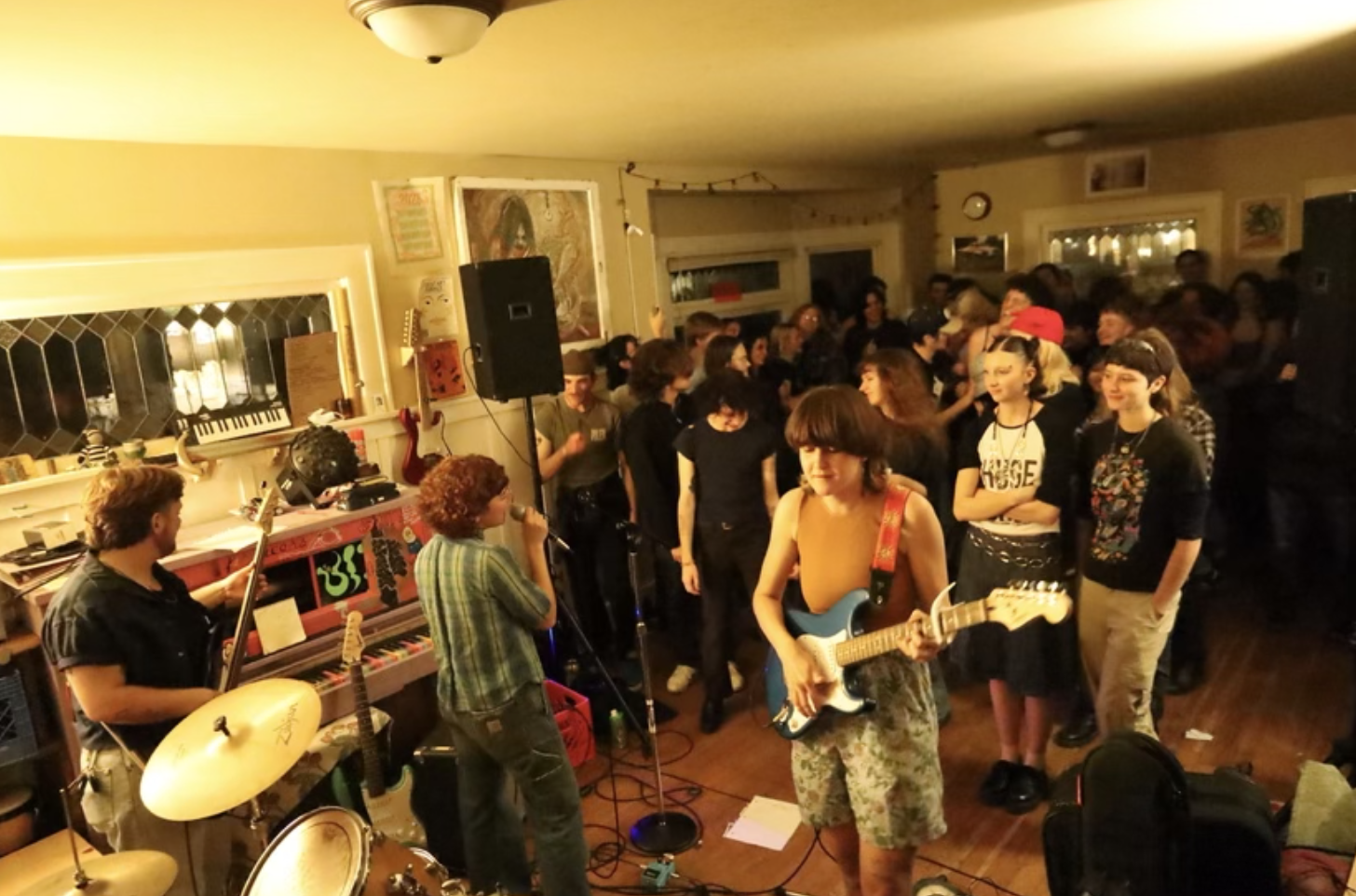 A house show on Campus
By Tate DeCarlo
Though the University of Puget Sound may lack the party-school reputation held by some of its peers, its students still enjoy blowing off steam at weekend parties. As Puget Sound students readjust to life post-pandemic, their parties occur with less frequency and are organized by a select few houses scattered around campus. Students living in these houses – who will be referred to by pseudonyms – offer insights into their responsibilities and concerns when hosting parties.
  Because of the decrease in the University's party scene, party house residents may feel a certain responsibility to throw parties to provide their peers a chance to socialize. Charlotte Cooke ('24), explains that the lack of other party houses pushes hers to host around every three weeks. "There is kind of a slight pressure to throw, because there's not a lot of parties going on this year at all," she says.
  The limited party scene is especially challenging for students who want to socialize, but are unaffiliated with or disinterested in Greek life. Though the fraternities regularly host parties, Beatrice Kelly ('24) emphasizes that, because these functions do not appeal to the entire student body, her house has been inspired to create an alternative party space. "We sort of see it as a place for those who don't want to be surrounded by a bunch of SAE guys, because fraternity energy is sometimes scary energy. You know, as a queer person on this campus, that is not the place where I feel most comfortable," she says.
  For those like Cooke and Kelly who have chosen to open up their houses for large parties, preparing for such events requires significant effort. Oftentimes, making sure all who live in the house are on board is the first step. "We, as a house, want to give the school the party atmosphere, but it's hard because not everyone in the house always wants to throw a party," says Cooke. 
  Physically preparing the home to accommodate hordes of rowdy students is also a serious task. Chris Cornhole ('25) lives at Safeway House, one of the most prominent houses that hosts live music near campus. They emphasize that serious rearrangement is required not only to make enough space, but also to protect valuables and fragile household items and keep partygoers out of private rooms. "We take out all the furniture every time, we take couches, and we put them upstairs. We have a whole setup routine of how we kind of block it out to like, put people where we want them," they say.
  Hosting college parties can come with a certain emotional weight as well, and many party house residents cite similar anxieties before throwing a party. Though Cooke professed trust in the student body at the University, she identifies property damage and unsafe drunken behavior as her primary concerns. "I don't want to have to be taking care of freshmen and neither does my house. So it's mostly just like making sure people are aware of themselves and making sure no one gets hurt," she says.
  Howard Creme (fall '24), who lives with Cornhole at Safeway House, points out that if something bad happens at their house, they as hosts are likely subject to the consequences. "Understanding that I have a personal legal responsibility if something does go wrong is intimidating," they said. 
  To navigate this challenge, some hosts make rounds throughout the party in order to keep an eye on things. At the last party thrown by her house, Kelly made sure to monitor the well-being of her guests. "There were a couple of times where I'd see someone outside, and I wasn't sure if they were okay or not, so I just asked if they were looking for their friends or something. Just the idea that, when I was bouncing from group to group, I left them saying 'if there's anything you need, let me know,'" she says.
  Nearly all houses occupied by University students are rentals, and are situated within the neighborhood around campus, so often party houses are determined by the attitudes of landlords and neighbors. Cooke explains that, while her neighbors sometimes complain about noise, her landlord is realistic about the situation. "She knows that we have parties, and she also knows that the neighbors aren't happy about it, but she understands that we are a college house and we are college students who live 30 seconds from a college campus. And so if the neighbors get upset, she understands that that will happen. I would say she's very understanding," Cooke says.
  Though Cooke's relationship with neighbors is somewhat strained, this is not the case for all party houses. Cornhole cites their neighbors' appreciation for live music as a reason for their tolerance, and in some cases their interest in supporting their house show pursuits. "We're lucky to live in I guess a neighborhood that's pretty chill with that. One of our neighbors was also super into music, which we found out recently because he was moving out and dropped off a bunch of gear for it," they say.
  Cornhole and Creme's house is different from other common party spaces for University of Puget Sound students because of their involvement in the Tacoma house show scene. "The goal is just to be a part of the DIY music scene that already exists really strongly in Tacoma, but doesn't have a lot of strength at UPS," Creme says.
  Unlike other houses, occupants of Safeway House see their home as more of a venue than a party space. Cornhole says,"most of the time people are focused on bands and even if some spend most of their time outside, they'll usually come in for the beginning of the set."
  Creme is eager to clarify that Safeway House isn't looking just to cater to University students, but finds that – despite efforts to engage with the off-campus community – their house shows are usually overrun by students looking for an excuse to party. "When it becomes like drinking first and music second, it becomes a party and not a house show," they say. 
  Safeway House residents – like many others who host parties – are concerned about happenings or individuals who may make other guests uncomfortable. In listing their tenets of a successful house show, Cornhole highlights the importance of a comfortable environment. "The band had a good time, people had a good time, nothing got destroyed, nobody got creeped out, and nobody had to get kicked out," they said.
  Seeking to maintain a safe party space is not a desire unique to Safeway House. Kelly is also a staunch supporter of the importance of safe parties, especially given some previous incidents at the University. "As liberal, quote unquote, as this campus is, there's pockets of it where sexual assault has happened at parties, and instances of homophobia and transphobia," she says. Thus, both Cornhole and Kelly affirm a zero-tolerance policy for "creepy" behavior of any kind.
  At one of their most recent shows, Safeway House residents were disappointed by blatant damage to the property in the form of vandalism. A crude tag was spray-painted on the side of their house, but Cornhole explains that it was the graffiti on the sidewalk out front that truly upset them. "They also spray painted the sidewalk, which is worrisome because that's like a public space. If it's our house, it's like, 'okay, it's just our problem,' but like, now the sidewalk and the street, like that's the neighbor's problem too. That just feels super disrespectful," they say.
  Despite their frustration with the vandalism, Cornhole and Creme were pleasantly surprised by the student community's effort to rectify the damage. After posting an instagram story asking for donations for paint to cover the graffiti, their request was promptly fulfilled. "Literally within 15 minutes, 15 people all Venmoed like two bucks, and it was so cool to be like 'oh like people really care about this location,'" says Creme.
  This sense of community epitomizes what Creme loves about the party house culture at the University. "It's cool to like, be able to provide a space that people care about," they say. Though throwing house shows can be a stressor, Creme finds having parties at their house well worth it.  "Just being able to have that block of time where I get to do what I love the most, which is listen to live music and have wonderful conversations and talk to cool people is often the highlight of my time," they say. 
  Cornhole echoes their sentiment; even though hosting events at their house comes with lots of responsibilities, they say, "house shows are something that I'm passionate about, so I do feel like it's a fulfilling thing. I feel like it's important to me." Cornhole also urges other students to help overcome the dry party and house show scene by hosting themselves. "Throwing shows is easier than it looks. All you really need is a house and a band, so more people should," they say. 
  The chance to create connection is something relished by many who host parties as well. Kelly explains that throwing parties at her house is a voluntary decision, geared toward the generation of a party atmosphere approachable for all. "We're not obligated to host but it feels really good to provide a space that's different from the stereotypical party house," she says. 
  For lots of Puget Sound students, attending house parties is an integral part of their college experience. Students who throw parties at their houses recognize their role as facilitators of this experience, as well as creating necessary space for students to connect outside of the classroom. "I think that parties bring a lot to the school, not just because people can go and drink and like, get fucked up, but because it creates like a community to put yourself out there and go meet people that you might not have met before," says Cooke.