In Greek Life's Switch to Fall Rush, University Signals for More Central Role of Greek Life on Campus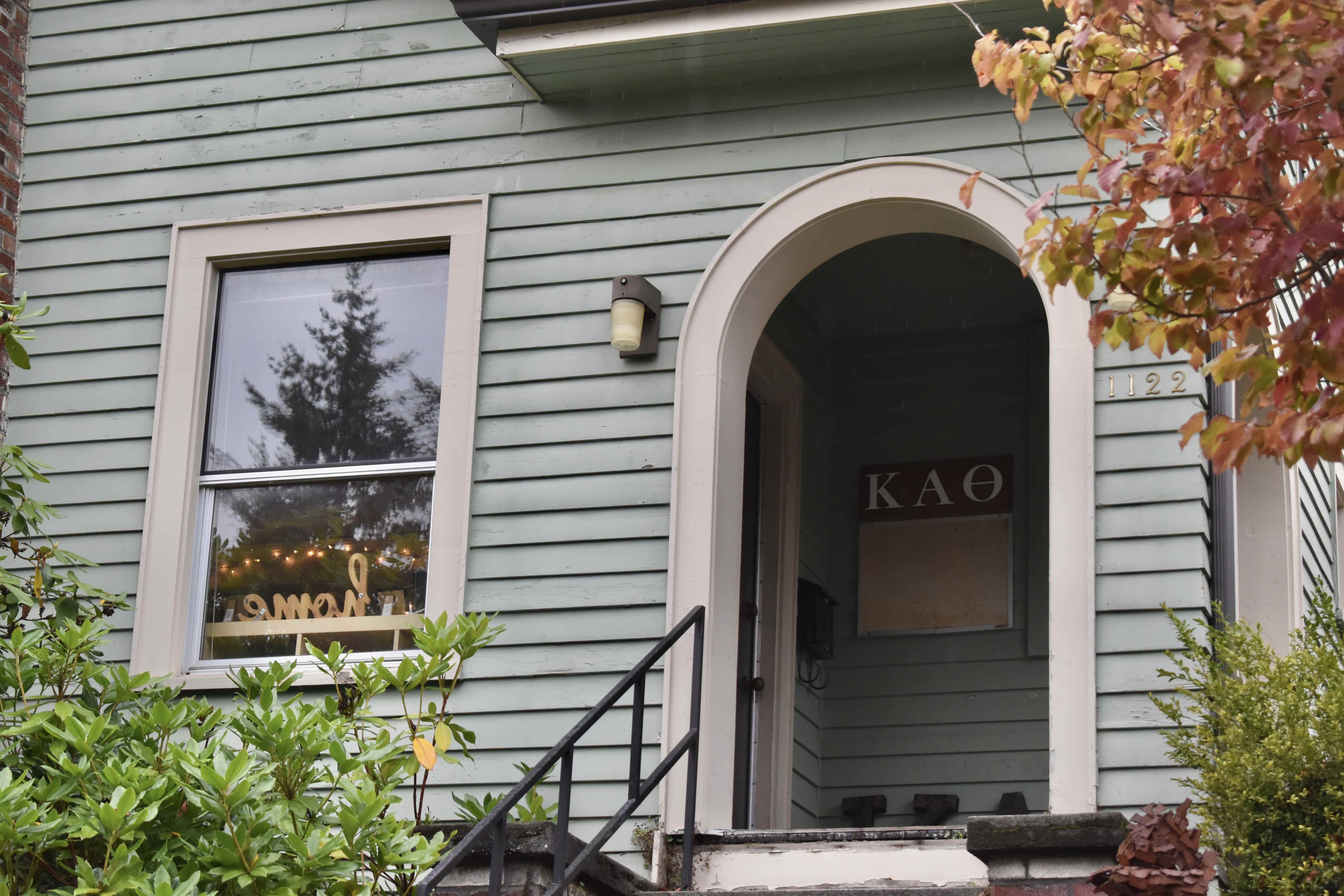 Kappa Alpha Theta letters adorn a house on Theme Row after the sorority left their Greek Row housing. Photo Credit: Andrew Benoit // The Trail
By Albert Chang-Yoo and Tate DeCarlo
At the beginning of October, University of Puget Sound's fraternities and sororities hosted their first fall rush since 1988. Rush is a one week recruitment process in which Greek Life hosts a number of events for potential members. At the end, members are offered a bid, or invitation to join the chapter. It's a process which, for the past 35 years, has been held during the spring semester. Last spring, the governing Interfraternity and Panhellenic councils were issued approval by the Board of Trustees to host a rush during the fall. This move reflects an effort by the University and members of Greek Life to increase lagging enrollment in fraternities and sororities.
Since 2019, Greek Life representatives have been lobbying the University to switch rush from spring to fall. According to Moe Stephens, Senior Associate Dean of Student Experience and a member of Phi Delta Theta at University of Southern Indiana, the change was needed. "For many students, fraternities and sororities create a sense of belonging, and we feel it is important for students to have the ability to find their home on campus as soon as possible."
Chapters also sign lease agreements in the fall which, without a full headcount, "created unnecessary pressure on their leadership to secure housing contracts." Finally, there was a challenge of leadership. "By not bringing new members into a chapter until the spring semester, new members were mostly excluded from leadership positions until halfway through their 2nd year," Stephens said.
Nate Sansone served as ASUPS president during the 2022-23 academic year. Sansone was also a member of the Student Life Committee, which reviewed the proposal to switch rush to fall. Although the committee provided feedback pushing back against the proposal, they had no real veto power. Sansone disputes the view that moving to fall is a net benefit. "I think that logic relies on two assumptions: first, that Greek Life is good for the campus community and the students in it, and second, that moving the recruitment period to the fall semester will help sustain Greek Life on this campus. I don't think either of those assumptions is necessarily proven."
The University initially decided to move Greek rush to spring in 1988, following a months-long task force appointed by then-President Philip Phibbs. A key factor in the 1988 decision was, as Sansone explained, "this idea of prioritizing students' University of Puget Sound identity and not wanting their affiliation with their house or the Greek system to trump their affiliation with Puget Sound."
According to Sansone, in arguing for a switch to fall, Greek Life representatives stated their belief that the Panhellenic community was a "beacon of hope" for the campus, and that the move would lead to greater retention going forward. The Trail reached out to several members of Greek Life for this story, all of whom declined to comment.
Switching from spring to fall may have indeed revitalized this year's rush. Stephens stated that there was a 16% increase in sorority recruitment registration, and a 48% increase for fraternities. It stands in contrast to recent years, as recruitment numbers for Greek Life declined at the University and put stress on chapters to maintain housing.
The University houses on Greek Row are a commodity in high demand. As a result, the house's inhabitants are held to Residence Life's strict occupation policy. Permission to remain in Greek affiliated University housing is contingent on the amount of students living in the house, and by extension, the amount of students in the fraternity or sorority
Colin O'Loughlin, Director of Residence Life, explains that Greek houses are expected to maintain a minimum yearly occupant average, and failure to do so results in housing probation. "This allows the chapter time to reassess internal processes and work toward meeting the yearlong occupancy for the following year," he said. "If they miss the yearlong occupancy average for a second year in a row, they will be required to reapply for exclusive use of their house."
The reapplication process is unique to the situation of each house and Greek chapter. The University does not disclose the process or results of reapplication.
Though speculation, such a framework required to maintain occupancy of Greek housing reveals potential reasons for past chapter closures; Beta Theta Pi, for instance, removed their letters from their University house in 2023. That house is now transitioning to hosting the much larger Phi Delta Theta.
The future of the Kappa Alpha Theta sorority house is uncertain as well. Theta's former house on Greek row, aka Unit D, is unoccupied. No reasons for their departure were given by University staff or current members when asked. The choice of small sorority Delta Delta Delta not to recruit this rush season could possibly indicate another coming departure of a sorority from their University chapter house.
Many Greek Life chapters remain on housing probation from the University due to inability to fill houses on Greek Row. It is worth mentioning that the University has been confronted with low enrollment and an inability to fill its own freshman dorms, which has certainly impacted Greek Life's ability to remain afloat. Members of Greek Life also point to stringent housing and recruitment regulations that the University enforces which make it difficult to adequately fill their houses.
It remains to be seen if Greek Life recruitment will sustainably increase over the next few years. However, this year indicates that at the very least a strong Greek Life presence will remain on campus. It is also possible that other factors such as this year's large freshman class size are more influential than a fall or spring recruitment schedule. By prioritizing recruitment the University has shown that it considers Greek Life to be an important part of campus identity. tizing recruitment the University has shown that it considers Greek Life to be an important part of campus identity.