Men's basketball working out the kinks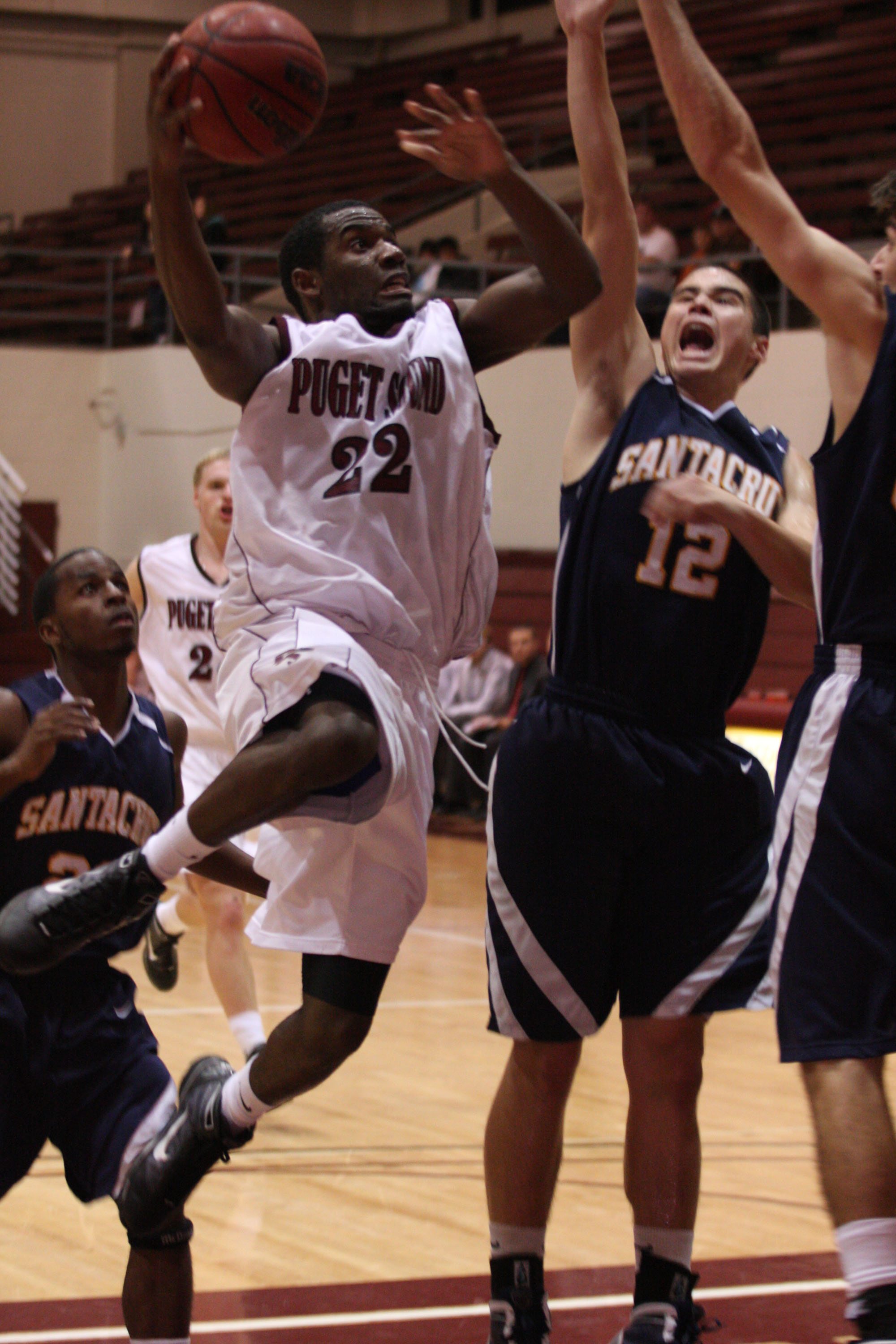 In the last couple of weeks, the men's basketball team has played several close games resulting in their current 2-3 record. On Nov. 19, the Loggers took on UC Santa Cruz and held on late for a 74-71 win. Junior Kalen Shelton (Tacoma, Wash.) had a great game with 22 points and 14 rebounds. Helping Shelton out was junior transfer Matt Geverola (Lakewood, Wash.) who had 10 points.
The game was a close one, but the Loggers used key team members to seal the win. Senior Aaron Edwards (Atlanta, Ga.) and junior Erik Evans (Tacoma, Wash.) sank key free throws to assure a win for the Loggers in the end. This game was a turnaround for the team, who had started their season with a tough loss against Northwest.
When asked how the team bounces back after tough losses, Shelton said, "After a tough loss, I try to help the team pinpoint what we need to learn from that game so it won't happen again. So far this season, we've had a few nights where we have noticed specific problems on film that we then try to fix the next week in practice."
The next night, the Loggers didn't fare so well in a 49-69 loss against the St. Thomas Tommies. The undefeated Tommies outshot the efforts of Logger players Shelton and junior Julian Fernandez (Enumclaw, Wash.) who helped keep the game close up until halftime. The offense of the Tommies was too much in the second half, and the Loggers couldn't find their rhythm against a smothering defensive effort.
After a week of snow and turkey, the Loggers came back to face Occidental on Nov. 26. Again, Shelton was a huge player for the Loggers; he had 18 points with 10 rebounds. He was not alone, as key performances were seen by junior Edric Egberuare (San Jose, Calif.) with 15 points, Edwards with 11 points, and Evans with 10 points.
Excitement came late in the game when Egberuare hit a three-point shot that tied the game and sent it into overtime. During the 10 minute overtime, neither team was ever ahead by more than two points. In the end, Shelton sank two free throws to tie the game at 75-75. After a forced turnover by the Occidental Tigers, Shelton was able to force up a shot at the buzzer that banked home and won the game for the Loggers.
The following day, Nov. 27, the Loggers faced Chapman and in another close game, the Loggers lost to the Panthers 77-70. The Loggers were down 20 points at the beginning of the second half, but Fernandez helped bring the team back to a near win. Also assisting with the close comeback were Shelton and Egberuare; who scored 14 and 12 points respectively.
Next week the Loggers start Northwest Conference play and have their first weekend against Willamette and Pacific at home.
In approaching the upcoming conference home opener, Shelton said, "Fellow captain Aaron Edwards and I work to keep the team on edge and to never get complacent, because we know it's all over once you relax. I believe we are making great improvements with each passing day, and I hope that we can show the home crowd we mean business come Friday at our first conference game."
[PHOTO COURTESY/CHRIS PUTNAM]