Faculty Committee reveals proposed Core Curriculum changes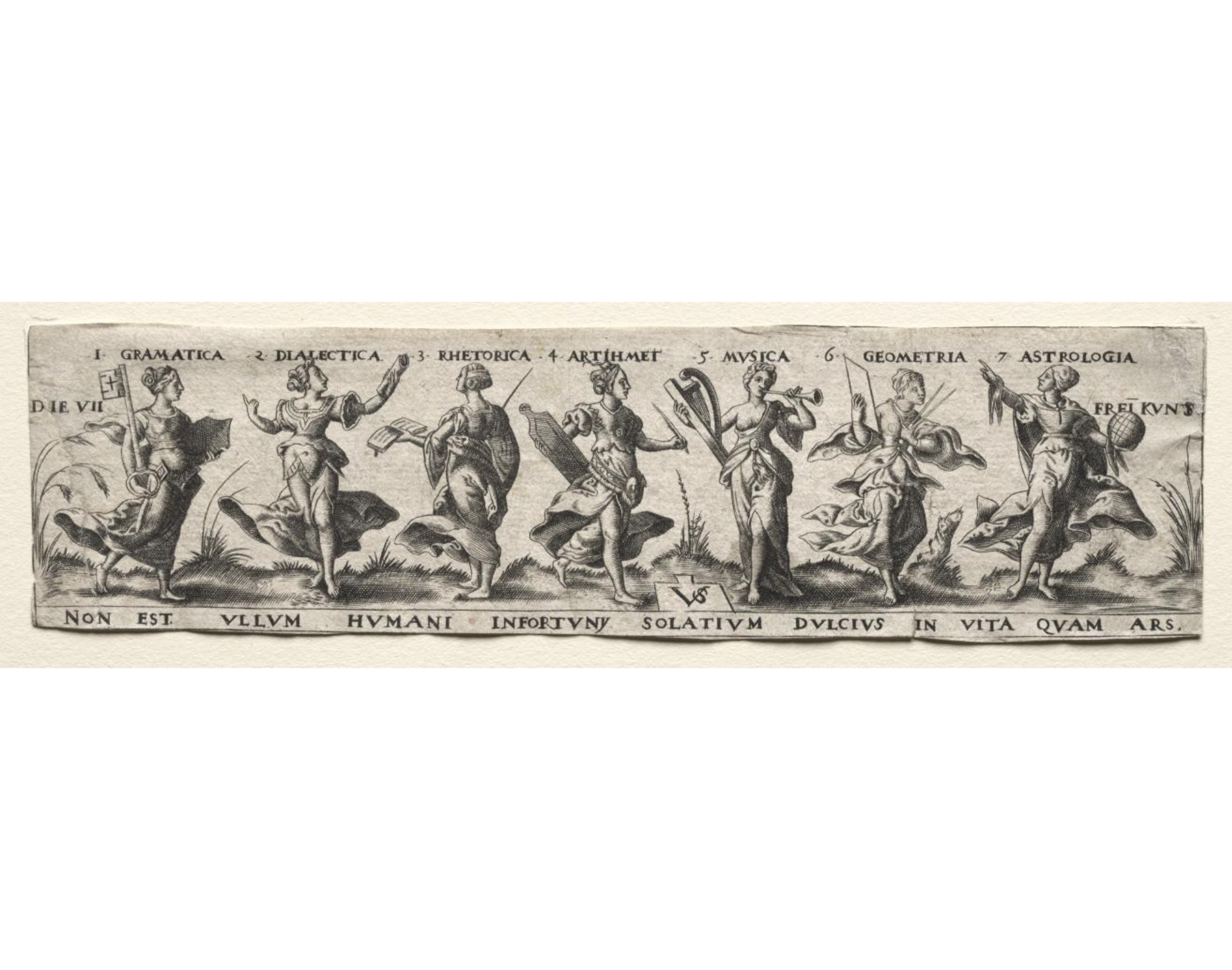 The "Seven Liberal Arts", Virgilius Solis. Photo credit: Cleveland Museum of Art, Wikimedia commons
By Amelia Pooser and Mercer Stauch
University of Puget Sound's core curriculum is changing. After five years of work, an official proposal for core curriculum changes has been published by a faculty committee. At the earliest, aspects of this proposal would be implemented in Fall 2024; we encourage all students to read the whole proposal via the QR code below.
Students shared their opinions on the proposed changes in an anonymous Google Form, and we also asked multiple faculty members for their thoughts. In the faculty interview, Dan Sherman and Sara Freeman explained the goal of these changes: "We want to make the core more compelling for students and easier to navigate," Professor Sherman said. He continued, "we're learning and hearing that people would appreciate more autonomy in how they work their way through requirements."
The first major change to the core is in the First Year experience. In the first semester, students will take a 100-level Connections course (CONN 1xx) that aims to spark students' passions in a potential major by exposing them to multiple academic perspectives. The plan overview emphasizes that this class does not replace SSI-1 because it is not a writing course, but the instructors for these courses will still be the first-year students' advisors. The intention is to provide incoming students with the opportunity to explore multiple departments while also developing their "academic self-concept" through collaborative learning projects and TED-style lectures. Notably, this will not replace the upper-division Connections requirements; students will have to take two additional Connections courses after CONN 1xx, taking a total of three Connections courses during their time at UPS.
The current two semesters of Seminars in Scholarly Inquiry (SSI) will be condensed down to one Speaking and Writing (SW) course that students will take in the spring of their freshman year. Several students reacted positively to this change, citing their displeasure with the current system. One student said students "come out of SSI being told that they're now prepared to write anything they will need to for the next three years and then immediately realize that they did not indeed learn how to write an A essay, just a mediocre one." Another student added, "the professor can't teach you how to write a great research essay when they are an Econ professor, or show you how to do a reflection paper when they teach math." Faculty agreed with this sentiment; Professor Sherman said that the new core would be "trusting the departments to offer more of the writing or communication in general," in reference to the plan stipulation stating "students should instead revisit communication skills in the context of their discipline as part of their major requirements." 
Core subject requirements will also become easier to navigate. Instead of specific required courses from five categories (HUM, ART, SOC SCI, NAT SCI, MATH), students will be required to fulfill classes from three condensed categories: HUM/ART, SOC SCI/HIST, and NAT SCI/MATH. The academic departments will now designate all classes from their department as satisfactory in filling one of these categories; any Psychology course, for example, would fill the SOC SCI/HIST requirement.
Another large change to the core is the removal of the requirement to take upper division courses outside of a students' chosen major. One student who disliked this idea said, "I went to a liberal arts college to experience a well-rounded, holistically designed world-class education. These changes do not reflect the liberal arts mission. Honestly, why even choose UPS over a State School at this point?" This quote was directly relayed to the professors for their reactions; Professor Freeman said that these changes were not a reduction in the quality of a liberal arts education but that "because of the Connections courses, and because of minors, and because of all of those things," she doesn't see the interdisciplinary effects of the previous upper division requirement going away. "We don't have to police this in quite the same way," she explained. "We're being a little bit more trusting of the students' inherent urge to explore." Professor Sherman added that "flexibility and autonomy is not the enemy of a liberal arts education."
Professor Sherman said a takeaway for students should be that "we are trying really hard to move away from a checklist approach where you get so focused on ticking off the boxes of things you have to do that you're not really thinking enough about what you want to do. And that applies to faculty as well as students. Just getting locked into offering the same kind of checked-box thing as opposed to, what do I want to offer? What do I want to do that students also want to do? And how can we bring those together?"
This proposal is slowly making its way through many levels of administration, including ASUPS, and the responses so far seem to be positive. As of Wednesday, March 29, there was a student forum on the core curriculum where students were able to provide more input on the changes. At this point, there is no certainty that any or all of the changes in the proposal will make it into the official new core, but this proposal represents the efforts of the administration to address many of the criticisms the current system receives.