Newcomers welcome in campus skateboarding community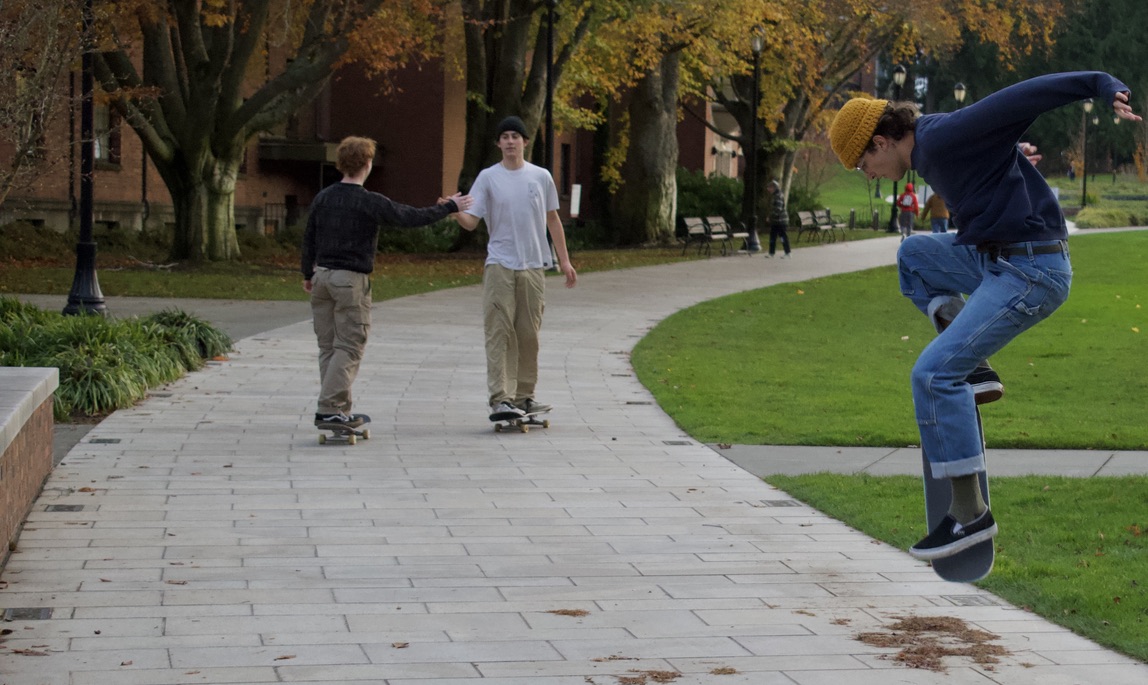 Left to right: Henry Smalley, Eli Fabricant, Hayden Smith photo credit: Andrew Benoit
By Tate DeCarlo
When the sun shines over the University of Puget Sound, skateboarders descend upon the pavement around campus. The thrum of polyurethane wheels on concrete echoes across Todd field and into academic buildings in dry weather, reverberating from the Commencement Walk, Wyatt parking lot, or from behind Weyerhaeuser hall. Skaters find each other and spontaneous sessions form as a group gathers. The sound of skateboards popping off the ground, sliding and smacking the concrete fills the air, accompanied by jovial laughter and grunts of frustration. On days like these, the University becomes equal parts skatepark and gathering place, transformed into a space where the school's community of skateboarders practice and hang out together.
Unlike many other activities on campus, the University's skateboarders are an informal community. Most skaters met through the sport itself, forming friendships simply by skating past each other. The group is newly developed, created in recent years as more skateboarders have arrived on campus. Miles Lawson ('23) explains that during his first year on campus, he and his roommate struggled to find other skateboarders who pursued the sport for more than just transportation. "Then one day, actually, I saw two people out with their skateboards and just yelled from my dorm room, 'Hey, you want to come skate with us?' That day transpired, we created a group chat, and then it just grew from there," he said. Most students who consider themselves part of the skateboarding culture on campus were introduced to the community after being added to this now quite large group chat.
to this now quite large group chat. Those in the group commend it for its openness to skaters of all levels. Eli Fabricant ('25) credits the school's small size as a potential reason for the community's accepting attitude. "It was definitely welcoming. I feel like at this school, the size of it just makes it so that everyone is easier to talk to, compared to a larger public school. I feel like it's really chill here," he said. United by their common interest, skateboarders at the University are quick to bond with newcomers, and for many, the skate community is a place where friendship blooms. The bonds extend beyond students to members of the Tacoma community. Tacoma local and campus regular Rory Mitchell explains that the group's care for one another is a significant part of the appeal. "It's not only about skating. The amount of times I see people checking on each other's mental health, you know, I like that," he said.
While the skate group here on campus draws in skaters from beyond the school, many student skateboarders find it hard to break out into the broader Tacoma skate scene. Due to their hectic schedules and academic workloads, it can be hard to find time to explore and build relationships off campus. "Getting the opportunity to skate is like a one to two hour thing that I can find within my day. And I know there's going to be a place to skate where no one's going to kick me out and it's very accessible. Whereas I tried making a network of friends within the Tacoma skate scene, but it's just not as manageable as a student," Lawson said. The orientation of the scene also proves to be a challenge. "Here in Tacoma, unless you're really a part of the core skate shop group, you're a little more disconnected from it," he said.
Not only is it hard for student-skateboarders to explore the skate scene beyond campus, the Tacoma scene itself is fairly small when compared to the cultures students were a part of where they grew up. Fabricant, who is from the skateboarding metropolises of the Bay Area, notices the difference.
"I think it's kind of the nature of Tacoma, as we don't have some really big skate park that has some huge scene around it, you know. We just have our little parks and our spots on campus," Fabricant said. Between the challenge of finding time to skate off campus and the dispersed nature of Tacoma's non-student skateboarding community, the University of Puget Sound skate group remains somewhat of a microcosm.
Many of those who skate on campus explain that the culture here feels quite different from other places where entering skateboarding can be a challenge. Henry Smalley ('25), who began learning to skateboard on the Commencement pathway last year looks back on the experience fondly. "It seemed like such a good time out here that I just wanted to try it. Starting out skating is always a scary thing, but everyone's really welcoming and helpful," he said. To many — including people who consider themselves skaters — skateboarding can be extremely intimidating. However, the skate group on campus wants that to change.
"Everybody's really supportive and nobody's trying to gatekeep or call you a poser and everyone's kind of going at their own pace. You know, there's guys that have been skating for five years and are really good. And then there's guys like me, who are still trying to figure out how to get consistent. So there really is a range, and everybody's really nice," emphasized Smalley
In order to increase both involvement and community in skateboarding at the University of Puget Sound, Lawson suggests formalizing the group. "I wish I took the initiative to start a club of some sort where you can, it doesn't even need a lot of funding, just take vans and weekend trips to skateparks and once again, create community," he said. By making the skateboarding community into an organization similar to a club, skaters could not only gain access to more resources and maybe even their own space on campus, but also emphasize their welcomeness of new participants of all identities. The sport's gender divide stands out, especially in the group's predominately male makeup. "I wish that when I was a freshman there was a club that more easily connected people, as it can be intimidating for a lot of women to get into skateboarding because it's a male dominated industry and you can deal with a lot of prejudice and misogyny in those spaces," Lawson said.
Members of the skateboarding community on campus want to encourage the group's growth. Many express that skating is less fun when done alone and want people of all levels to feel welcome to join them on Commencement. Here on campus, skaters find supporting beginners one of the most rewarding aspects of the community. "I think that's one of the coolest things about skateboarding is when you're not the one skating, you're like everybody's cheerleader," Mitchell said. His sentiment is shared by many other skaters, as most enjoy the chance to encourage people to give skateboarding a try. The skaters urge those who participate in other wheeled hobbies to join them on Commencement as well. "If you have a skateboard or longboard, or anything that you just want to practice with and get better at, and also get to know some really cool people, if you see people outside skating, just come by. Even rollerblades, some people who are roller skating out there. That's really cool to see too," said Smalley.
If you've ever wanted to pick up skateboarding or feel nervous to join the group, take this as a sign. Grab your board — or your roller skates — on the next sunny day, and follow the sound of the session. Skateboarders here seem to share the belief that skateboarding is for everyone, and that the supportive community at the University of Puget Sound is the best place to give it a try.