Student food insecurity on campus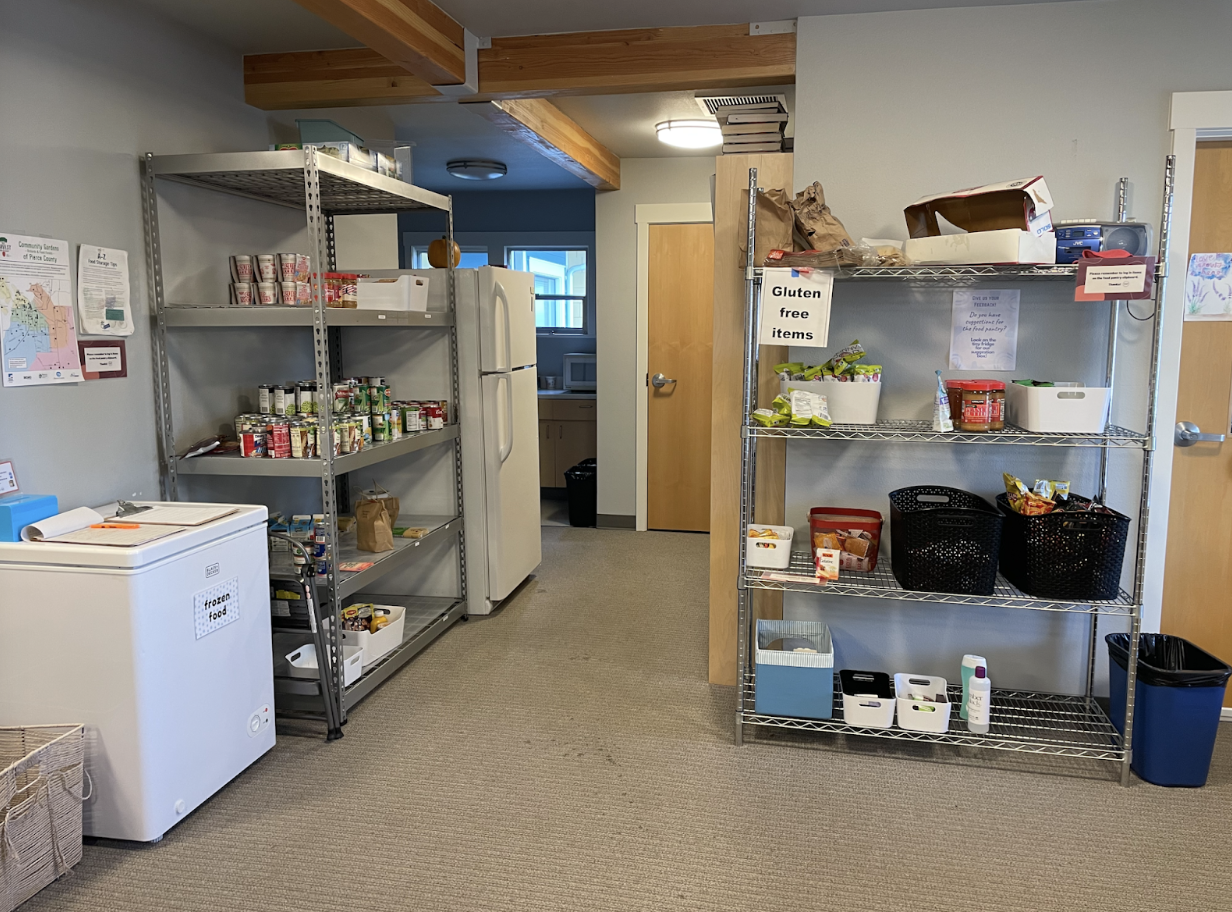 The University food pantry in the Student Diversity Center. Photo Credit: Kaya Heimowitz / The Trail
By Kaya Heimowitz
According to the Basic Needs Security Among Washington College Students Survey Report, "nearly half of students (49.4%) experienced basic needs insecurity," and "4 out of 10 students (38.3%) experienced food insecurity in the last month." This data includes students at the University of Puget Sound.
According to Eric Hetland, Director of Student Support, in Fall 2022, around 300 people logged entries at the campus food pantry, which averages out to about 15 students a week. While there is no limit to the number of items a student can take, Hetland said that the average student takes about five items per visit. These numbers are based on the visits logged, so the number of visits to the food pantry is probably a bit higher.
The campus food pantry is located in the Student Diversity Center, where students can swipe into the backdoor with their Logger Card every day between the hours of 8 am to 10 pm. The food pantry restocks every two weeks and primarily stocks non-perishable foods (including some gluten-free and dairy-free options), except for a few refrigerated or frozen foods and toiletry items. It is designed to be a supplemental resource; if a student needs more support, it's best to reach out to student services. "You'd be hardpressed to meet all your nutritional meals for the entire semester," Hetland said.
Hetland recommends that students searching for additional food sources and nutritious options visit the Mason United Methodist Church (located less than a mile from campus) on Saturdays because the Pierce County Nourish Program operates out of there and provides nine meals a week per person. 
While some students can meet their needs with the food pantry, others must find other ways to meet their dietary needs. Former student Kaishu Murakami – who struggled with food insecurity while attending the University – didn't even know what the food pantry was. For financial reasons, Murakami opted out of purchasing a meal plan, which meant he had to find his meals elsewhere. "I'd have to survive off, you know, other people's dinners, or if I had the opportunity to go grocery shopping, I would do that. But it wasn't like consistently. I didn't have transportation," he said.
Access to food is a complex thing. Hetland works with students from various situations who need food support. Often, students need the most help during the first 2-3 weeks of the semester as they pay for textbooks, rent, tuition, and groceries, which adds up very quickly. "Their money is stretching to get through all of their meals. And so they're making challenging choices of either limiting the amount they're eating, or choosing less nutritionally healthy options because it's more cost-effective," he said.
The constant mindfulness about how to get food adds a layer of exhaustion to schoolwork, especially during stressful academic periods. Murakami found it much harder to deal with the food insecurity he faced during finals and midterms: "I was cutting down on meals," he said. Murakami also jokes that he was "fiending on yerba mates, like during finals week I was drinking like four a day it was so bad," because the caffeine kept him going without the proper energy from food.
There is more to proper food access than just getting food; people have to think about how cost and transportation factor into their ability to do so. Students are already busy managing their time, attending class, and doing homework. Then extracurriculars and athletics pile on top of that, making it more challenging to manage.
Athletes generally need to eat more to keep up their stamina. Murakami, who used to be a soccer player at the University, said that food insecurity affected his performance as an athlete. "I would get hungry during practice, which was not helpful, right, as I'm not getting the energy I need," he said. It also affected his ability to gain muscle mass. "I hit the gym, but I wouldn't get any progress, because I'm not eating a lot," he said.
Most food readily available to students is not the healthiest or most culturally diverse. For example, Murakami mentioned that he could not find many Asian food options around or on campus, which led to him eating less. "Because I wasn't comfortable with the food I was eating, your appetite levels are different too," he commented.
Food insecurity affects every aspect of the student experience at college. Hetland and Murakami mentioned that casually talking with peers about food insecurity is a good way for students to break down the stigma and shame surrounding needing food support. As Hetland said, "It's okay to get some extra support when needed." And if students are struggling with food insecurity, they can always reach out to Student Support.