Leaping Into the Lunar New Year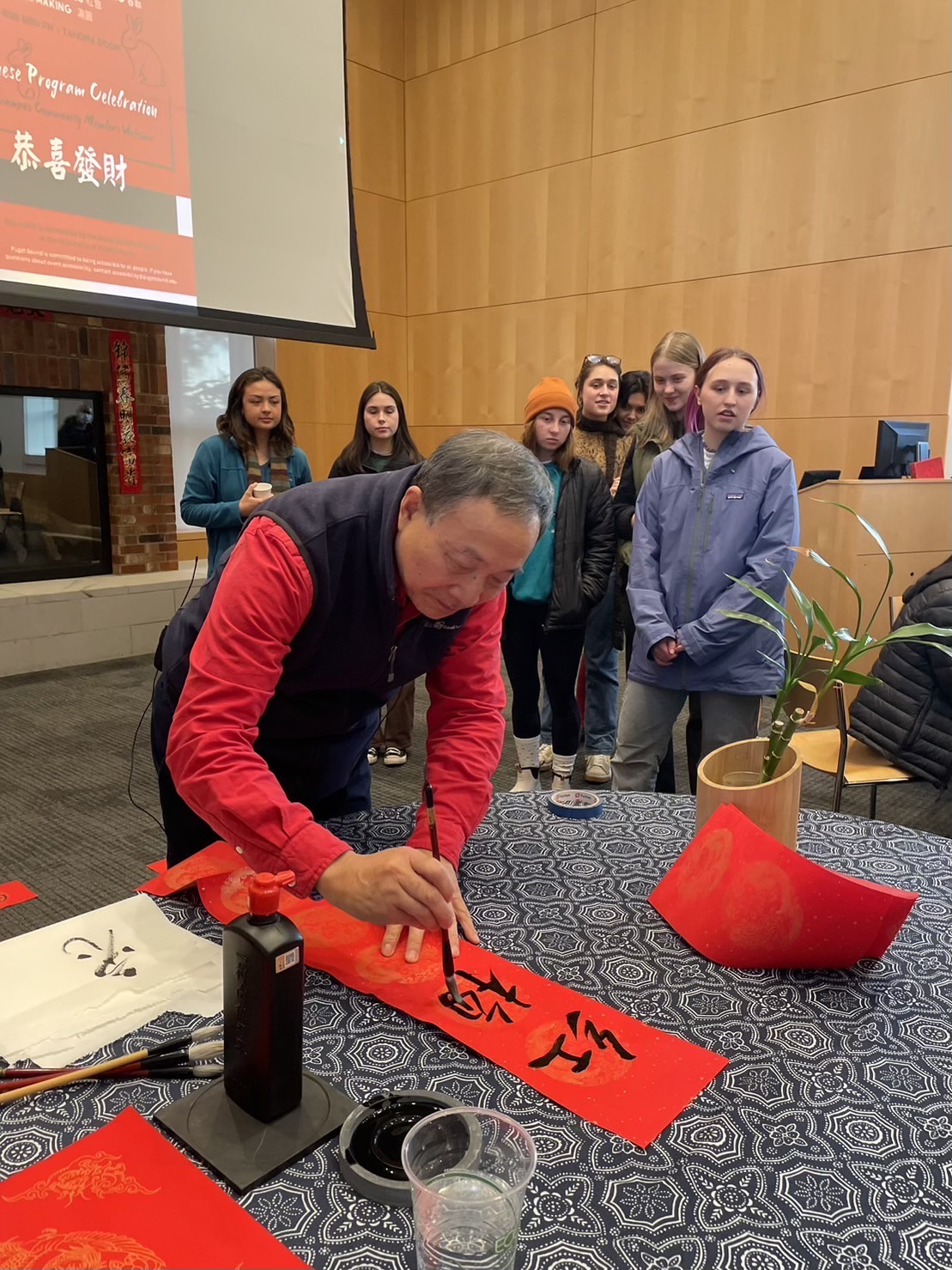 Professor Hong demonstrates writing Chinese calligraphy. Photo taken by Oliver Hsieh (photo provided by Chinese department)
By Kaya Heimowitz
Members and friends of the University's Chinese program gathered in the Tahoma room on January 20 to usher in the Chinese Year of the Rabbit, the Vietnamese Year of the Cat and the arrival of spring. The Lunar New Year is called the "Spring Festival" in Chinese because it celebrates the arrival of spring.
The event occurred about the same time many families in Asia gathered to eat a New Year's Eve dinner. Professor Lotus Perry, head of the Chinese department, mentioned how the event strives to recreate a similar family atmosphere at school. "Traditional New Year's Eve you spend with family, so I guess the whole goal is to create this sort of community family group," she said.
Members of the community attending the event ate traditional Chinese foods, watched a calligraphy demonstration and played a competitive game of Kahoot.
The menu included potstickers from a local Thai-Vietnamese fusion restaurant, The Fuzion Cafe, spring rolls, edamame falafel, chicken skewers, and tang yuan (rice balls with sesame paste, red bean, or taro root in the center). The result was a delicious sampling of symbolic lucky foods. The shape of a potsticker or jiaozi is called "yuan bao" the Chinese word for gold ingot. According to Professor Perry dumplings represent fortune. The yuan in tang yuan (rice balls) means round, but it also means reunion and symbolizes reuniting with family. Many students thought edamame falafels, a non-traditional food, was an interesting vegetarian option, but beans (like edamame) are considered prosperous.
Following the meal, Professor Zaixin Hong, who teaches in the Art and Art History Department, performed a Chinese calligraphy demonstration. As Professor Perry explained, Hong is "not only a calligrapher, but a composer" who crafts messages about spring as he's writing. Professor Hong composed various messages, including one where the Jade Rabbit — a famous figure from a Chinese myth about the moon goddess — announces the arrival of spring. Afterward, Professor Hong wrote characters for students per their requests. Words like "spring" and "success" were popular choices.
The last activity was a competitive round of Kahoot, created by Oliver Hsieh, the Fulbright TA from Taiwan, quizzing students on facts about the Lunar New Year. Alumni Allie Highsmith scored the most points and took the win!
If you missed the event, Professor Lotus announced that you can visit the second floor of Wyatt to "try to find the dragon kite and walk under it for good luck." Hopefully, the future holds many more Lunar New Year celebrations for students, faculty, and their families, who can come together to create a "community family group."