PLU sets example with composting program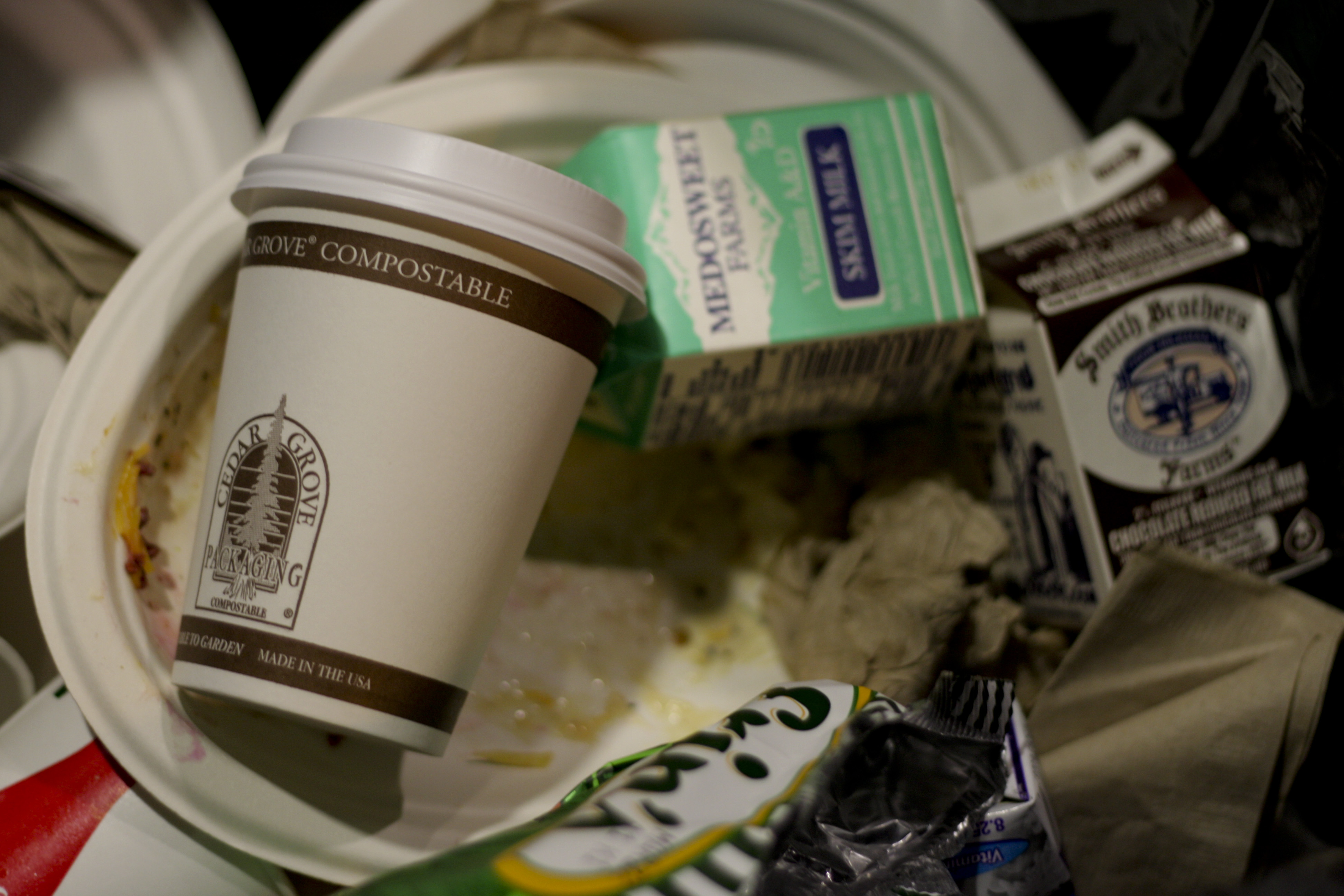 As the end of the term draws ever closer and many of us start downing more coffee than usual, bellies still bloated from week-old turkey overload, the best way to burn any holiday flab might be to go on a scavenger hunt looking for a place to compost your Diversions Café coffee cup. Just don't expect to find any compost bins around campus. Not our campus, that is. For now, your best bet will be to walk 8.3 miles to Pacific Lutheran University and drop your compostable cup in one of their dozens of pine-colored receptacles, which are peppered around the university everywhere from the dorms to the dining hall.
PLU began composting in September 2007 and by February of 2008 the school was recycling more food than it was throwing out garbage. By that April, PLU composted over 74,670 pounds of food waste, and now is recycling or composting nearly 70 percent of all it throws away. In comparison, Puget Sound is currently composting zero percent of its food waste.
For those of us who assumed we Loggers had the market cornered on sustainability, it now looks like "our rivals" have been beating us at our own game and they've been doing it for years. So where did we go wrong? If we aren't acting as leaders on all things sustainable, our school motto "hack hack, chop chop" starts to sound a bit like the dastardly cries of a mad scientist (just short of "hack hack, chop chop, pave pave, build a Taco Bell, build a Taco Bell").
Puget Sound has been looking for a way to compost for years, but has had little success. John Hickey, Co-Chair of the Sustainability Advisory Committee, suggested it's a numbers problem and that we simply have too much volume. "There has not been a vendor that can effectively deal with the quantity," Hickey said. "The path to being green is not always clean; it's not always quick," Office of Communications Web Manager Barbara Weist added.
Why we cannot use the same companies that PLU or University of Washington— also a composter!—are using, remains unclear. PLU runs their composting and recycling through Waste Connections, which takes food waste in addition to the complete range of recyclable plastics ranging 1-7. (Puget Sound recycling is done through the city, which has recently started taking 1-6, excluding Styrofoam and other miscellaneous hard plastics.) The University of Washington began composting waste back in 2004, and they currently use Cedar Grove Composting to handle their volume. (Incidentally, Cedar Grove supplies our Diversions compostable cups.)
If we ever find a vendor for our food waste, it likely won't be cheap. The issue then, is how much are we willing to pay? How much do we really care about sustainability?
"One of the best things about sustainability at PLU is that it is almost entirely student driven," PLU Environmental Studies Major and active member of the university's sustainability committee Mackenzie Sehlke said. Students at PLU initiated a "green fee" of ten dollars a semester which covers many student-led green programs on campus. Popular and highly successful programs like "take back the tap" (Nalgene water bottles, subsidized by green fees, were sold for only a dollar, causing an end to plastic water bottles on campus) and "One less cup" (reusable hot travel cups sold for two bucks with fees tacked onto the paper cups at the café to discourage using disposable cups) were both student creations.
"I've found that a lot of students care about sustainability, but feel overwhelmed or overburdened by the responsibility of making a change," Sehlke said. "Therefore we [the sustainability committee] really try to emphasize what a difference these projects make, and encourage students to enjoy sustainable practices."
If Puget Sound is looking to follow in PLU's green footprints, perhaps a good first step is to do a better job with the recycling we already do. Fortunately, we have a terrific student-run sustainability organization of our very own: The Students for a Sustainable Campus (SSC). The SSC recently discovered that about half the garbage we are currently sending to the landfill could be spared the journey.
This staggering statistic was calculated during "Garbology," an interactive demonstration put on by the SSC in late October. The sustainability group looked through trash pulled from bins around campus and out of sixteen and a half bags, seven bags could have been recycled. A Garbology display is currently hanging up in the S.U.B. by the tray depository, and does a great job showing exactly what goes where.
"When food causes contamination to products they all get thrown away. On campus we have a problem with that," SSC leader Sarah Webb said. "A lot of people think they know what [sustainability] is, but they don't understand how to approach it. I think outreach and education is a really huge component."
During Garbology, 163 students were asked what they thought was the most important sustainability issue on campus, and 55 percent said composting, or general waste reduction. If 55 percent of our undergraduate student body cares about this issue, that's about 1,500 people who want to see composting brought to campus.
If we can take a leaf out of PLU's book, we should be able to make composting happen. To get involved with student efforts through the SSC, send an email to ssc@pugetsound.edu.
[PHOTO COURTESY / JANE CORNELL]