Christian Paige brings electric energy for MLK Celebration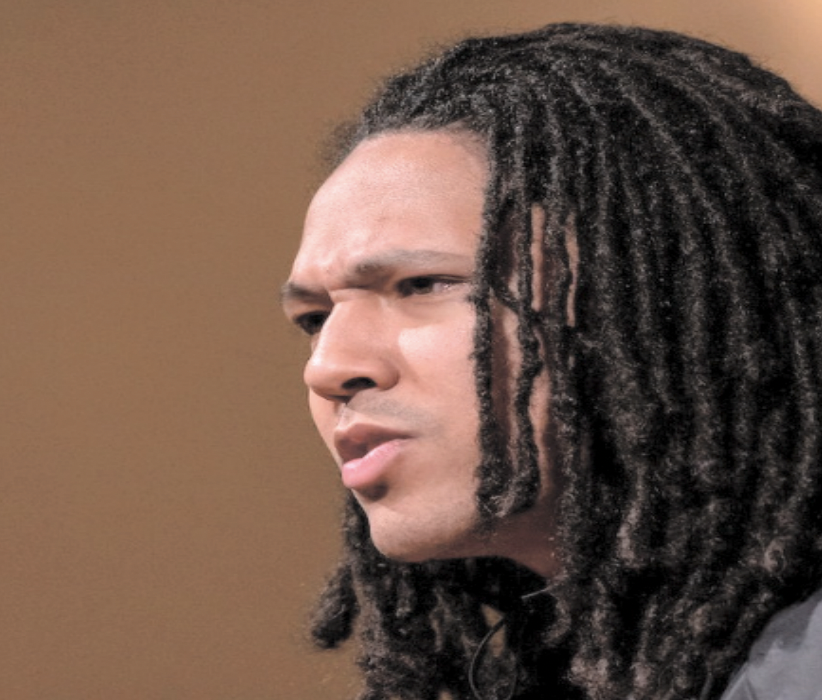 Christian Paige speaking in Kilworth Chapel during Rev. Dr. Martin Luther King Jr. Celebration. Photo Credit: David Ryder
By Ainsley Feeney
As students were recovering from the first day of spring semester classes, Kilworth Memorial Chapel hosted the University's 37th Annual Martin Luther King Day Celebration, featuring keynote speaker Christian Paige. Paige's website describes him as an "Emmy nominated spoken word poet, a professional speaker and educator who speaks at schools, conferences, and events across the United States," as well as "an Act Six Scholar…passionate about community, anti-racism, equity, and empowerment." In honor of Dr. King, Paige's keynote lecture was titled "Do You Remember Our Future?" The speech was preceded by welcome addresses from the University Chaplain, Reverend Dave Wright, president of the Black Student Union, Kellen Hagans, and University President, Isiaah Crawford.
I settled into my seat prepared to take notes on the event, but I quickly realized that no notes would accurately capture the feeling inside the sanctuary. After the playing of the Black National Anthem, a song I had never heard honored in its entirety, I realized that this would be a very special event. My impression was confirmed as soon as Paige stepped to the podium.
Paige had a presence and cadence of speaking that immediately pulled the entire room into his speech. He asked the audience to "not leave him alone in the room," and encouraged us to respond to what he was saying. For the rest of the lecture, there were intermittent cheers of approval and encouragement, taking me back to my days in the Southern Baptist Church. With each cry of, "tell 'em, Paige!" or "there we go!" the energy in the room increased.
In his speech, Paige discussed the legacy of Dr. King, his own work in equity, and his hope for the future interspersed with readings of his poetry. He called on all of us to remember the undying legacy of Dr. King and fulfill it in everything we do. He specifically called on young people to lead the way — in his words, we are "not just the future, we are the now." Paige received a standing ovation following his speech.
Afterward, the "Keep Living the Dream" award, an honor presented to a person who embodies the life of service and activism that Dr. King led, was presented to Tacoma local Kwabi Amoah-Forson, who serves unhoused people in the local community on his bright blue "Peace Bus."
At the reception, I was able to speak to Paige for just a moment, telling him that I used to participate in slam poetry in high school. He looked at me, smiled, and said, "pick it back up!" That short interaction encompasses the energy of the event and of the man whom it honored: kindness, encouragement, and a call to action. Here are the final lines from Paige's Emmy-nominated poem, "Trees." "
So don't call us anything that starts with a deficit
Call us scholars
Call of us leaders
Call us Change
Call us trees
And discover what happens when you decide to water a seed."