CHWS hosts MPV info session and vaccine clinic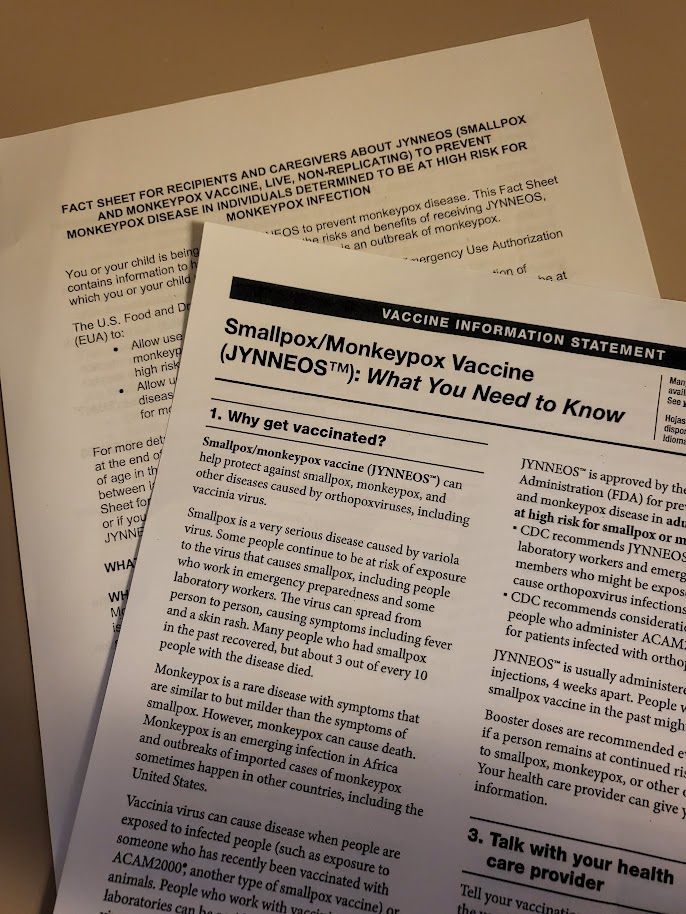 Pamphlets from CHWS Vaccine Info Session and Clinic. Photo Credit: Hannah Lee
By Hannah Lee
On Oct. 25, CHWS hosted an information session and vaccine clinic for "monkeypox," a condition more appropriately termed MPV. Each person who came to the event was given an info sheet about Smallpox and MPV as well as a fact sheet about the new JYNNEOS vaccine, which protects against both. The Trail spoke to Danielle Bus, a Registered Nurse at CHWS, and Matt Brignall, a naturopathic doctor at the Tacoma-Pierce County Health Department (TPCHD) to find out more about the clinic and the disease.
Bus noted that the planning started a month before the event. "I worked with a health promotion coordinator at the communicable diseases division of TPCHD to plan the MPV vaccine clinic as well as the two COVID-19 booster clinics we had this semester," she said.
Bus spoke about the importance of availability and access to information about MPV. "Providing the vaccine on campus makes it easy to initiate the vaccine series for students who are eligible to get vaccinated. It also helps students connect with and interact with community resources, such as the health department," she said. In addition to being able to receive the vaccine and get information, Bus noted that CHWS also provided an opportunity to speak with a TPCHD employee to get accurate and up-to-date answers concerning the disease.
Brignall also spoke about the importance of getting educated about MPV. "The largest number of cases we've seen have been in young adults. The age groups that we have here on campus are… potentially folks that are at risk. Behavior changes and education about this crisis have been very effective at stopping it," he said. He also mentioned that his goal as a clinical educator is to help modify behavior so people can be less at risk. "Monkeypox… can be a painful disease, and we want to make sure that it doesn't become a disease we deal with year after year in the United States," he said. 
Working with the local community is something that Bus feels is important to mitigate diseases like MPV. "CHWS and the university are fortunate to have a wonderful working relationship with our local health department, and we are happy to be a small part of the team effort to provide the MPV vaccine within the Tacoma community," she said. Concerning attendance at the clinic, Brignall mentioned having 15 conversations about MPV, while Bus noted that she only saw six to eight students.
Brignall thought that we are on a good track to have the MPV outbreak be a thing of the past, and said, "Hopefully we get this disease to the point where we don't have to worry about it in the future."