Tacoma Film Festival: our annual hub of culture and community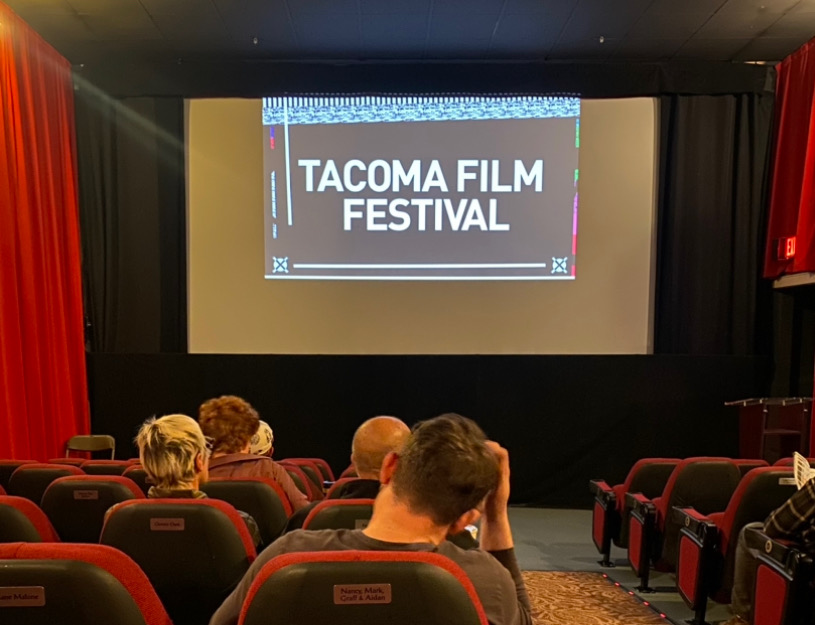 A theatre at the Grand Cinema prior to a screening during the Tacoma Film Festival Photo credit: Henry Smalley / The Trail
By Henry Smalley
  With so many clubs, activities and obligations here on campus, it can be easy to forget to get out of our red-brick bubble and explore the culture and community of the Gritty City around us. However, every fall, one opportunity arises to leave the hustle and bustle of campus and engage the wider community: the Tacoma Film Festival. TFF is a fantastic annual opportunity for anyone looking to learn more about indie films and the people who make them, participate in local culture events, or simply check out some new, hard-to-find movies. Even if you missed it this year, it is something worth keeping on your radar for next fall.
  Hosted by the Grand Cinema since 2006, the Tacoma Film Festival is an 8-day festival showcasing a variety of new films from the year. The festival covers many genres, from narrative films to documentaries and short films – there is something for any movie lover to enjoy. The film festival also draws from around the globe, this year featuring filmmakers from South America, Asia and Europe as well as directors from right here in the Pacific Northwest. "The commonality is that all their films are independently made," said David Dinnell, the director of programming for the festival. "Could be a film made by a single person with a camera and an idea – those could be incredibly amazing works. Could be anything up to a film with a huge budget and a big production crew," Dinnell said.
  Besides being a great way to see new films, TFF offers some unique opportunities for cinephiles who are looking for a deeper dive into the films. Many of the filmmakers attend screenings of their movies and spend time talking to attendees and answering questions. Dinnell considers this bridge between filmmakers and audience members to be one of the most exciting things about the whole festival. "It's a really cool thing to be able to sit in a room and see something interesting then be able to hear from, or even talk to, the person afterwards," he said. TFF also offers events for those interested in the filmmaking process, including workshops and podcasts from some experts in the field.
Even if the intricacies of filmmaking aren't your thing, any chance to go to the Grand to see a film is worth your time. Dinnell believes that there is something special about the Grand. "The Grand Cinema is considered a gem of Tacoma, it's a small and intimate art house theater. It definitely has its own charm," he said. If you're looking to get out more into Tacoma and explore some of its unique culture and community, the Grand is a great place to start. That sense of home-town charm is only heightened during the film festival, when those interested in Tacoma's art scene come together in an intimate setting. "Even if you don't think you're a filmmaker, what a great opportunity to meet a slice of life that you wouldn't otherwise," said Priti Joshi, an English professor at the University and a juror for TFF.
As an added bonus – and perhaps a testament to TFF's cultural value – Tacoma Creates, a public funding program focused on providing opportunities in arts and culture, has made it possible for the Grand Cinema to offer free tickets to any students in Tacoma. What a deal! If you did not get the chance to attend the festival this year, do not fret. Free tickets are available for all film showings at the Grand.
If you are looking for more opportunities to get involved in Tacoma's film scene – or even showcase a film of your own — you don't have to wait until next year's festival. Besides being a professor and a TFF juror, Priti Joshi also serves as the longest-running juror for the 253 Short Film Contest, another event hosted by the Grand Cinema in which contestants have 72 hours to create a film. According to Professor Joshi, the final showing is not an event you'll want to miss. She also recognizes the strong presence of local students in the contest, but points out that there are usually more filmmakers from nearby Pacific Lutheran University than from the University of Puget Sound. "I would love to see more UPS students participate in it," she said. Let's get those numbers up, Loggers! 
Whether you are a film buff searching for niche foreign films to add to your Letterboxd or are just looking for something to do on a Saturday night, checking out The Tacoma Film festival is certainly an experience worth your time. As soon you enter the Grand Cinema, it is apparent just how much everyone there cares and how hard they have worked to create an intimate and unique setting for film buffs and casual viewers alike. If you are looking to get out into Tacoma and explore some of the community and culture around you, there is no better place to start than The Grand Cinema and no better time to experience the Grand than during the Tacoma Film Festival. Of course, with free tickets for students year-round, there is no need to wait, but be sure to mark your calendars for next year's festival.