Masha Amini's death initiates protests in Iran led by women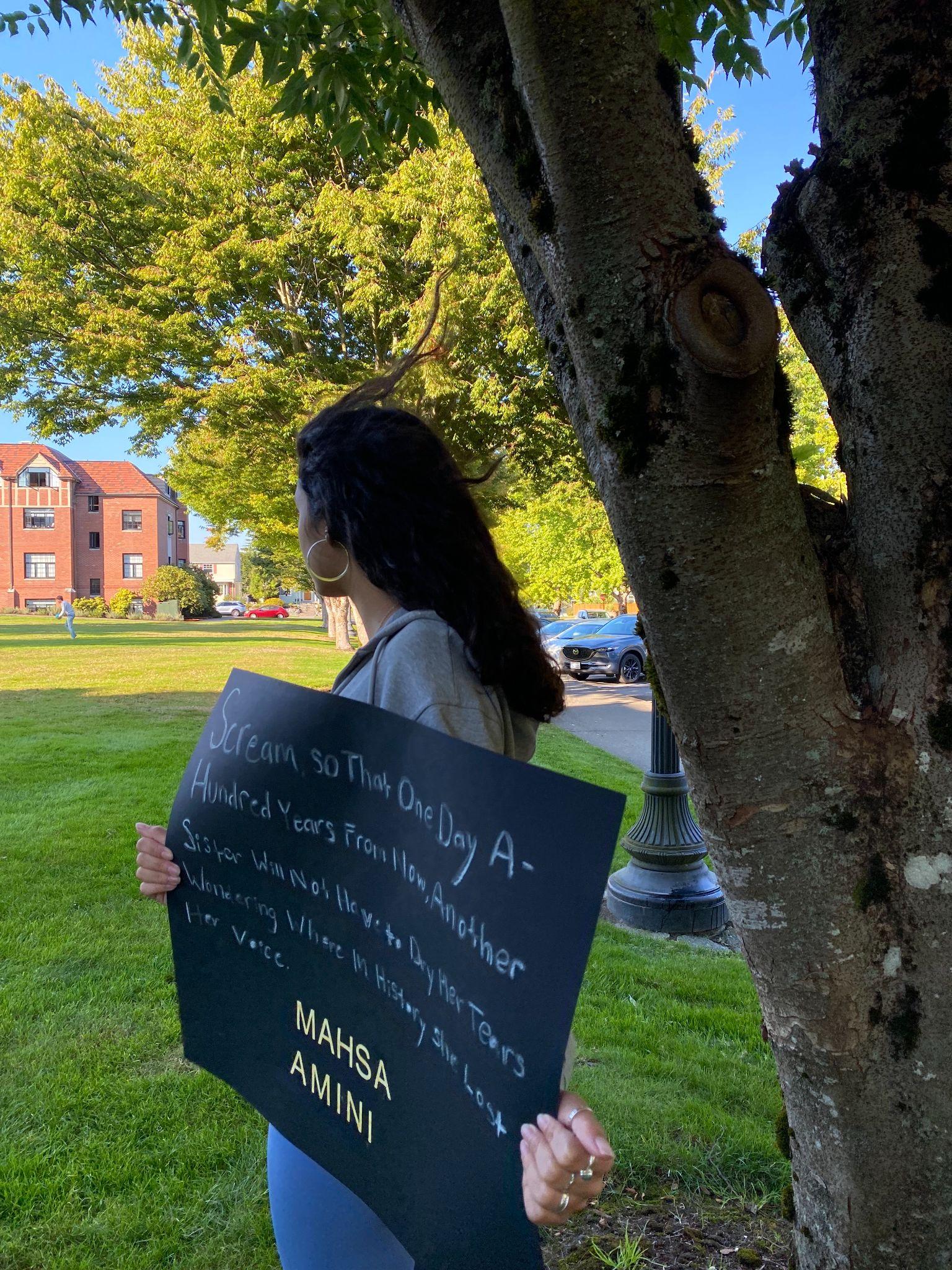 9/30/22 "scream so that one day a hundred years from now, another sister will not have to dry her tears wondering where in history she lost her voice" Photo credit: Emma Loenicker / The Trail
By Emma Loenicker
Tolerance of the Iranian Republic's theocratic rule has reached a breaking point. On Sept. 13, 2022, Mahsa Amini, a young Kurdish woman, was taken into custody by the Iranian morality police for wearing her hijab "improperly" in Tehran, Iran's capital. The morality police have enforced conservative Islamic dress and behavior since the 1979 Iranian revolution. Determinations of immoral behavior have largely been left up to the discretion of officers. This power allowed officers to take Amini to a detention center where she would be reprimanded. Three days later, on Sept.16, she died.
  Iranians across boundaries of socioeconomic class and religious affiliation like never before. Politics and Government Professor Seth Weinberger says this unification comes from a "shared respect for life." Assistant Professor of Religion Sam Kigar points out that "this tragedy has been a catalyst that has allowed diverse people to come together." While past grievances committed by the Iranian government have infuriated the public, this latest surge of protests has fueled a more passionate response than previous economic woes.
  Protests began immediately after Iranian journalist Niloofar Hamedi, among a few others, reported on the brutal police violence that allegedly caused Amini's death. Hamedi is among many journalists who have been taken into custody for writing against the authorities' narrative that Amini died from pre-existing health issues; her family disputes this claim. The Center for Human Rights in Iran reported that at least 92 lawyers and journalists had been arrested as of Oct. 7
  In response to the outrage pulsing through the streets of Iran, the government has enacted country-wide internet bans. Despite efforts to limit communication, Kigar says that Iranians are finding ways to remain connected. The bravery of journalists like Hamedi has enabled the exchange of protest footage and commentary that is sweeping across the internet. Videos from protests circulate across social media platforms, depicting flames tearing through streets, crowds of people marching in solidarity, and most importantly, women courageously removing their hijabs and burning them in bonfires with riot police watching their every move.
  The anger of Iranian women stems not only from Amini's death, but the belief that she should not have been arrested to begin with. Kigar explains that in Iran, women's bodies are "forced to do all this symbolic work of representing the nation," which might explain the authority's refusal to relinquish power over women's bodies. Both Weinberger and Kigar explained that controlling women's bodies is a key component in the government's ability to maintain theocratic political control. Faced with extreme repression, many women are putting their lives on the line because they feel there is no freedom left for them to lose.
  As authorities crack down on protests with violence, arrests and deaths of activists have increased. An accurate death toll remains unobtainable because of the government's ban on internet access, but Iran Human Rights, an international non-profit organization, put the number of civilian casualties at 133 on Oct. 2.
  Based on patterns of past uprisings in Iran, analysts predict that the government is likely to remain on the defensive in order to avoid showing weakness — authorities are showing no signs of lasting resolution. General Azizollah Maleki, the police chief for a single province, Guilan, announced "the arrest of 739 rioters," according to Tasmin News, an Iranian news channel, on Sept. 25.
  According to Kigar, the current uprisings in Iran signal to the world that "Iranian women are showing the way forward in terms of how women can push back against patriarchy." Citizens in Afghanistan and other neighboring countries are supporting Iranians in their fight for freedom. Afghans and Iranians alike are putting their lives on the line to fight against the strict policing of their freedom. The Trail stands in solidarity with the people of Iran.