Making comfort in Collins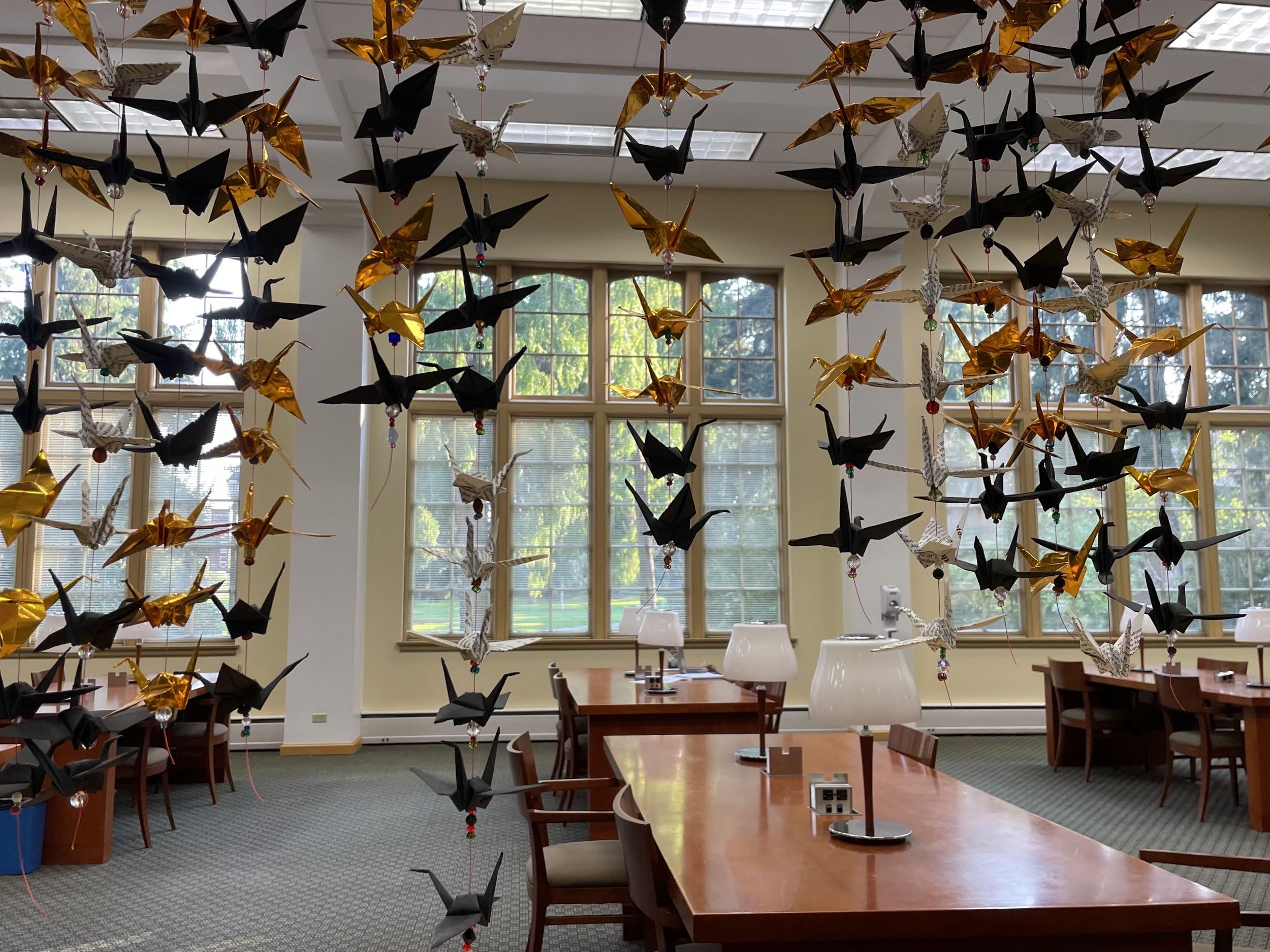 Inside Collins Memorial Library Photo credit: Emma Pellegrini / The Trail
By: Emma Pellegrini
It's 12:55 pm on a Saturday and students start to gather around the library's entrance, eagerly waiting for it to open. Inside, the energy among the staff is palpable as the sunlight pours in through the large windows, and the tables long to be strewn with well-loved books and annotated articles, a sight that reminds the surveilling student of the comforting pride of accomplishing an academic task. Collins Memorial Library is a campus staple for studying and finding a kind of solitude that feels strangely communal. "You can come to the library and you're in a social place, but you don't have to socialize," says Jane Carlin, library director.
  Emma Hahn, fourth-year, loves the warm feeling of comfort the library gives her. "I really enjoy the helpful atmosphere, how helpful the library is, how willing to work with you to get things done and to solve issues," Hahn said. To many on campus, Collins isn't just a library, it's a place of tranquility and belonging.
  Carlin has worked as the library director at Collins Memorial Library for 13 years. In that time, she has worked to be a consistent advocate for amplifying diverse voices in art and literature and creating a safe, compassionate space for students. Carlin works to provide a variety of different spaces and environments within the library for students. "The Library is a place for everyone on campus. We have a variety of spaces, from quiet study floors (floors 3&4) to private study rooms on the Mezzanine and lower level, to group meeting spaces and open spaces to study and read and reflect," she said. Carlin mentioned how the addition of the Makerspace, a small corner in the downstairs of the library where students can complete a variety of different art projects, was meant as a way to create an outlet for students to unwind from the stress of academics, as well as the introduction of other small spaces, meant to reduce student's stress and anxiety. "Spaces like the Makerspace and the Pacific Northwest Room with rocking chairs provide the opportunity to reflect, make something and take a wellness break!" she said.
  Carlin is also dedicated to the library's relationship with the student body, a relationship that she claims holds a personal significance. She mentioned that connecting with students and guiding them to resources in the library is the crux of her work, and often brings great satisfaction. Carlin's sentiments about guiding students to resources extends beyond her.
  Peggy Burge, the Associate Director for Public Services at the library, described the relationship between students and the library. "Everyone in the library, no matter their role, is dedicated to meeting the information and research needs of our students. We aim to meet each student where they are, and help them develop and extend their research and critical thinking skills," Burge said. She mentioned a multitude of library services from in-person research consultations with liaisons to online subject and course guides. 
  Many students benefit from the close interaction and personability of the library staff, an appreciation that makes the library even more special to them. Audrey Glaubius, second-year and Senior Makerspace Assistant, commented on the wonderful work environment that allows her to be creative. "I love Makerspace. I love working there. I feel like I have a lot of independence as an employee. My shifts are pretty much mine that I can do what I want a little bit as long as I'm, you know, helping people when they come in," Glaubius said. Even as a student, Glaubius has an affinity for the Makerspace, specifically the sense of tranquility it creates. "I really enjoy having kind of that nice, enclosed, cozy, homey-almost environment to like sit down and do my work and do homework," she said.
  Carlin stressed the importance of offering in-person, creative, and interactive experiences at the library, in order to overcome an obstacle that all of campus has faced: transitioning out of pandemic limbo. She hopes that by offering such events as exhibits and coffee hours the library can once again begin to draw many students back. After all, many students find the particular atmosphere of Collins to be a quintessential campus comfort. 
  No matter if it is a book sought after for research, or a much-needed game of Uno to unwind, the library offers restful seclusion. As many on campus already know, there is much comfort to be found in Collins.