University of Idaho's ban on birth control – here we go…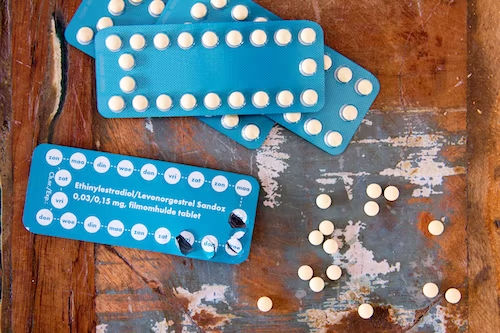 Four packs of birth control, one pack opened with 14 birth control pills spilled about. Photo Credit: Unsplash Images
By: Amelia Pooser
  The University of Idaho recently announced in response to the state's abortion law that it will no longer be providing birth control to its students. The announcement, made by the University's general council, not only banned staff from offering birth control to students but also included restrictions on speech. According to the email sent to university employees, they are no longer allowed to speak in support of abortion at work and if they do so they could face a felony conviction. This announcement was made in light of Idaho's near total abortion ban effective Aug. 25. Exceptions are made only in cases of rape and incest or when the mother's life is at risk, as shown by a report made to local authorities.
  The story quickly spread as major news outlets around the country reported on the announcement, even making its way up to the White House. President Biden spoke out on the issue during a meeting of the Task Force on Reproductive Healthcare Access. "Folks, what century are we in?" he said, discussing the announcement — "my lord, we're talking about contraception here. It shouldn't be that controversial."
  The university even acknowledged that their bold move abided by laws that are "unclear and untested" in court. For many, this decision is one of the expected outcomes of Roe v. Wade as access to contraception becomes one of the expected political targets for American conservatives. 
  Rebecca Gibron, the chief executive of Planned Parenthood Great Northwest, Hawai'i, Alaska, Indiana and Kentucky wrote in a statement, "The University of Idaho's announcement is the canary in the coal mine, an early sign of the larger, coordinated effort to attack birth control access."
  Students in Idaho with similar ages, experiences, and goals are now experiencing these changes in real-time. On the ground, there were seemingly mixed views on whether or not the university should provide birth control, with one anonymous student stating, "I wish the University would be more progressive and choose to keep birth control available. Everyone should have the right to receive health care products that they see fit for them." Another anonymous student said, "it would make sense for an education institution to stop distributing it for it is not exactly their field to be influencers in."
  Ultimately, it is clear that this announcement has made an impact on the University's student body. Student April Church said, "There was one instance where a mutual friend needed to access Plan-B, and neither my RA nor our university-employed friends could help." Another student, Ethan McIntosh, commented on how he thought the announcement would affect his education. "We as a student body deserve to know that the staff and faculty that we pay thousands of dollars to have access to and to have teach us, should be able to teach us the most correct information they have available," he said, "without the federal government or government in general messing with what they can teach us."
  It seems the sexual health services provided on campus will not be completely inaccessible as the guidance email specified that the University will continue to provide condoms — but only for the purpose of preventing STDs, and not as a form of birth control. Thus, to the college students of the University of Idaho, if you ever need to make "a trip" up to Washington, don't hesitate to call.