Black History Month series highlights black resilience at Puget Sound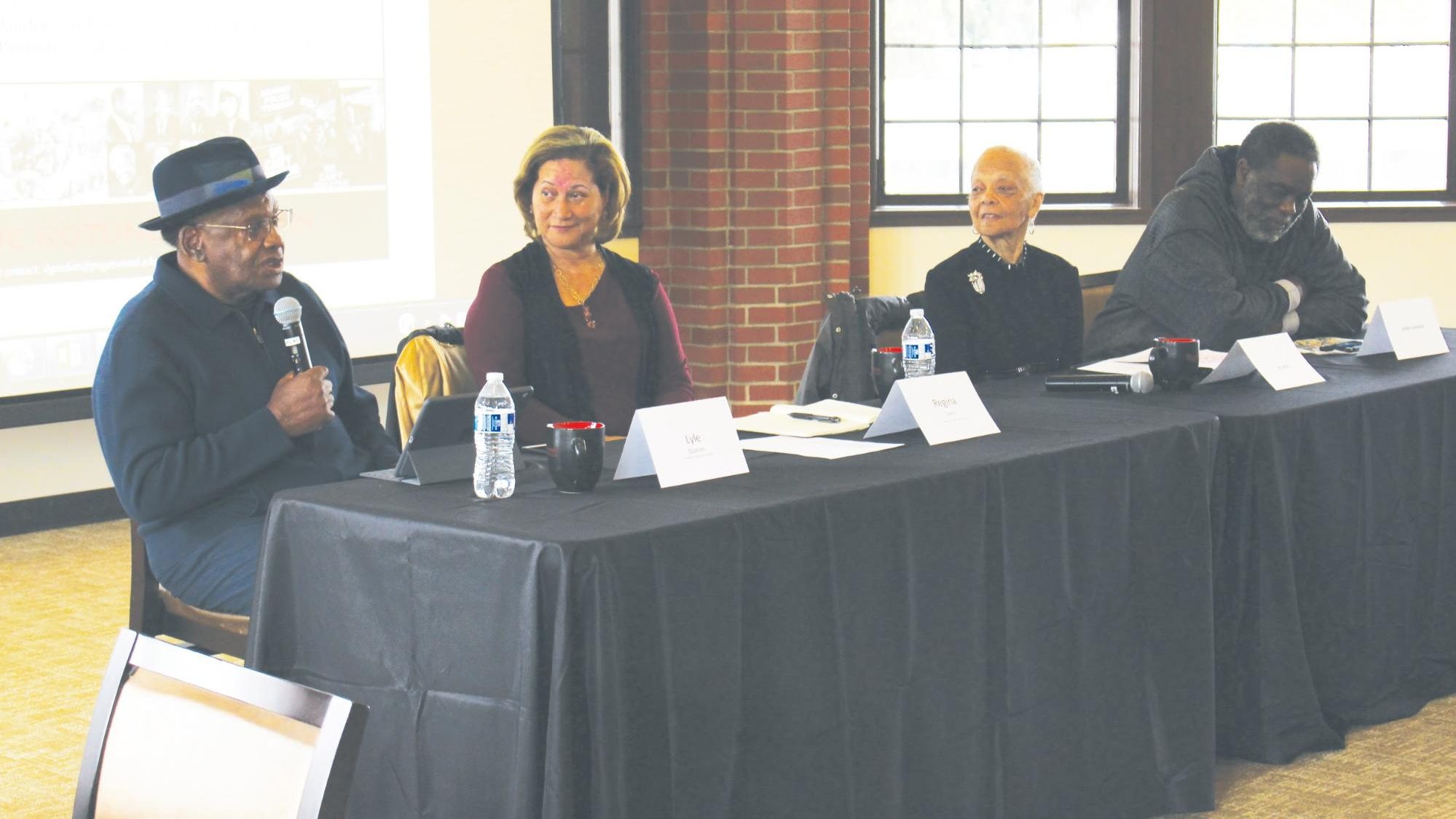 Black alumni present during series' first panel — Photo credit to Alec Dionne
After the snowstorms of early February and a two-week delay, the Black History Month series got off to a much-anticipated start with a panel on Feb. 25. This first event "The Year 1818 and the Era of Revolt: Stories of Infamous Slave Revolts," gathered Puget Sound alumni to speak, while a second panel the following Monday, "The Year 1619 and the Era of Resilience", featured African American studies (AFAM) faculty and African American students from Puget Sound.
The Black History Month series was created to share four generations of African American voices and honor the African American members of the Puget Sound community.
The first event's panelists included four Puget Sound graduates: Lyle Quasim '70, Henry Johnson '71, Bil Moss '77 and Regina Glenn '70. Each of the four panelists has contributed greatly to the Puget Sound community since their college years.
Quasim is currently on the Board of Trustees for the University and co-chairs the local Black Collective. Glenn is the president of the Black Alumni Union, while Johnson worked for 10 years at Puget Sound as the Assistant Dean of Students.
Each of the speakers were passionate about bettering their alma mater for current students of color.
"I knew that we were at a renaissance in the 1960s in the experience on this campus. We had more black students than we do now," Johnson said.
Johnson described the 1960s as a time where strong National Collegiate Athletic Association (NCAA) athletics, specifically the football team, and a flourishing Black Student Union (BSU) created a strong community for black students at Puget Sound.
Johnson pointed to Puget Sound's lowered athletic division, currently NCAA Division III, as one reason that the African American student population may have declined. Additionally, he pointed to the strength of the BSU in the 1960s, the longest-run student organization at Puget Sound, as a draw and support for students of color during that period.
Each of the panelists was encouraged to speak of the firsts in their life. Glenn spoke on being the first African American manager of the Puget Sound bookstore while she was a student on campus, and her work to diversify the Tacoma Fire Department to include African American firemen. Moss reflected on her post-graduation political career, including being the first black woman to run for Tacoma City Council.
After Moss's campaign headquarters were burned in an act of arson in 1979, she reran a few years later and successfully won the position.
Quasim described his experience as the first in his family to complete a college degree, as well as his success serving the first non-physician to run the Washington state psychiatric hospital.
A lively question and answer followed as community members and students were able to speak with the panel.
"I thought it was interesting to hear the alumni perspective because they are the pioneers of the Black Student Union here on campus," sophomore and current BSU treasurer Shayla Tyler said.
Tyler was one of the two BSU students featured in the following week's panel. She and junior Nia Henderson were joined by AFAM director Dr. Dexter Gordon.
"We want to hear from the students on what it feels like to be maintaining resilient voices. Those voices that just refuse to die. Refuse to give up. Refuse to lose in the face of more than 200 years of slavery. In the face of injustice against black survival," Gordon said.
Gordon introduced the students as the primary focus of the second panel as they represent the current generation of African American members of this campus.
Gordon then turned the panel over the two students, who shared insight into their experiences at Puget Sound.
"I didn't have a lot of fears when it came to the demographics of the university because I have had to navigate spaces that are majority white. I did come from a high school of 5,000 students that was ethnically diverse, but within my community I was one of 13 black students. … I had to recognize that it was okay to be one of one or one of few," Henderson said.
Henderson is the current president of BSU and is working to continue the club's legacy started by alumni on the previous panel had. While Henderson wasn't initially nervous about Puget Sound's demographics, she found that it was an intimidating environment. Henderson described her acts of resilience as a student of color on a predominantly white campus.
"I have also been able to occupy spaces on the student newspaper. I have worked with The Trail, as well as in KUPS, deconstructing these spaces that are built by white students, predominantly for white students, and knowing it is okay to occupy those spaces," Henderson said.
Henderson and Tyler discussed how the BSU functions currently. Despite the club's history and importance, BSU has struggled to retain its members in recent years.
"One of the issues that have come up as of late is people getting what they need from the space. And once they get that they will move on. One of the battles I have had with that is how do I get people to show more empathy to younger black students," Henderson said.
"For some of these students, and I have been guilty of this myself, they are willing to claim their black identity in one space but will not claim it in another space," Tyler said. In BSU Tyler and Henderson are working to create a community where students will continue to stay in the club after their needs are met. Additionally, to create a community similar to the BSU during the alumni's time that will support student identity and community.
The two installments of the series highlighted different generations of black voices on this campus. While the generations faced different problems, there was a similar thread run between both panels. For Glenn and the other alumni, the BSU was created to provide a community. For Henderson and Tyler, the current BSU is building off of the foundation of the alumni and is working to foster the same kind of community. Despite the shifting of time the BSU on campus was and continues to be a pillar of the community for black students.
Both panels highlighted the continued resilience of African American students throughout Puget Sound's history to occupy spaces on this campus that are often exclusive to white students.
"One form of resilience I try to practice every day when I enter into a classroom is sitting in the front of the class. Because I pay for my education like everyone else and it helps minimize the kinds of culture shock and hyper-visibility you can feel when navigating a space like Puget Sound," Henderson said.