Puget Sound begins the search for a new provost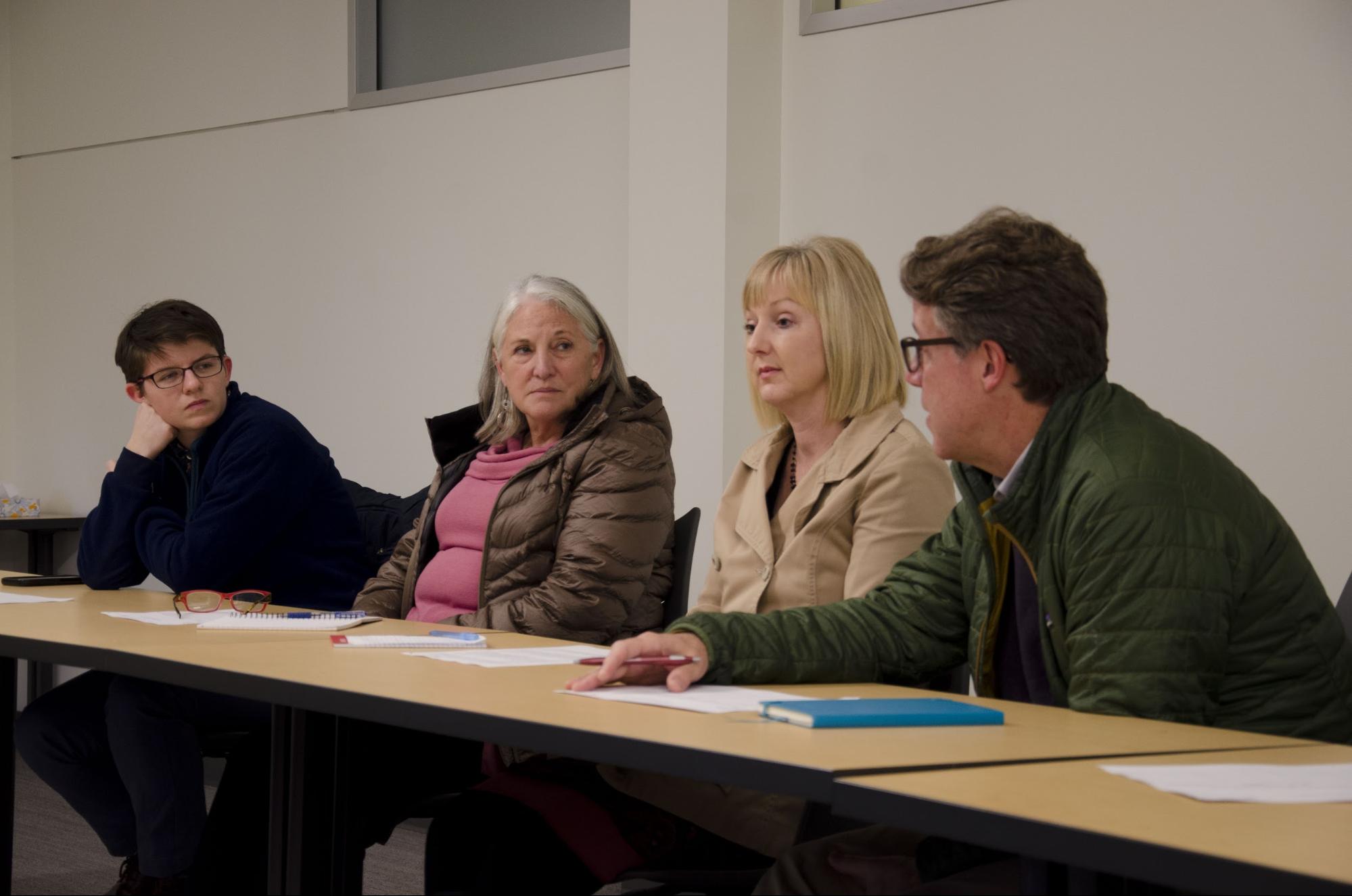 Pictured: Attendees at the provost search meeting — Photo credit to Augusta Grassl
The University of Puget Sound is currently undergoing a search for a new provost, following the announcement by current Provost Kristine Bartanen on Sept. 17 that this academic year will be her last in the position.
The provost is the Chief Academic Officer and Dean, and is in charge of both the Academic and the Student Affairs Divisions of the University. Bartanen outlined the main responsibilities she is charged with, including "leadership of 240 faculty members in 45 curricular departments and interdisciplinary programs and management of a team of 150+ staff members in academic support programs, library, institutional research, diversity and inclusion, Division III athletics, Student Affairs, and strategic planning."
The standard duties of the provost include faculty hiring and evaluation, chairing the Budget Task Force, preparing grant proposals, overseeing Civic Scholarship programs and initiatives, and working with the Faculty Senate, Faculty Advancement Committee, Master Plan Implementation, Academic and Student Affairs Committee of the Board of Trustees and Professional Standards Committee.
Bartanen made history as the first woman to serve as provost for Puget Sound, and has held the position since 2004, longer than the average private college provost term of five years, according to Bartanen.
Bartanen takes great pride in the progress that the University has made during her provost career, highlighting the strengthening of curriculum and strides in achieving equity and inclusion. The most enjoyable part of her work is "making space for, and supporting faculty and staff colleagues to do good leadership work for the best education of students.
"We have done so in an environment of trust, collaboration and care. I am very grateful," Bartanen continued.
Bartanen, in discussing her decision to step down, highlighted the length of her Provost career and her hope for the future of the University. "I will have had the great fortune to serve for 15 years. It is time for new academic leadership to build on the gains we are going to accomplish this year and to fully implement the Leadership for a Changing World Strategic Plan," Bartanen said.
Bartanen will be taking sabbatical during the 2019-2020 academic year, stepping down from provost but retaining her position as a faculty member of the University's Communication Studies department.
To go about this search for a new provost, the University has enlisted the help of national executive search firm Isaacson, Miller, an organization with a mission statement of "recruiting exceptional leaders for mission-driven organizations."
In addition, the University has compiled an Advisory Search Committee to work closely with Isaacson, Miller. The committee, chaired by Puget Sound President Isiaah Crawford, consists of 18 members of the campus community, including faculty, students and staff.
The committee's role is to select and interview candidates, and once finalists are selected, recommend them to President Crawford.
Gayle McIntosh, Vice President for Communications and Chief of Staff, provided insight to the need for a search firm: "For high profile national searches for key leadership roles, we engage the assistance of a search firm to help us identify and attract a diverse pool of highly qualified applicants."
Issacson, Miller spent two days on campus last week meeting with the Advisory Search Committee and hosting faculty and campus-wide forums, giving the campus community the opportunity to come and voice their opinions on the qualities and qualifications the next Provost should possess.
Those present at the open campus forum on Nov. 8 highlighted several important provost qualifications, all with the common theme of hiring a provost who shares the progressive attitudes of the University and a passion for diversity and inclusion.
Community members from International Programs highlighted that less than 0.5 percent of students are international, and that they want a provost who has a background of internationalizing and can help expand the University's international presence.
Other qualities and qualifications discussed include hiring someone who comes to the position with a race and equity lense, regardless of their race, and that they are well-versed and willing to learn.
Necessary to the provost position is someone who is reflective of the University's recently approved strategic plan, especially possessing a shared goal of expanding the University of Puget Sound's reputation nationally and working to improve student relations and retention.
The provost search has just begun, and there are many more opportunities for campus community members to become involved. If you have any recommendations for candidates, qualities, or qualifications for the next Provost, direct them to Isaacson, Miller (scurran@imsearch.com) or to the search committee chair President Crawford (president@pugetsound.edu).
Tags :
Kristine Bartanen
provost