Chinese Lecture and Film Night brings presentation on martial arts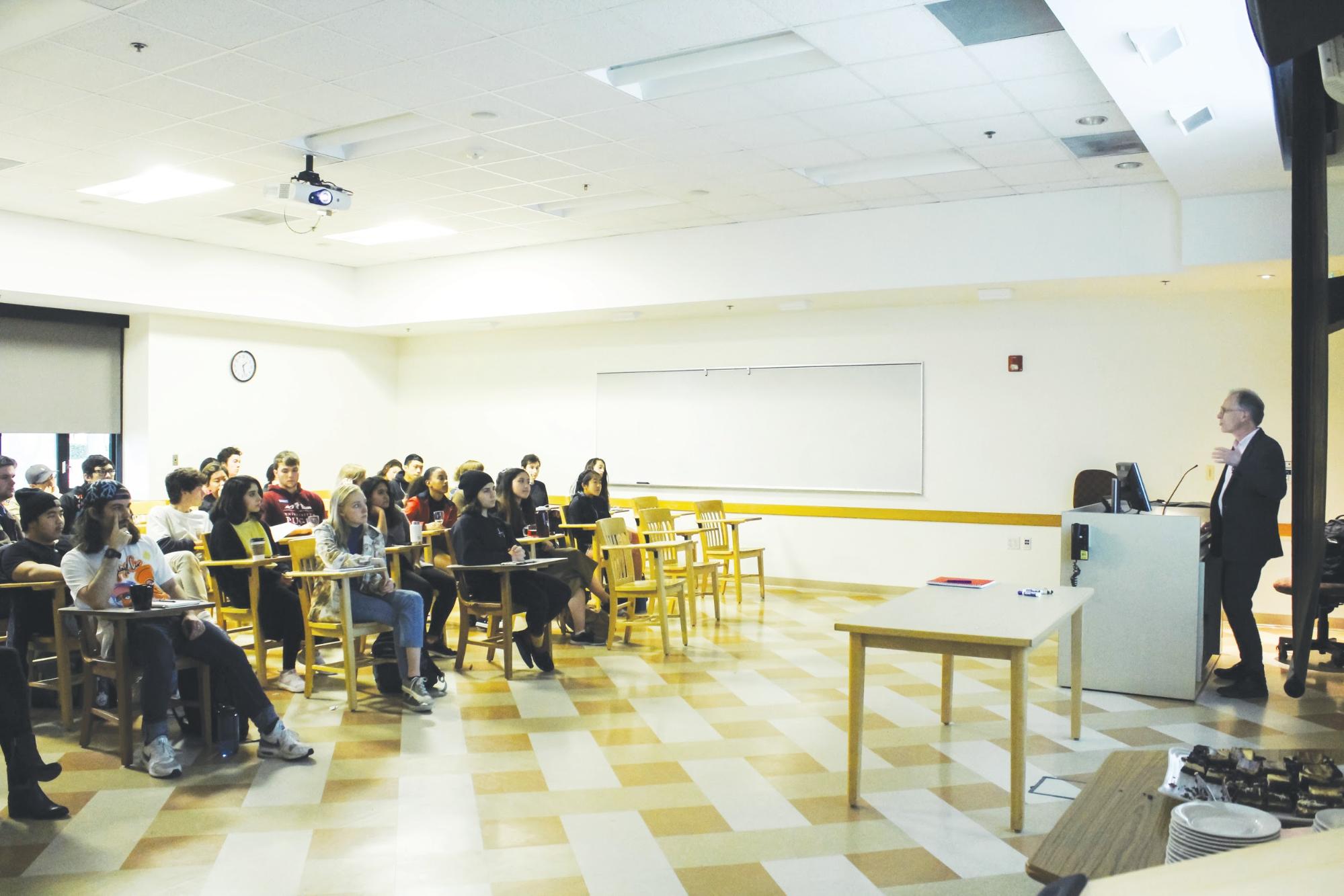 Dr. Hamm presents to a full Wyatt classroom — Photo credit to Claire Weckl
Last Friday, Dr. Chris Hamm of the University of Washington Seattle's Chinese Studies Department visited campus to present about the history of Chinese martial arts fiction. The presentation, which coincided with the death of the martial arts writer Jin Yong, focused on the martial arts fiction as a reflection of China's political and social position in the world.
The presentation began with a synopsis of the life work of Jin Yong, who also happens to be the center of Dr. Hamm's research. "It may seem like a marginal thing to be a writer of martial arts fiction," Dr. Hamm said. But with over 300 million copies of his novels sold in China alone, Yong is influential in both China and abroad.
Dr. Hamm explained that Yong focused his work on two styles of martial arts fiction, swordplay and Kung Fu.
Swordplay, he said, "tends to be combative and involve ancient weaponry. It is set in the ancient past and tends to be romantic with complex relationships."
Dr. Hamm compared this to Kung Fu, which he described as a "more gritty approach to the ideas of combat" and is "often set in recent times, with a concern for manliness in one way or another."
It was clear from the presentation that Yong is an important figure in martial arts fiction.
"Jin Yong brought martial arts into the public conscious, both in China and really around the world," Dr. Hamm said. "How we think about martial arts today is because of Jin Yong."
That evening, however, Dr. Hamm chose to compare several cinematic pieces that allowed for comparisons between the cultural and social aspects of martial arts films.
Essential to understanding the importance of martial arts to popular culture in China is the Bruce Lee film "The Chinese Connection." This film is based on the legend of Huo Yuanjia, a Kung Fu master who moved Kung Fu from a traditional art form to a "form of scientific exercise and self defense that was in line with international concepts of sports," Dr. Hamm said.
After Yuanjia challenges and beats several Japanese Judo fighters, he is found dead with experts claiming that he was poisoned for beating the Japanese and embarrassing them by his skill.
The film focuses on this legend, with Bruce Lee seeking vengeance on Yuanjia's death. Directors of the film sought to "create a nationalistic version of martial arts" that would "revitalize the legend of Hua Yuanjia," Dr. Hamm said.
The importance of the film, however, goes far beyond the national pride of Kung Fu. The "crazed" style of filmmaking was in fact reflective of China's social dynamism in the 1970s that was a product of an increasingly globalized China. The success of the film resulted in Yuanjia's story being retold time and time again in Chinese cinema.
Most recently, the story of Hua Yuanjia was retold in the Jet Li film "Fearless." This film, which came out in 2006, told the story of how Hua Yuanjia defeated several Western fighters who came to China hoping to prove their superiority over Chinese Martial artists.
Though the film contains overt fighting sequences, they were not intended to show violence. Instead, martial arts was to be understood as "connecting Chinese together and as a doorway to mutual understanding," Dr. Hamm said.
This movie was produced not long after the International Olympic Committee made the announcement that the 2008 Olympiad would be in Beijing. This is central to the vision of the film. The tone of the film is one of harmony and respect, not of conflict. It was meant to parallel China's geopolitical reverence for others.
Since the release of "Fearless," Chinese Martial arts films have taken an opposite track. Instead of focusing on the harmony, modern martial arts films are "overshadowed by militaristic action scenes," Dr. Hamm said. "Martial arts are deployed but in a commando, military type of way." Dr. Hamm believes that this is reflective of China's tension throughout the international community.
The importance of this cultural reflection is difficult to overstate, particularly for Americans. Dr. Mengjun Li of the Asian Studies Department at the University of Puget Sound agrees. "Art has been a lens through which one can get a glimpse into a foreign culture. The most well-known example is the 1988 Disney film 'Mulan.' Here you have a sixth-century Chinese poem, adapted into an American film, which influenced a whole generation of young people," Dr. Li said.
This cross-cultural exchange isn't just a reflection of Chinese culture but also shows the influence of a growing Chinese population in America, Dr. Li points out. Dr. Li's assertion shows the growing importance of the work of researchers like Dr. Hamm.
Besides the fascinating nuances of these cultural works, there is a growing consensus that not just Chinese but foreign art of all forms ought to be appreciated in their own right.
Tags :
Chinese Lecture and Film Night
martial arts
presentation