The Bike Shop offers many tools for campus community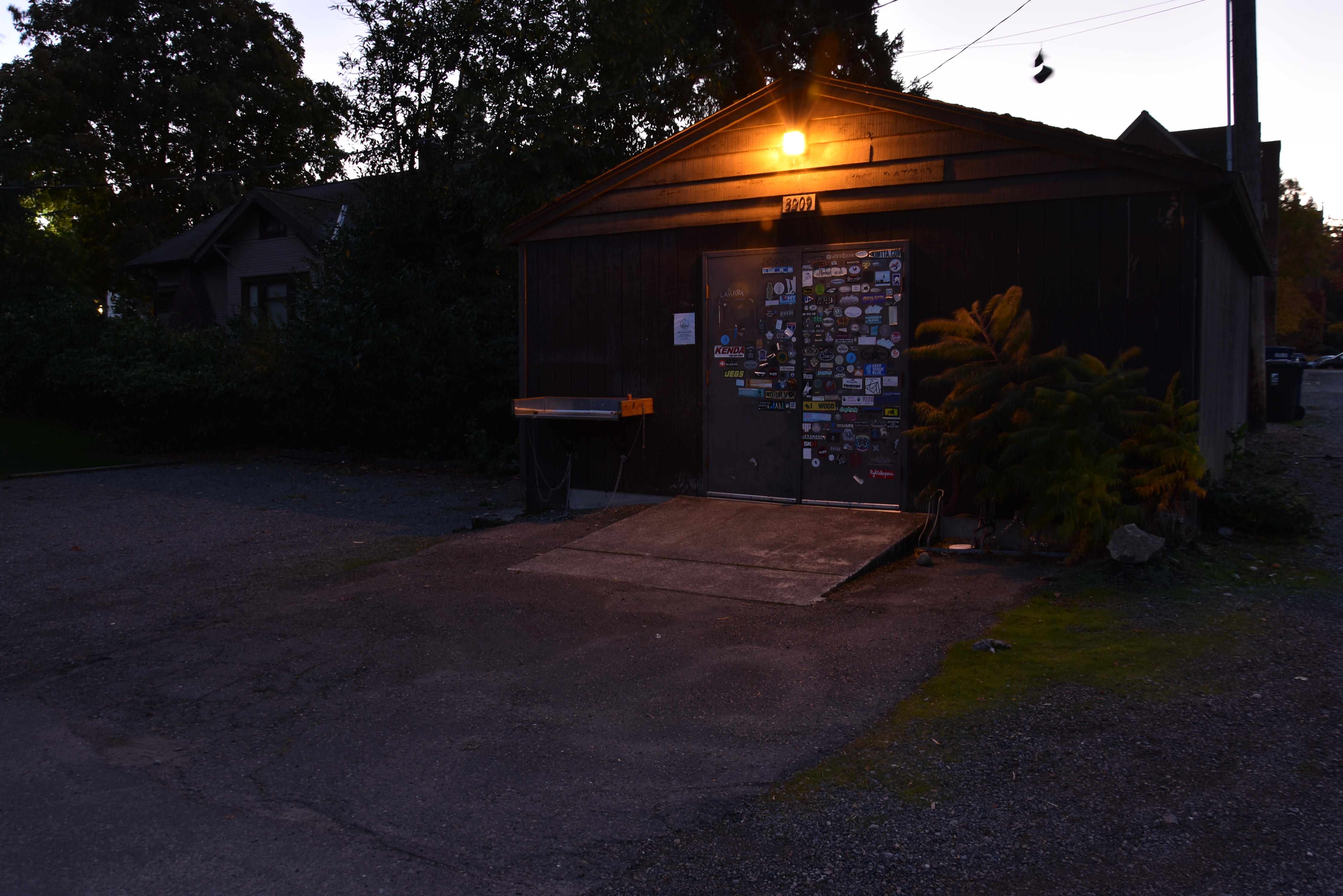 Photo Credit To: Sean Grealish
By Zachary Fletcher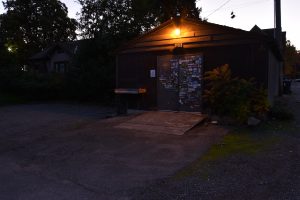 Beyond the back entrance of the Expeditionary, where Puget Sound Outdoors (PSO) trips depart from, lies a small black shed with sticker-covered doors and an opportunity for students here at Puget Sound.
The Bike Shop provides free education, repairs, reduced-cost services and parts for sale for students and faculty on campus. The student-run organization, which is part of PSO, also hosts a number of programs ranging from rides to learning sessions available to students throughout the semester.
Patrick Johnson, a senior from Deerfield, Illinois, is the coordinator and lead mechanic for the 2017-2018 school year. He details the wide range of offerings the shop has for students on campus: "The bike shop gives [Puget Sound] students, faculty, staff and surrounding community members access to free bicycle service, highly discounted or free bike parts and accessories, free maintenance classes, volunteer opportunities and organized mountain and road bike rides."
The high price of cycling may be a deterrent for some students to invest in their own sustainable transportation method, but Johnson emphasizes cheap repair and a focus on education within the shop: "We can fix most problems that a typical professional shop could, and are happy to help people learn how to work on their own bikes."
Tyler Randazzo, a junior from Needham, Massachusetts, is the assistant mechanic for the 2017-2018 school year in the shop. When asked about their role on campus, Randazzo speaks of access and exploration: "I think the biggest role we try to fill on campus is to give students access to the resources they need to get around. We try to do rides and events, and this month we will be doing some casual cruisers rides, which are for folks who just want to get out in a super low-key, fun environment and explore Tacoma."
Students often walk up to the shop and are able to get their bike serviced right then and there. "The most common way students take advantage of our services is simply by showing up with bike issues that need fixing. We'll work on the problem right there and they'll usually be on their way in 20 minutes or so, depending on the issue," Johnson said.
The bike infrastructure of Puget Sound has been an important aspect of the Bike Shop, with bike racks standing outside just about every building on campus.
"We have also helped support on-campus bike infrastructure such as the bike pump and work stand outside the Cellar.  We try to be a space where cyclists and prospective cyclists can meet and make trips happen or just learn about cycling," Johnson said.
Getting out of the Puget Sound bubble and exploring the city of  Tacoma is one of the most popular ways people use their bikes, and the Bike Shop wants to help people get off campus on their bikes and keep those bikes in great working condition.
Students praise the shop's work, and speak highly of the efficient and effective experiences they have had there.
"I went to the shop because I had a sinking suspicion that my wheel's tube had a leak," senior Sarah Davidson (Westfield, New Jersey) said. "They checked it, confirmed the leak and offered to replace it for the cost of the tube. Within the hour I had a new tube and left feeling impressed by how knowledgeable, friendly and helpful the staff was! Also, the only cost to me was the tube itself (the shop usually has discounted prices on parts), which was great," Davidson added.
Davidson's experience is just one example of the impressive work that is done over at the shop. "Overall, would 10/10 recommend, especially for people who don't know a lot about bikes [or] aren't sure what they might need," she added.
With regards to their own lives, Johnson and Randazzo each have a strong love for biking and bring that into their work at the Bike Shop.
"My background is mostly in mountain biking and I love getting new people out to explore and ride trails," Randazzo said.
"Personally, biking is my primary mode of transportation. I try to avoid cars for groceries and other errands. It's also a way to explore Tacoma for me," Johnson added.
Biking is an easy way to get around, and more importantly, it is a greener way to get around. The carbon footprint of Puget Sound has been a contested issue in the past, and creating more education and awareness around biking is an important way of decreasing that footprint.
Johnson emphasizes the reduced footprint of bikes and the implementation of infrastructure around campus: "They also serve to reduce the campus' carbon footprint and act as a healthy alternative to driving around."
The shop has free beginner mountain bike rides coming up on Nov. 11 and Dec. 2 at noon, open to both experienced riders and new mountain bikers. On Nov. 15 at 7 p.m. there will also be a night ride for casual cruisers, free to attend with a 50 percent discount on any light offered at the shop. Additionally, the shop hosts maintenance classes at the shop every Wednesday in November from 5–6 p.m. The shop's normal hours of operation range from 4-7 on Mondays, Tuesdays and Wednesdays.