Campus garden cultivates green interest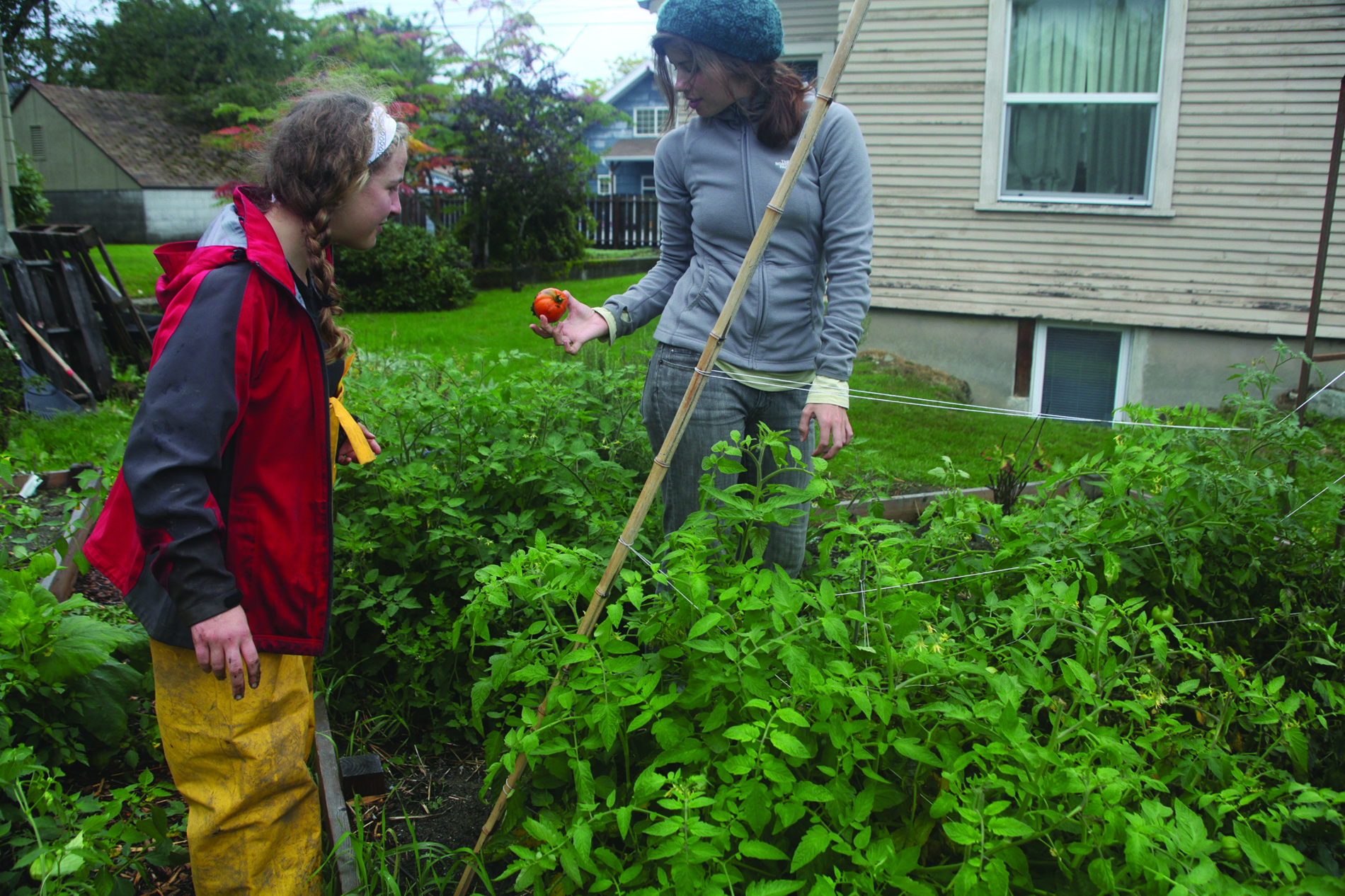 Although many Puget Sound students are interested in living more sustainably, few are aware of the organic student-run produce garden located on campus on the corner of 17th and Alder. What began as a student's sustainability grant proposal has since become institutionalized by the University as awareness and interest spread.
"I had no idea we had a garden on campus, but I think it's really cool, especially since the University is committed to being more eco-friendly," sophomore Jacob Gellman said.
Puget Sound alumnae Katie Scrivner ('10) originally submitted her proposal to the Sustainability Advisory Committee in fall of 2007, which outlined a plan for an on-campus permaculture garden whose design would mimic natural ecosystem processes rather than rely on harmful chemicals and fertilizers, as most conventional gardens do.
Her goal was for the garden to be used both as a source of food and as an educational tool which could show students and community members not only how a permaculture garden works, but also demonstrate that eating sustainably is possible, even in an urban setting.
Once her proposal was accepted by the SAC, Scrivner created the Puget Sound Garden Club (formerly Permaculture Club) through ASUPS. The club is now technically lead by sophomore President Lizzie Lombardi, but club members share the responsibilities of tending to the plants.
"Gardens like this are so beneficial, not only for the health of the environment, but for students and the community as well," Lombardi said.
To cultivate community awareness, the club has instituted weekly gardening time for the public every Sunday at 11 a.m.
"The gardening time is meant to open the garden up to students who might be unaware of it or confused about its purpose," senior Micaela Cooley said. "We want to show people that it is meant to be a space for the whole community to share."
While the garden is no longer technically considered permaculture, it is still organic. In lieu of fertilizer, gardeners will plant cover crops in sections of the garden this winter. These plants will be tilled into the soil in the spring in order to add nutrients and act as "green manure." Part of the garden will continue to produce squash and root vegetables throughout the winter.
Club members also avoid using manufactured soil mixtures by harvesting most of their soil from a compost pile near the garden, which is maintained by donations from students all over campus.
While interest in the garden has been growing recently, only a handful of students have taken charge of the manual upkeep. These students have, however, received assistance from Facilities Services who have stepped in during the summer months while most students are away from campus.
Facilities Services has also recently installed raised garden beds, which are used to separate crops from the less-fertile urban ground and reduce weed growth, allowing for absolute control over soil texture and ingredients.
"I've walked by the garden before, but I didn't really know what the deal was," sophomore Marissa Price said. "I didn't think students could take anything from it."
In fact, students are not only allowed but encouraged to put the garden's output to good use, and ideally to contribute to its upkeep as well. Currently, the garden contains beets, carrots and radishes, along with tomatoes, winter greens, herbs and a few berries. The majority of this produce gets eaten by residents of the Earth Friendly Gourmet theme house, located next door to the garden.
"The UPS Garden is a student-run plot, and everyone is welcome to participate," Lombardi said. "Our hope is that those who eat from the garden also help tend to it, but simply taking advantage of what the garden has to offer is always encouraged as well."
Although the majority of committed Garden Club members will be graduating in 2011, Lombardi remains optimistic about the future.
"A lot of people have shown interest in the garden this year, and overall it has been well-received by the University," she said. "I'm confident that we will continue to find people who want to help keep it going."
If you dig the Garden Club, send an email to upspermaculture@gmail.com to get on their email list.