Emerald City Trapeze offers fantasy, flight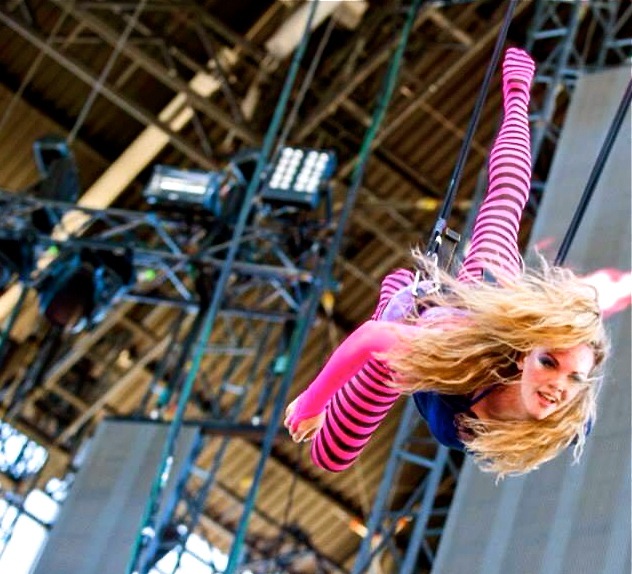 Emerald City Trapeze is a company in Seattle that offers classes in flying trapeze and aerial arts. Emerald City Trapeze also has a professional flying trapeze team called the ECFlyers and they will be performing a show in May, at which performers formerly from Cirque du Soleil will be present.
"We are going to have aerial performers from San Francisco, Italy and local performers as well," aerialist and owner of Emerald City Trapeze Kari Kirkland said. "There is simply nowhere in the Pacific Northwest that you can be 15 feet away from flying trapeze artists and enjoy such an intimate show for such a reasonable price."
Kirkland is an aerialist and also teaches flying trapeze classes at ECT. Kirkland was not always into being an aerialist though.
"I did a lot of triathlon, and competed in Ironman a number of times" Kirkland said. "I have discovered that the muscles I used for triathlon are served extremely well by aerial and trapeze, especially in the upper body. I tried flying trapeze for the first time while taking my best friend to a beginner class on her birthday. It felt very natural to me."
"Flying is a mental and emotional trip!  It takes tremendous focus and acuity, but is also a beautiful release,"  Kirkland said. "It's a lot about letting go of feeling like you need to be in control all the time. There are so many moving parts, and small things change all the time.  This can be a tough thing to get through, especially if you're a Type A personality!"
Kirkland left her job as a private chef and began working at ECT with her future husband, instructor and owner Gary Kirkland.
"I ignored the third rule of flying trapeze: Never date a trapeze instructor.  I began dating the instructor who caught me on my first trick," Kirkland said.
One year to the day later, they married at the ECT in a trapeze wedding that will be featured in an upcoming episode of TLC's show "4 Weddings."
"My husband and I work really well together and run the business as a team," Kirkland said.
If students want to get involved in flying trapeze, there are a few ways one can do so. They can book an appointment online at Emeraldcitytrapeze.com or call 206-906-9442.
Kari and many other instructors teach classes in flying trapeze seven days a week. They also teach aerial artist classes utilizing hoop, silks, static trapeze and dance pole. Most classes are for beginners, and there are a few classes that are reserved for more advanced flyers.
Kirkland encourages everybody to try flying trapeze.
"For most first-time flyers, the first flight is difficult for many reasons—whether it's dealing with fear, adrenaline, or just a mental block about what they are about to do! " Kirkland said. "Some people find the hardest part for them is climbing the ladder! [But] many people are able to push through their fear and discover a new passion."
Kirkland is enthusiastic about her job and believes that ECT changes lives on a daily basis.
"People literally walk out the door with a completely different sense of themselves and their capabilities after class.  To be a part of that  alone makes everything that is challenging about the job absolutely worth it."
Tags :
aerialist
Emerald City Trapeze
trapeze