Corina Bakery dangerous for your sweet tooth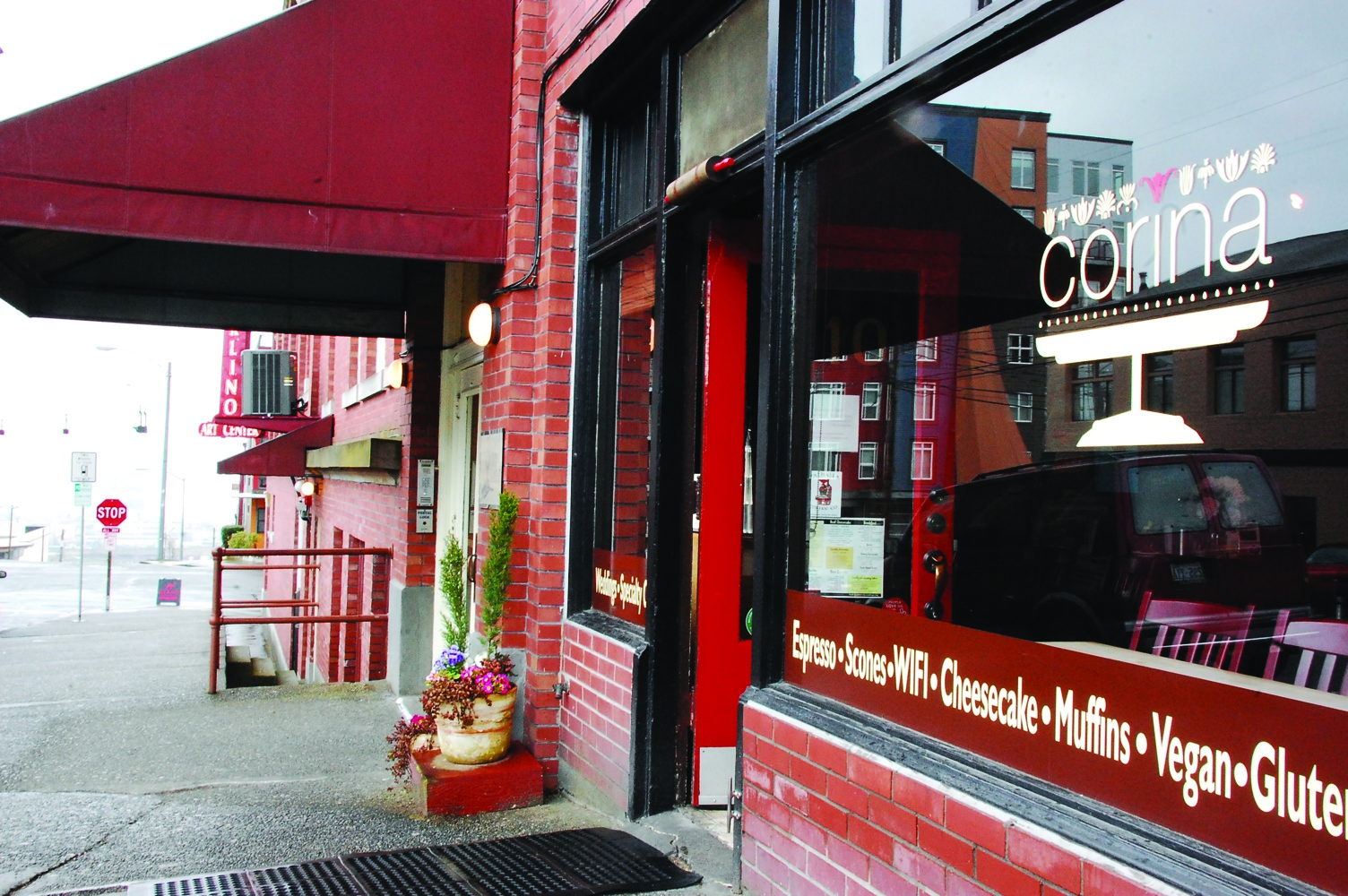 Friday afternoons spent sipping on tea and consuming a delicious snickerdoodle cookie can only be experienced perfectly at one bakery.
Corina Bakery, on the corner of 6th and Fawcett Avenue, offers a variety of pastries and café drinks that are sure to complete an afternoon or provide a delectable dessert.
The intimate setting of the bakery offers seating for conversation or a positive solitary afternoon. Whatever the occasion may be, the pastries are sure to hit a sweet tooth. Anything from giant slices of cake, cookies, lemon bars, scones and much more are offered daily.
This unique bakery offers different flavors of cake every day that you can order by the slice. One can have lemon coconut one day and then chocolate cake with peanut butter cream the next.
Not wanting to try every flavor will take some serious self-restraint, however. In the hour and a half I spent sitting in the charming bakery, two new flavors of freshly baked cake were brought out to tempt me.
"We love that they sell cake by the slice. We love coming in for birthdays and getting an assortment of different flavors. That way everyone gets what they want," returning customer Shelley Lewis said.
Music plays as I sip on the tea and pleasant conversation ensues throughout the bakery. The café evokes a warm and homey feeling. Its decorative flowers, humble counter space and gentle tunes provide a wonderful environment. In fact, the beautiful setting prompted an entering customer to exclaim, "This is adorable!"
The atmosphere of the delightful bakery lends itself to a friendly community and an unbelievably popular spot.
"It's popular, but it's never overly crowded, so it's a good place to hang out and everyone's really friendly," sophomore Hayley Hilmes said.
Friendliness, intimate vibes and delicious food are just a few Corina specialties. The welcoming staff makes personal recommendations on the best pastries of the day. Owner and baker Molly Ott bustled around the café—it's a counter service, but she personally delivered drinks and giant slices of cake to her customers.
The outstanding service extends throughout the greater Tacoma community as well.
"I love that it has a connection with Infinite Soups. You can have great soups and eat more pastries," sophomore Connor Jones said.
Corina allows Infinite Soups customers to use their seating to consume their soups, and let's face it, their pastries are hard for them to resist.
"I find the bakery a nice place to read a book and enjoy a lemon bar with a latte. I love the fact that it has so many choices to accommodate different people," Hilmes said.
Strict dietary restrictions are not a worry when eating at Corina either. They offer gluten free and vegan cakes. Many of them are specialty order.
While counter service is always available, Corina also offers custom made baked goods.
Most popular with customers are the Corina specialty order cakes. An engaged couple sat in the corner with their wedding cake designer to plan out the perfect tiered cake for their special event.
The bakery's Facebook fan page is full of pictures of wedding cakes posted by satisfied customers. Corina makes cakes for weddings, but they do not only do classical cakes. Many customers also want a themed cake for their birthday parties and various events.
Corina definitely knows how to do pastry, but it also offers customers café beverages to supplement their afternoon treat. No cake would be complete without some warm milk or a comforting mocha.
I enjoyed a honey vanilla tea, which provided the perfect amount of sweetness and warmth to compliment my scrumptious cookie.
No matter what pastry one iscraving, Corina Bakery is sure to have the perfect item to satisfy your sweet tooth.
"We just think everyone should be able to eat cake," Ott said.
If one is craving a cake in Tacoma or getting ready for a celebration, Corina is surely the place to go for any occasion requiring a sweet treat. Or if one is simply looking to celebrate a wonderful Friday, Corina will provide the perfect celebration pastry too.
The bakery is open Monday through Friday 8 a.m. to 7 p.m., Saturday 8 a.m. to 6 p.m. and Sunday 9 a.m. to 3 p.m.
[PHOTO COURTESY / ISABELLE CHIOSSO]