Metronome Coffee hits just in time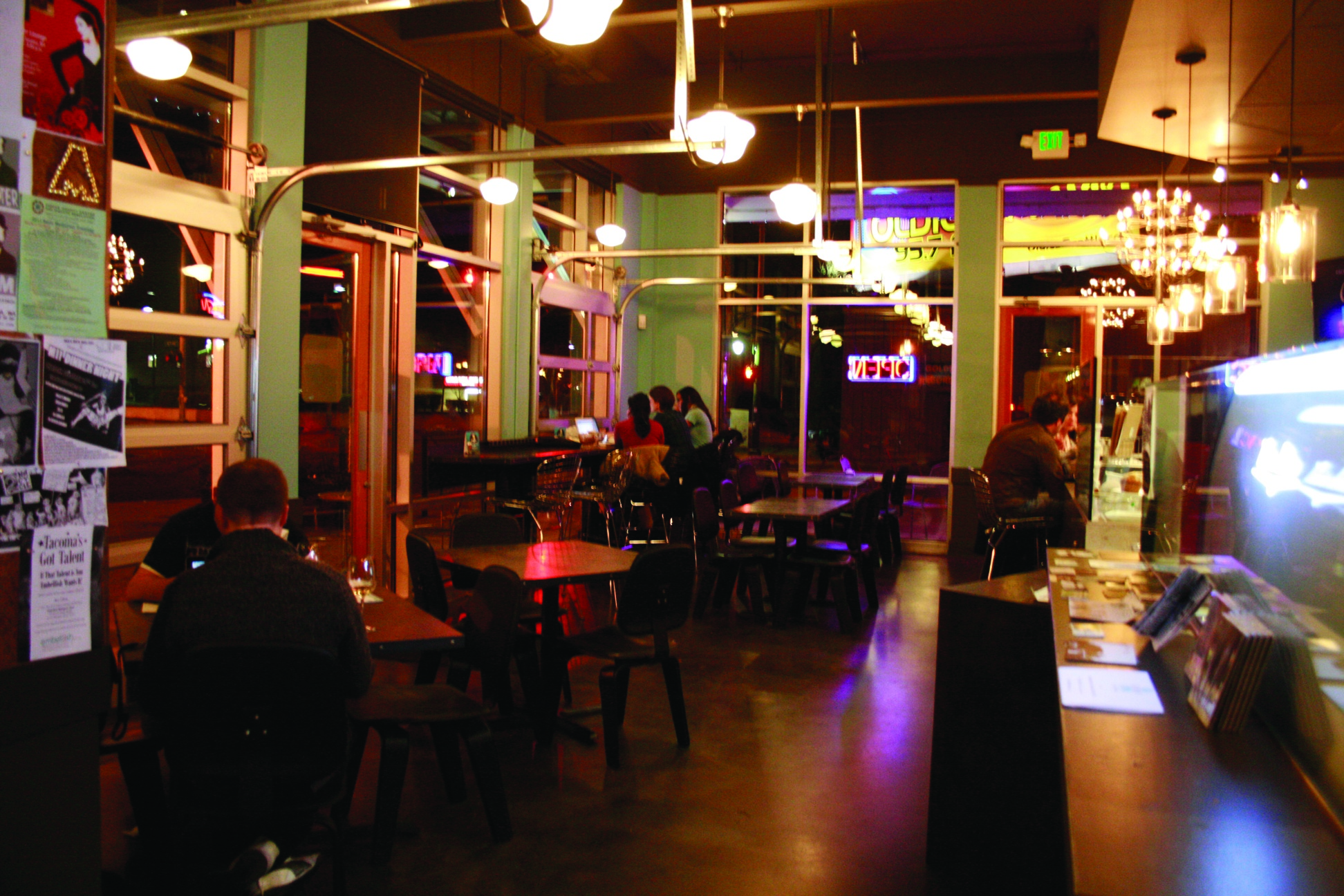 "The tempo is about to change." Loggers who happened past the corner of 6th and Union last fall were promised such by a teal "M."
Metronome Coffee did catch junior Jorden Greiner's eye. "I saw the posters and stalked this place. [Online] there was no e-mail and only a Twitter account. But I knew I had to work there," Greiner said.
According to Greiner, the coffee shop opened for business on New Year's Eve, taking the place of campus' main haunt, Origin 23.
We talked underneath photographs of letters taken all over spelling "Tacoma," and I took a minute to scan my surroundings while comfortably seated.
Metronome has kept Origin's flow but has updated the accents, light fixtures and wall colors to royal and baby blue. Here, industrial, clean lines harmonized with the fireplace, which is part of the wall, and a mounted wooden stag head.
A little gnome perched on the mantel adds character and perhaps provides a topic of conversation for those sitting on the sleek black couches in front of the inside hearth.
Towards the entrance is an old school Nintendo, where you can play the hours away with platform games such as Super Mario Bros. 2.
Back to the conversation at hand, where Greiner walked me through the owner's approach to a consistent café in the midst of the ever-changing pendulum of life. The owners themselves, Joshua and Gretchen Boyt, "are young, hip and hands-on," she said.
The non-chain hot spot stays current by offering up new flavors, using coffee machines out of science class and keeping it local.
For one, Metronome is partnered with Dillanos Coffee Roasters out of Sumner, Wash. "The coffee roasting is grassroots. They meet with small family farms, check in," Greiner continued. Nearby Corina Bakery and Bistro also supply pastries for the sweet-toothed out there.
The coffee house too is abuzz on the weekends with local and big name music.
"We are part of an incredible Tacoma community. Mainly folk and indie [bands come through]. They're so passionate, I sit back and absorb," Greiner said.
Moving from the behind the counter perspective, I sought out the following sound bites.
"I come here to get off campus," sophomore Marisa Lopez said. "The library becomes a social hour."
Her sophomore companion, Meggie Weiler, comes to Metronome twice a week and observed, "Lately there's been quite a few people. It's happenin' here." She also appreciated the variety of food and drink available, from café-made pancakes to lavender white mochas.
Senior Jen Dominguez commented further on the beverages. "They have awesome hot chocolate. I don't know what they do!"
Senior Karin Johansen piped up after. "I'm in here once, twice a week…my house is one block over," she said. While Metronome functions primarily as study space for Johansen, she is eager to check out the café's sound. "I've been drawn to the Mandolin and seen bands there."
Try foodstuffs and brews daily: Monday through Thursday 6 a.m. to 11 p.m., Friday 6 a.m. to 1 a.m., Saturday 7 a.m. to 1 a.m., and Sunday 7 a.m. to 11 p.m.
[PHOTO COURTESY / MARIA SOKOVA]
Tags :
Coffee