Myers and Bouche are hard to match on the court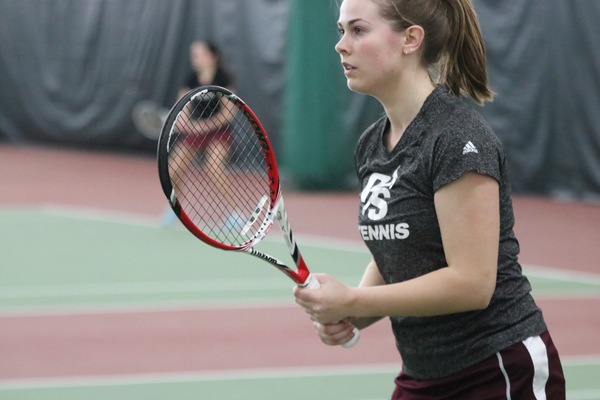 By Tayla MacPherson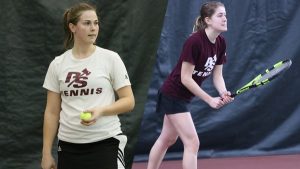 The women's tennis program continues to make strides each season. Two key members of the squad, Nicole Bouche (Brier, Washington) and Bridget Myers (Lake Oswego, Oregon) earned recognition earlier this season by winning co-Logger of the Week on the weekend of March 5. The two competed together in two doubles matches against Lewis & Clark and George Fox, both of which were away.
Bouche and Myers don't normally compete together as doubles partners but did because of team logistics. Bouche discussed the two matches they shared together: "Since we don't normally play together, we hadn't even thought about trying to play together as a doubles team. On a whim to try and switch things up, we ended up playing together and it worked well — I think our attitudes on the court are very similar because we both like to be relaxed and have fun when we play, so we were able to take pressure off of each other and just have fun playing."
The team has faced some challenges this season with changing coaching staff twice in the last year. Yet, they have found a good fit with head coach DJ Janssen. Coach Janssen discussed the roles junior Bouche and sophomore Myers play on the team: "Bridget is the unspoken leader and is a real positive force. Nicki is a leader by being tough and sending the message that we are not going to go down without a fight. Both players work extremely hard on the court," Janssen said.
The Puget Sound women's team is currently in fourth place in the Northwest Conference, enabling them to go to the Northwest Conference championships if they can keep in the top four teams in the conference. Bouche discussed her thoughts on how the season has gone thus far.
"I think that the season has been going amazingly well so far — this season is the best that we have ever played since I've been here. We have been winning against teams this season that we weren't even close to beating in the past few years, which is something that we are all really excited about," Bouche said.
Coach Janssen is thoroughly enjoying working with the women's team and is hopeful to accomplish the team's goals and expectations. "The goal is still to make the conference championships. We have two very important matches coming up against PLU and Whitworth. We have not played Whitworth yet; they are the ones in the way to make it to conference. Last season the team came up short last year by one," Janssen said.
The team's immense success described by Bouche comes from the cohesive culture and the competitiveness within the team. Myers discussed the difference between the squad this season compared to previous seasons.
"The culture is similarly supportive as last year, though this year it's more competitive and motivated towards success. This comes from competition within the team that translates into intense competition at matches. Our ability to push each other at practice carries over into matches," Myers said.
To continue such success, the team must continuously improve on and off the court. Coach Janssen described how he hopes to help the team continue to succeed.
"As a coach I have to put the team in a good position to win, so, continuing to work on things tactically and technically. We recently played Linfield and they are the number-one team in the conference and I thought we were able to compete with them at a high level." Myers described the individual characteristics that she hopes to improve on.
"I hope to continue to improve upon my game strategy in matches. This comes from repetition in practice implementing these drills in matches," Myers said.
The team has the talent and cohesiveness to make it and compete in the Northwest Conference championships if they continue to work together as unit. The women's tennis team will play Pacific Lutheran and College of Idaho at home today and tomorrow.