Pussy Riot perform in Seattle and confound expectations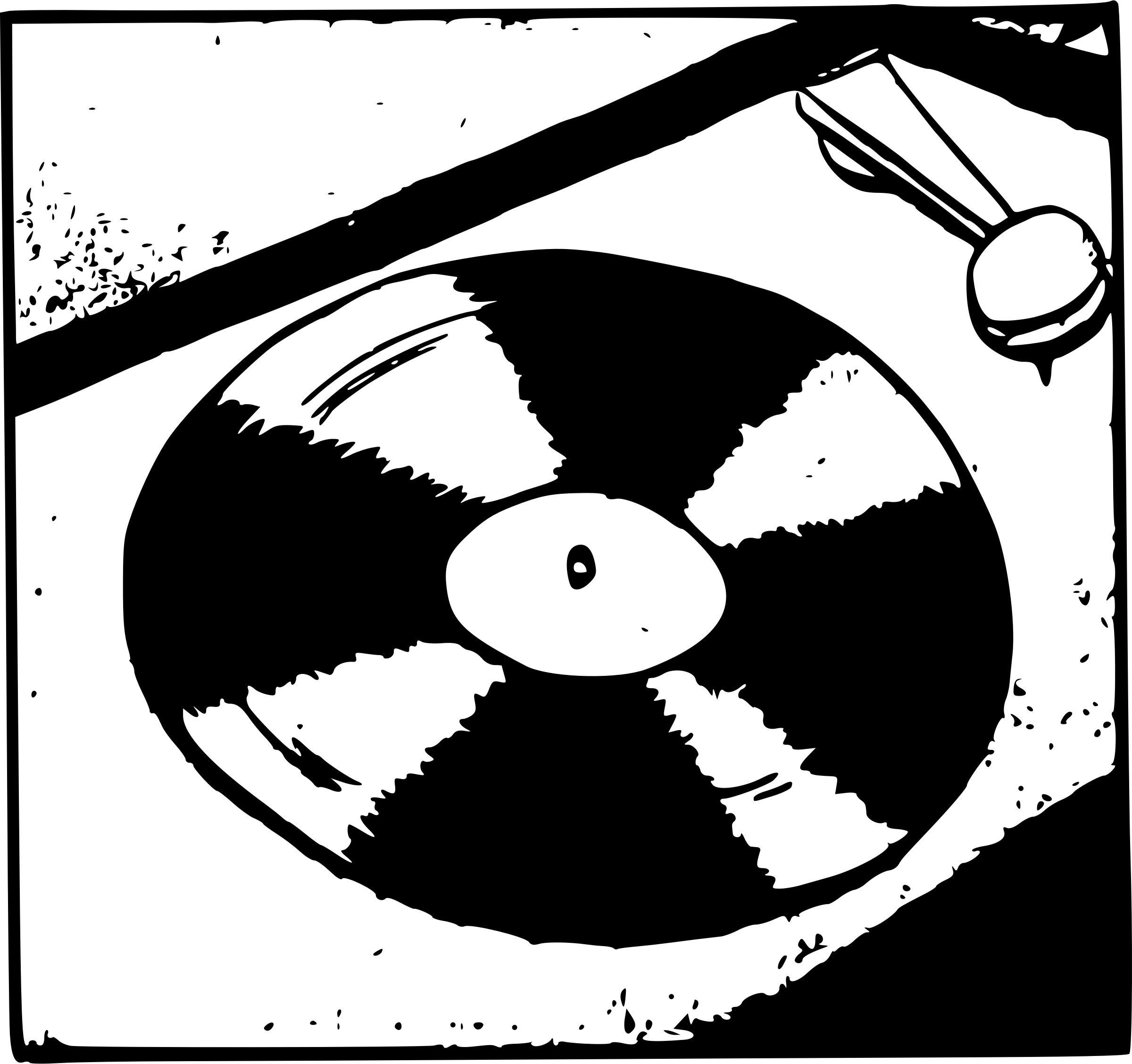 Photo Credit to Evan Welsh
By Evan Welsh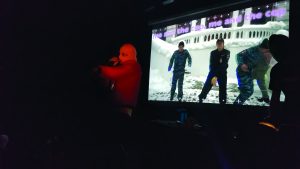 I showed up to Pussy Riot's performance at the Vera Project unsure of what I was going to see. The original lineup for the night, posted on the wall, read, "9:00-9:30: Speaker; 10:00-10:45: Pussy Riot; 11:00-12:00 Nadya DJ set." I wandered around for less than five minutes, stopping momentarily to listen to the DJ on stage. After walking away from the stage, lightly chuckling at the underwater screensavers the DJ was using as visuals, I returned to the lineup posting only to find a large red "X" slashed through the text. A new set of times was written in the same red marker: "Show: 8:30-11:00." This of course, only furthered my uncertainty of what I was in for.
Pussy Riot is the Russian feminist-activist collective that has become famous worldwide for their protest of Vladimir Putin and subsequent arrest at Moscow's Christ the Savior Cathedral in early 2012. Their trial caught the attention of the world community and two of the three members arrested for hooliganism, Nadezhda Tolokonnikova and Maria Alyokhina, remained in prison until December 2013.
The collective has since fractured slightly, existing more as a political ideal than as an actual collaboration of its original members. A diminished group, including Tolokonnikova and Alyokhina, demonstrated and was whipped by cossacks at the Sochi Olympics in 2014.
Alyokhina has since released a book and staged a play she co-wrote about her experience with Pussy Riot and in prison. She was recently criticized after in late 2017 it was unearthed that she was dating Dmitry Enteo, a famed former member of a Russian far-right group called "God's Will."
Since 2014, Tolokonnikova has released an EP under the Pussy Riot name and created an interactive art show that was criticized for its location at a gallery owned by Charles Saatchi, who had been photographed assaulting his former wife in 2013. After performing for the first time in America in December 2017, the group announced their first U.S. tour, with two Seattle dates on the docket.
The way the tour was announced, I, as stated previously, was unsure of what exactly I had bought tickets to experience. Because of this, I was not sure what to make of the people wandering into the crowd with their balaclavas at the ready. Were they a part of the show or just enthusiastic fans? About half an hour into the unnamed DJ's set, Tolokonnikova came and sat onstage, looking through her phone while the DJ finished what was left of his 45-minute set of house- and industrial-dance-music-soaked beats.
After a short waiting period following the end of the DJ set, Tolokonnikova and the unnamed DJ returned to the stage with their own brightly-colored balaclavas. Their set began with "Organs" off the 2016 "xxx" EP. Audience members who had not followed the group since their court proceedings, unaware of the new spin towards the electronic pop and punk genres Tolokonnikova had taken the "band" in, were, based on conversations I heard after the show, somewhat surprised by the songs presented.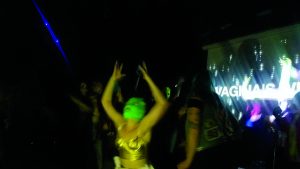 The music throughout the night was a mixture of songs in Russian and English, with some tracks that were released previously and others that hadn't been. While every song was enjoyable, the beats in particular, formed with heavy influence from recent movements in hip-hip, pop and electro-punk, were great. The music, of course, was less important than the message.
Near the beginning of the performance, Tolokonnikova said that Pussy Riot was really a "fake music collective," and that what we were witnessing was more of a political rally than a music concert. Most lyrics for every track were projected behind the group with accompanying videos ranging from Russian cops dancing in the snow to further imagery from old computer programs not dissimilar to images shown at vaporwave shows.
The lyrics took shots at the Russian and American political systems with messages of disagreement with harsh police forces, unlawful incarceration, and of course, each country's current political leader. This included an audio interlude of breaking news that Donald Trump had been impeached as well as a performance of the group's song "Make America Great Again." There was also a discussion of the recent Russian presidential election that saw Vladimir Putin placed in power for another six-year term. The audience was treated to images asking Virgin Mary to "get rid of Putin" and declaring the group's own intention to fight over the next six years.
The politically-charged evening ended with the performance of "Straight Outta Vagina," a song with the chorus, "Don't play stupid / Don't play dumb / Vagina's where you're really from." As the song reached its conclusion, Tolokonnikova asked for people with vaginas to join her on stage. A group of people, all seemingly female-identified (though I obviously cannot say for sure), raced to the stage and began dancing. Tolokonnikova waved a transgender pride flag adorned with the words "pussy is the new dick." All of this, of course, leads to questions about Pussy Riot's feminism and intersectionality and its inclusion of members of the nonbinary community.
Neither the possible cis-forefronted feminism that the group is sometimes accused of, or the group's somewhat spotted past of ideological consistency seemed to negatively affect the crowd's enjoyment of the performance. Even if the details of Pussy Riot's politics seem slightly muddled or flawed, the larger political ideals presented, those in support of non-oppressive governments and equal rights for all, seemed to create a space where people of all ages and many gender representations felt comfortable in coming together to dance and shout in the face of deeply upsetting socio-political times.