Seven sensational hikes to enjoy this spring
By Zachary Fletcher
Green Mountain via Gold Creek Trail
A 50-minute drive from the Puget Sound campus, Green Mountain is a five-mile, 1,000-foot elevation gain out-and-back hike on the Kitsap Peninsula. After some time through a forest there are beautiful views of the Olympic mountains and a panorama landscape of Seattle and the Puget Sound at the top. The trailhead is just off of Gold Creek Road and requires a Discovery Pass for use, making for a great day hike, rain or shine.
Rattlesnake Lake
Located in the Snoqualmie region just an hour from campus, Rattlesnake Lake is a four-mile out-and-back hike that requires no entry fee. The hike begins with a two-mile uphill stretch, with 2,400 feet of elevation gain and top election of 5,000 feet. This hike offers incredible views of the Cascades and Rattlesnake Lake. Rattlesnake Lake is a well-maintained park and trails extend not only up to the viewpoint, but also down around the lake and surrounding park area.
Annette Lake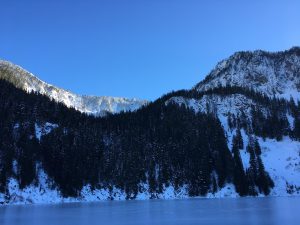 Another hike located in the Snoqualmie region is Annette Lake, a roughly eight-mile out-and-back journey down to its namesake. With 1,800 feet of elevation gain, this hike is great if you have a full day to spend in the outdoors. A Northwest Forest Pass is required for entry, and the colder months bring snow-covered trails. Campsites provide an opportunity during the warmer months for the full outdoor experience!
Mowich River
Mount Rainier National Park is about a two-hour drive from campus, but offers beautiful views of the 14,000-foot peak and the surrounding wilderness. Behind a National Park pass, Mowich River is in the northwest corner of the park with a trailhead off of Mountain Meadows Road. Another out-and-back trail, it offers amazing views of Mount Rainier on the way up and down, with lunch by the river an option at the halfway point of the hike.
Marmot Pass
An 11.5-mile round-trip on the Olympic Peninsula, Marmot Pass offers a trip through an old-growth forest along the Big Quilcene River. The beautiful views of the Olympic landscape require over 3,000 feet of elevation gain, and require a Northwest Forest Pass to access. A two-hour drive from campus provides access to an incredible area of the Hood Canal on the Olympic Peninsula.
Gothic Basin
The North Cascades are not to be forgotten in a good spring day-hike trip, and Gothic Basin provides a nine-mile round-trip with incredible views of the Cascades throughout. The drive up to the North Cascades is over two hours and the trail requires a Northwest Forest Pass for use. That being said, a day devoted to North Cascades hiking is not a day lost in any sense of the word.
Mount Stormking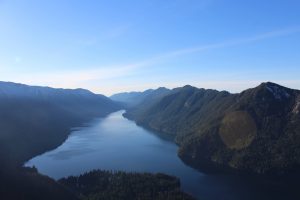 A shorter hike on the northern coast of the Olympic Peninsula, a 4 ½-mile round trip gives hikers a beautiful view of Lake Crescent with over 2,000 feet of elevation gain. This hike requires a 2-3 hour drive up to the northern part of the Olympics, but no pass or payment is required to access these beautiful views, making it a great day or weekend trip.
Lena Lake
Another great hike on the Hood Canal on the Olympic Peninsula is Lena Lake, a seven-mile round-trip hike with 1,300 feet of elevation gain. Doable by any level of hiker, the trail leads you to Lena Lake, with access to the water and a viewpoint overlooking the beautiful body of water. A two-hour drive from campus and Northwest Forest Pass are the only thing standing between student and scenery.