March For Our Lives Tacoma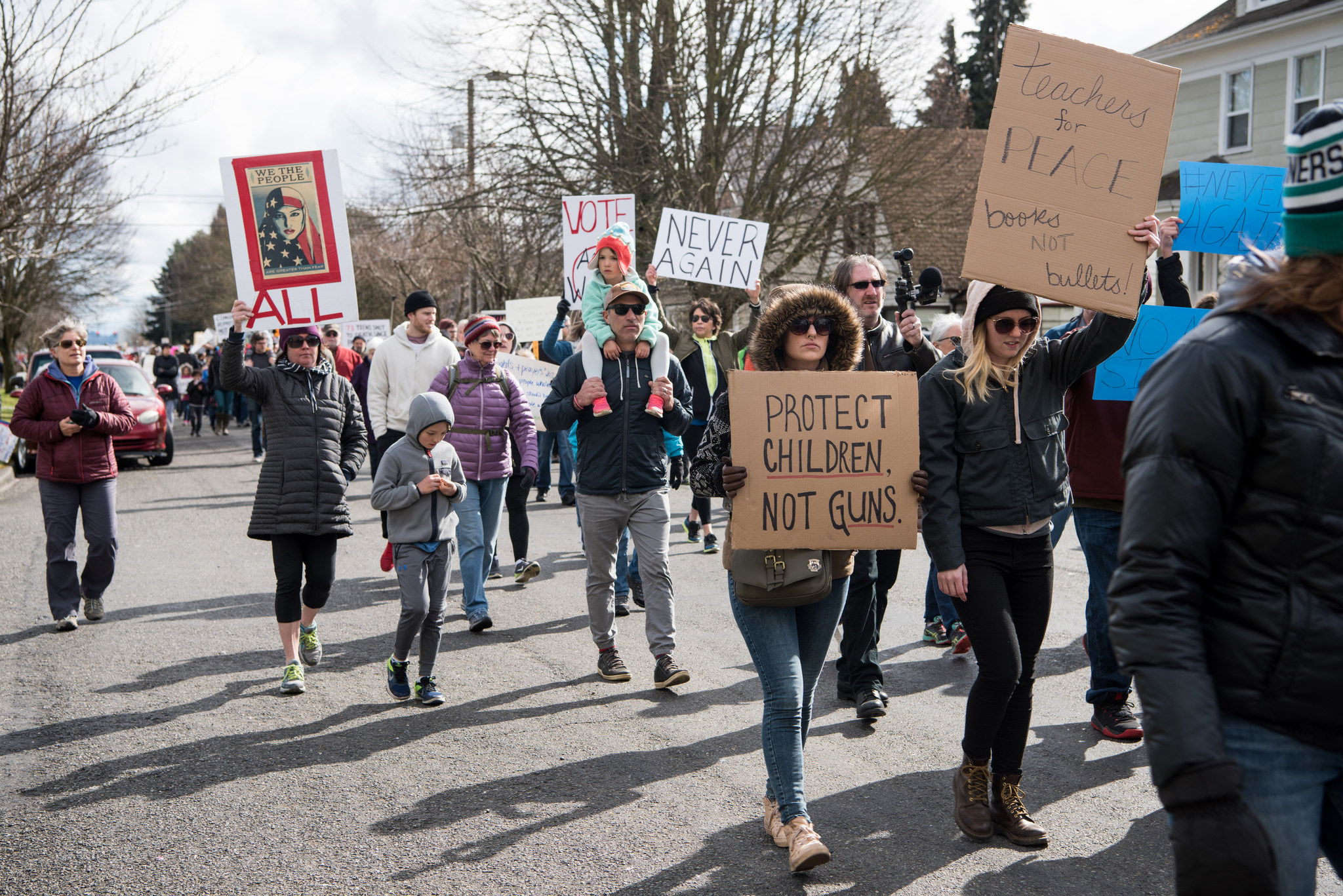 PHOTO CREDIT TO GABRIEL NEWMAN PHOTOGRAPHY
By Ayden Bolin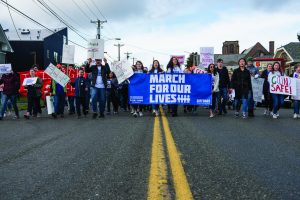 Tacoma joined hundreds of other cities and 1.2 million citizens to demand common-sense gun laws and to protest gun violence on March 24, 2018.
The "March For Our Lives" was a protest and demonstration held centrally in Washington, D.C, with sister marches across the nation. According to its website, the march was meant to raise public awareness of gun violence in the U.S., and to demand that political action be taken to make schools safer.
The Tacoma march included approximately 1,600 marchers and several speakers, including legislators Derek Kilmer, Kristine Kildoff and Laurie Jenkins. In February, Washington banned bump stocks, devices that make semi-automatic weapons function similarly to automatic weapons. This decision was mentioned in many of the lawmakers'  speeches.
"March For Our Lives is created by, inspired by, and led by students across the country who will no longer risk their lives waiting for someone else to take action to stop the epidemic of mass school shootings that has become all too familiar," the March For Our Lives website states. "In the tragic wake of the 17 lives brutally cut short in Florida, politicians are telling us that now is not the time to talk about guns. March For Our Lives believes the time is now."
For the last couple of months, gun control has been one of the major debates in the United States. On Feb. 14, Marjory Stoneman Douglas High School in Parkland, Florida lost 17 of its community members in one of the deadliest school shootings in U.S. history. Since then, students, teachers and concerned citizens have been vocalizing concerns about gun control, the National Rifle Association (NRA) and responses from the government, among other things. During his speech, Representative Derek Kilmer said, "All of the student organizers for the March for Our Lives embody the spirit of the nation." Student survivors of this shooting have been at the forefront of this movement.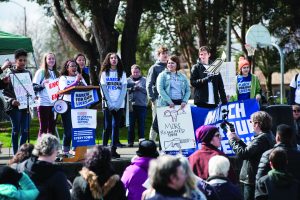 According to their website, the march was meant to raise public awareness of gun violence in the U.S., and to demand that political action be taken to make schools   safer places.
In Tacoma, citizens gathered for a rally at 10 a.m. at People's Park on Martin Luther King Jr. Way, where numerous students, teachers and local activists spoke out alongside legislators.
After the rally, people started down South 9th Street, and ended around noon back at People's Park after a large loop. Along the way, participants held up posters painted with statements such as, "Listen up! KIDS > GUNS (This will be on the exam)," and "Enough! Vote out NRA!"
Kelly, a mother of six children, said she came to the march because "we are tired of nothing happening. Thoughts and prayers and no action." Her daughter, Piper, added, "I just don't understand why people do these things."
"The root of all of this is that weaponry has changed since the creation of this country, and I feel that legislation of said weaponry can and should be open to change as well," Puget Sound sophomore Genevieve Caskey said at the march. "My largest takeaway was absolutely how powerful the stories of individuals can be. The little sister of one of my best friends was a speaker at the march. She's only 14."
One major talking point of these concerned citizens has been the involvement of the National Rifle Association as a lobbying group in politics. The NRA claims to be a protector of the Second Amendment, which states: "A well-regulated militia, being necessary to the security of a free State, the right of the people to keep and bear arms, shall not be infringed." In this way, the NRA claims to be a civil rights group, aligning itself with groups such as the NAACP and the American Civil Liberties Union.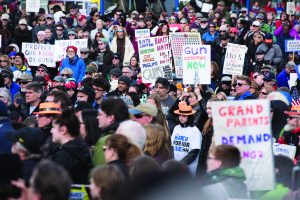 "The National Rifle Association is America's longest-standing civil rights organization. Together with our more than five million members, we're proud defenders of history's patriots and diligent protectors of the Second Amendment," a blurb at the bottom of the NRA website states.
The main argument against the NRA as a lobbying group is that they are sponsored mainly by gun manufacturers. Gun manufacturer Taurus offers an NRA membership with every firearm sale, according to their website. Glock, another gun manufacturing company, states on their website that they had donated $350,000 to the NRA in the years between 2010 and 2016.
The March for our Lives represented one of the largest youth demonstrations in recent history and The Trail will continue to follow Tacoma's involvement in combating gun violence.