NWC swimming championships bring new records for Loggers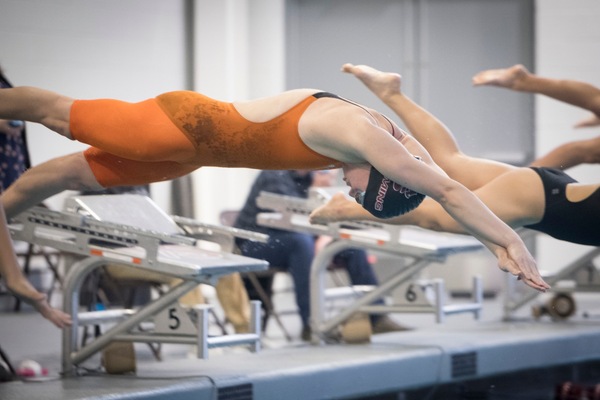 PHOTO COURTESY OF LOGGER ATHLETICS
By Tayla MacPherson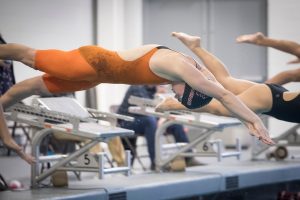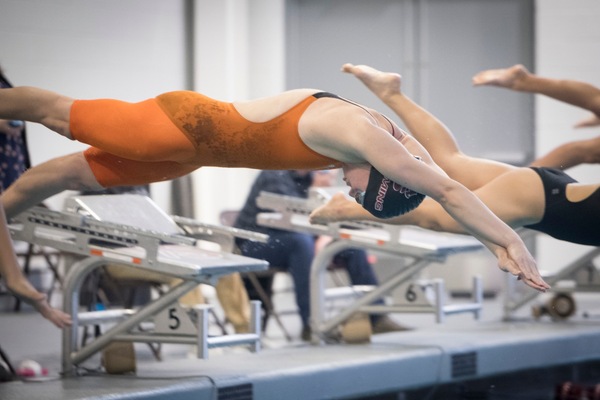 This past weekend, Feb. 10-11, the men's and women's swim teams competed in the Northwest Conference Championships in Federal Way.
The women's team finished the weekend in fourth place and the men finished in fifth. Sophomore Dylan Reimers (Rocklin, California) was the champion in the 500-freestyle and 1650-freestyle. Kelli Callahan won all three of her individual races, which include 200-IM, 400-IM and 100-breaststroke. Additionally, 10 Logger women and five Logger men were recognized with All-Northwest Conference honors.
Both teams have hit several milestones this season, including breaking records and winning numerous consecutive meets in a row.
The women's team has a total of 29 members and three of them are seniors. Both teams are very young but are rich with talent, which can be seen with Reimers' and Callahan's results throughout the season, as well as in the NWC championships.
This season the women's team has surprised many with their exponential improvement.
O'Hanlon discussed the results from one of the team's most important meets, the Logger Invitational, and how the women were able to surprise several other programs. "The results from the Logger Invite surprised me and were really exciting. Our team did really well against some of the top teams including Whitman and PLU. The results from this meet have given us a lot of confidence going into Conference," O'Hanlon said.
Most people do not understand how rigorous of sport swimming really is. Swimming is one of the longest sports at Puget Sound, stretching over five months.
Sophomore Kai Haven (Seattle, Washington) described the rigor and challenge the sport encompasses. "I would say everyone on the team has a close connection with someone and are able to turn to anyone on the team to receive a lot of encouragement. Swimming is a hard sport; we have morning swims and lifts and then afternoon practices. It really adds up and can get tiring, so it is important that the team is able to make it fun for each other," Haven said.
Last season the women's team finished third and the men's team finished fifth. This season, the teams once again finished in the top five.
After the conference championships, if swimmers make specific times selected by the NCAA committee, they will have a chance of going to the NCAA championships. So far sophomore Dylan Reimers has made the cut to attend the NCAAs, but both teams are hoping to send more members after this weekend.
The team will have one final swim meet at Puget Sound on Saturday, Feb. 17.