Callahan setting records and swimming hard for Loggers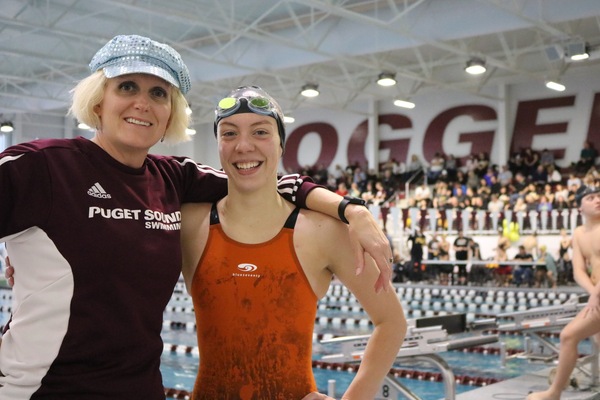 PHOTO COURTESY OF LOGGER ATHLETICS
By Tayla MacPherson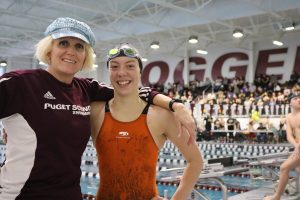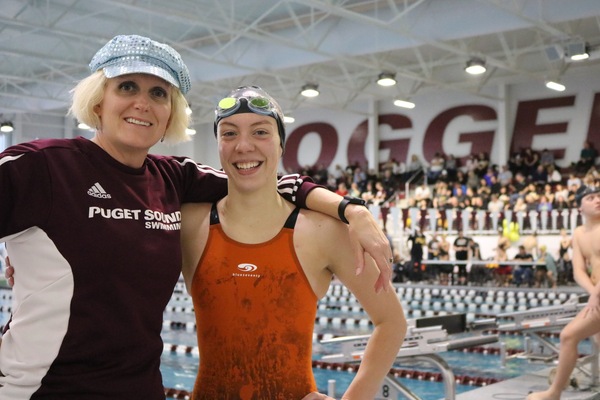 Saturday, Jan. 27 was a very special day for sophomore swimmer Kelli Callahan (Aspen, Colorado). 26 years ago, Ronda Blair set the school record for the 200 IM with a time of 2:08.48 and this past Saturday, Callahan broke that record with a time of 2:07.25. Callahan has received several accolades thusfar this season, yet this is by far her biggest.
Blair and Callahan have become very close since Blair is the Puget Sound swim team's sprinting coach and assistant head coach. Blair mentored Callahan and pushed her to beat her own record. Callahan describes the feeling of breaking Blair's school record: "I think breaking the record this past Saturday was really special and fun for both Ronda and I. As one of my coaches we've been both working towards that goal for the past year and half, and as the end of the season draws near we were beginning to expect that I would do it soon. It was super exciting on Saturday when I looked up at the clock and saw that I had finally done it."
Callahan has been swimming since she was 8 years old and still loves everything about the sport. So far this season, she has been named Logger of the Week twice and named Northwest Conference Women's Swimming Student-Athlete of the Week. Callahan is described by her coach and teammates as a driven swimmer with high expectations for herself.
Head coach Chris Myhre describes his expectations for Callahan going into the season: "One thing we have always tried to focus on here at Puget Sound is the person's personal expectations. I believe Kelli places high expectations on herself in everything she does. As for swimming, Kelli has a perfect blend of talent and work ethic that allows me, as her coach, to easily push her towards places very few get to go … in this case, a place on our record board," Myhre said.
While Callahan broke a school record this weekend, she also won all four of her events against the top team in the conference, Pacific Lutheran University. The other three events she swam included 100-breaststroke, 500-freestyle, and the 200-medley relay.
Callahan always wanted to continue her collegiate career in college, but was unsure of the level of swimming she wanted to partake in. Callahan's dad went to Puget Sound and was a member of the ski team and spoke very highly of his experience. So, during her junior year, Callahan decided to visit the school and fell in love with the campus and environment.
Callahan discusses the positives of attending a Division III institution. "The great thing about Div. III athletics is that you really get out what you put in — you can decide how serious you want to be, and I am very passionate about swimming. I get to balance my academics and athletics and still put a lot of focus in on swimming," Callahan said.
Not only is Callahan an immensely talented swimmer, but she also is seen as a leader and compassionate teammate.  "She is a caring person, sensitive and bright. You should ask her teammates, but my guess is that she is considered a leader, but more by example than her words. Nobody doubts her abilities and her teammates certainly recognize that she is good," Myhre said.
The women's team is ranked second in the Northwest Conference and is getting ready to compete in the championships in mid-February.
Callahan's classmate and teammate Greta Dunn (Lafayette, Colorado) expressed her feelings towards Callahan as a leader: "Kelli has a very positive attitude about the sport. She is always happy and smiling, which, especially during hard meets and sets, spreads throughout the team. Nearing the end of our season Kelli's success and attitude has given us confidence and positivity going into our conference meet," Dunn said.
Callahan and the rest of the women's swim team will compete in the Northwest Conference championships in Federal Way  starting today through Sunday, Feb. 11.