Taking new risks in Figure Drawing Club
By Parker Barry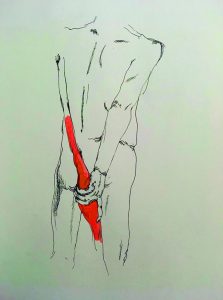 A man in his late 50s dropped his robe and assumed a position where he contorted his naked body, showing the muscles of his thighs and the curvature of his neck. I am in the full experience of Figure Drawing Club, held on Mondays from 6 p.m. to 8 p.m. at an off-campus location called "Feast Arts Center," a community space for artists to create and collaborate on 11th and South L St.
"Figure drawing is a rather intimate environment. I have found that I have learned so much about bodies and the differences and similarities that make us all beautiful. With this being said, it is an incredibly body-positive space," Gracie Phillips, a junior at the University of Puget Sound, said.
The first session was timed at one minute. As soon as he dropped his robe, I felt as if I was instinctually trying to translate his human form onto the page. I had never tried figure drawing before but it made me feel intensely close to the present moment.
The only thing I had time to think about was how to capture this stranger's scapula with charcoal and a notebook. I didn't even think; I had a mind and body relationship that felt similar to when I played tennis on the team at my high school — my brain's only job was to observe and translate for my hands.
"It's a place to study the body; how to structure bone and muscle, then giving it all life simply with the stroke of a pencil or whatever medium one might choose. Figure drawing club is also a place where I am able to interact with art and the art community without a hindering deadline," Phillips said.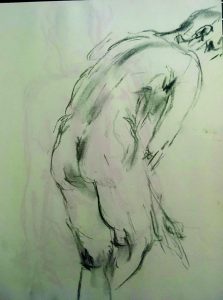 Even if you have very little experience with figure drawing — for instance, I have no experience with visual art — you can still have a wonderful time just trying it out. The atmosphere of Figure Drawing Club and the atmosphere of Feast Art Center is so warm and inviting that there need not be any fear of judgement when it comes to lack of experience.
"I do Figure Drawing Club because in my personal art practice, I work with the human figure a lot and I think it is one of the most important practices for any artist. I am also a yoga teacher and looking at the body from the point of view of drawing is really cool and exciting for me," Elayna Caron, a junior and art major at the University of Puget Sound said.
Figure Drawing Club is a welcoming environment, but don't expect to chat with all the artists as you draw. Because each drawing session is timed it requires a certain amount of focus to capture each pose by the model. The artists put on upbeat music and everyone creates together in their own headspace. The heads of the club are Elayna Caron and Anj Cunningham — both students are nice and approachable and offer to help the students who are less experienced with figure drawing.
To sign up for Figure Drawing Club email ecaron@pugetsound.edu.