'Into the Woods' rehearsals off to a great start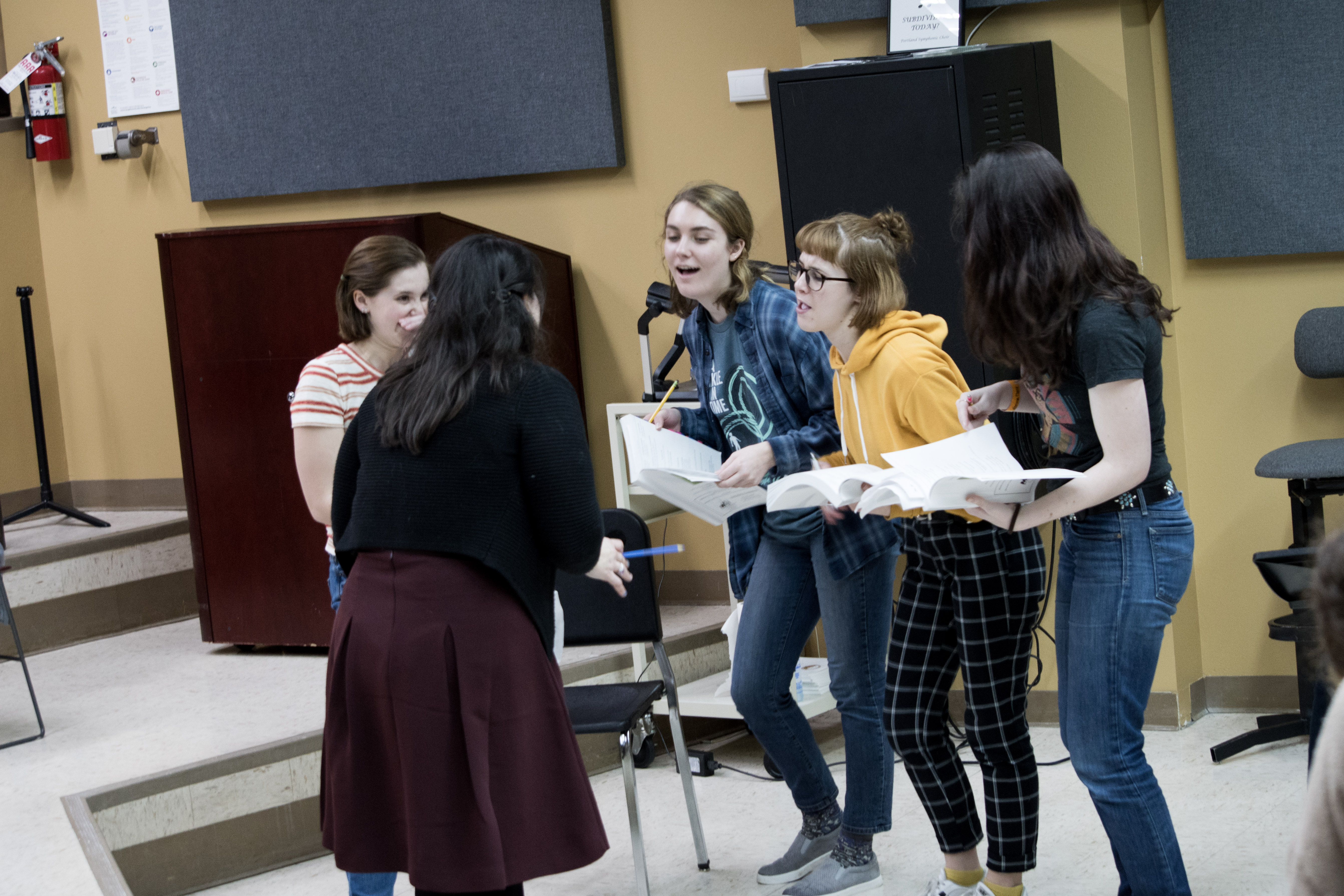 PHOTO CREDITS TO: CHARLOTTE FRON
By Hadley Polinsky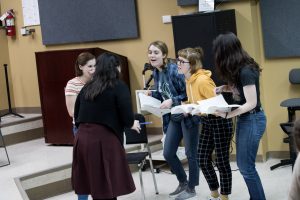 Many seniors have been looking forward to participating in a big production like "Into the Woods" since their first year. Every three years the department rotates among an opera, a musical and opera scenes. This year, it's once again time to put on a musical. And while musicals often are more time-consuming, the actors usually enjoy them more.
The musical "Into the Woods" follows a baker and his wife who want a child, but have been made barren by a witch's curse. In their attempt to break the spell, their story intertwines with Cinderella, Rapunzel, Little Red Riding Hood and other well-known fairy tale characters.
Nerves were high for first-years and seniors alike as they prepared for auditions and callbacks for the production of "Into the Woods." "Initially I was like, 'Oh, this will be a breeze. No problem,'" senior music major Danielle Rogers said. "Then I got there and I was like, 'Oh gosh, I am so nervous.'"
Auditions for first-year students can be even more intimidating than for seniors because they are so different from how auditions are done in many high schools. "There's something about the high school audition process that is less professional, and this was very professional and that was nerve-wracking," first-year Julian Aikens-Helford said. "I don't think I'm ever going to get used to that type of experience."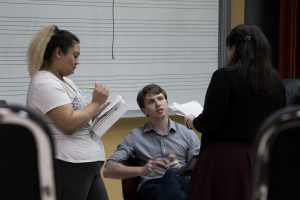 In a musical as difficult and lively as "Into the Woods," it can be challenging to portray the characters in a way that does justice to them. In the early stages of the production, actors sometimes feel silly portraying their wacky characters. However, as the show progresses and they begin to stage the show and get costumes, the characters really come to life.
"I think bringing everyone to life and really fully, fully committing and making it believable is going to be the biggest challenge, but I think we're going to be fine," Rogers said.
The play is also bringing people together. While many students in the play have been in campus productions before and already know each other, there are new students that decided to try it out. As a senior, Rogers appreciates being able to work with her peers in all class levels. "I think that people are starting to get closer," Rogers said. "I feel closer to the classes below, the people who haven't necessarily done a production with the Puget Sound School of Music before."
Even though the newcomers to the music and theater departments feel some anxiety, they know that they are in a safe place when practicing. "If you just listen to what people are saying, it's so welcoming," first-year Michelle Kofman said. "Everyone is really so self-driven and self-motivated, and from that you can bounce stuff off each other."
The students have already seen the show come together so well, despite being in the early stages of the production. "There's like two [songs] where everyone's singing and there's this crescendo," Kofman said. "It's just so eye-opening and humbling to just be able to be one voice in that crescendo."
Some find that the most rewarding part of a show is the how they feel once they have accomplished it. "I've already felt that sense of accomplishment and I think once it's all put to life and put on the stage with costumes it's going to be amazing and so rewarding," Rogers said.