University Allocates Resources to New Welcome Center

Photos courtesy of The University of Puget Sound
By Ayden Bolin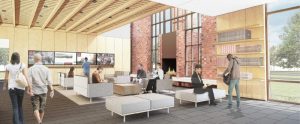 CORRECTION: An  earlier version of this article stated  that the Welcome Center has been in development since 2003. Although the Campus Master Plan has been in development since 2003, the Welcome Center is a more recent addition to the Plan. In addition, an earlier version of this article incorrectly stated that the Budget Task Force had a role in  allocating funds for this project; it is a capital project and therefore not decided by the BTF.
A new Welcome Center is being developed as part of the ongoing Campus Master Plan at the University of Puget Sound. This Welcome Center will be on the North side of campus on Alder Street, and its purpose is to be the "inspiring point of entry for prospective families — a bold, lasting first impression," according to the University of Puget Sound website.
The Welcome Center  is designed to meet the growing needs of prospective students and their families. It will be located at the intersection of N. Alder and N. 15th, according to the school's website.
In addition to welcoming prospective families to campus, the Welcome Center will also, "serve as a contemporary, high-functioning home for our hard-working Office of Admission," according to the University's website.
The webpage estimates a total cost of $4 million, most of which come from donors.  The website lists naming opportunities for donors, the lowest of which, tour and interview rooms, are priced at $50,000. Its style will be similar to the rest of campus, with "a courtyard, a reception area anchored by a fireplace, and a glass-walled presentation room," as stated on the University website.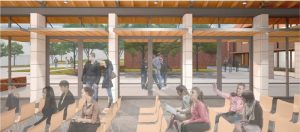 The Welcome Center project has been in development  for several years as part of the Campus Master Plan, but the need for it is stronger now than ever, according to Gale McIntosh, who is the Vice President of Communications and Chief of Staff at the University.
"The Welcome Center is a capital project that has been in progress for many years as part of the University's master plan for campus development, and addresses many key needs for competitive recruitment of a diverse student body, campus meeting space, and hospitality for the more than 5,000 students and their families who visit campus each year," McIntosh said. "Students who visit campus are six times more likely to enroll, and we have outgrown our ability to host these large numbers on the first floor of Jones Hall."
There will also be a need to redefine usage for the first floor of Jones Hall after the new Welcome Center is built.
"The University is currently involved in a space-planning study; results of that work will inform how to best use Jones Hall and other areas of campus to best accommodate the current and future needs of students, faculty and staff," McIntosh said.
However, there are some reasons to be skeptical of this part of the Campus Master Plan. According to an article written by Jon Marcus of The Atlantic, in 2016, colleges and universities collectively faced a budget shortfall of $30 billion for what they call "deferred maintenance" or "deferred renewal" to campus infrastructure.


"The problem is compounded by the fact that they nonetheless continue to build more — spending a record $11.5 billion last year — in the hope of attracting students at a time when enrollment is leveling off or falling," Marcus wrote.
This statement may be familiar for some in the University of Puget Sound community, as enrollment for 2017 was lower than usual. While this Welcome Center could be a way to boost enrollment, some community members would rather see the University invest in other resources.
"It is probably a good idea but it seems a bit over-the-top for our campus. What purpose does this serve the campus? As long as we have good community outreach, we don't need a Welcome Center," senior Eden Krolopp said.
Community outreach and diversifying the campus community are goals many on campus have been working toward. As previously reported by The Trail, the class of 2021 has the highest number of local Tacoma enrollees in any class, and 31 percent of the class is students of color.
Krolopp is not the only community member who feels that there is a better use of resources that would make the campus a more appealing place for prospective students.
Professor Monica DeHart of the University's Sociology and Anthropology department was asked to weigh in on the new Welcome Center, as well as to give thoughts on resources that could be brought to the community.
"I'd love to see us invest in resources that enhance the educational experience.  Resources like diverse, engaged teacher-scholars whose work profoundly stretches and supports students' growth; resources that make our campus welcoming to and inclusive of a wide variety of students; resources that create spaces and moments for true conversation, collaboration, and transformation; resources that ultimately produce more students, faculty and staff who love to be here and are, thus, inspired to tap visiting prospective students on the shoulder and say, 'Come here. This place is an awesome place to learn!'" DeHart said.
The new University of Puget Sound Welcome Center could be a massive asset to help enroll more students at the University, but there is hope for an alternative: better allocation of resources to directly draw in a group of diverse learners and thinkers.