"Lettuce 253": Shaping the Tacoma art community
Photo Courtesy of Matthew Gulick
By Matthew Gulick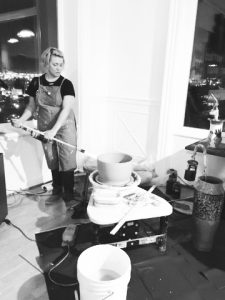 People do not produce art in a vacuum. Community helps inspire creativity and provides connection for realizing new projects. With this in mind, Monique Simkova created "Lettuce 253," a series of events where local Tacoma artists come together to showcase their creative processes.
Over the course of  a few hours each artist produces an original piece, which they raffle off at the end of the evening. Already-completed works are also available for purchase. Attendees pay $15 to mill about a room drinking only-slightly-overpriced craft alcohol, watching night settle over Commencement Bay and socializing with the artists and other art enthusiasts.
"Lettuce 253" held their sixth session since their first one in January on Nov. 10. "Lettuce Part Six" took place downtown at the Union Club, a work, arts and events space in what looks to be the old home of a member of the Tacoma aristocracy. Complete with hardwood floors, black-and-white framed photos and a commanding view of the Thea Foss Waterway, the get-together begged for formal attire. The crowd displayed varying forms of trendy fashion, which on the whole felt like being caught in the middle of filming an episode of "Portlandia."
Union Club is a 21+ event space, which meant I was dangerously intimidated by the Tacoma art enthusiasts I mingled with. This was a seriously cultured crowd: poised, confident and very much in their element. Held mainly in one room in the building's southeast corner, the night possessed an intimacy that still allowed an individual to keep to themselves while they watched the artists work. Luckily, my Alaskan Amber Ale proved an excellent talisman, providing some purpose and warding off potential social anxiety.
"Lettuce Part Six" featured clay throwing, photography, graffiti-inspired painting and sculpture assemblage. Heather Cornelius, a Pacific Lutheran University graduate who works with ceramics, crafted a massive three-piece pot in one corner. In another, Vikram Madan, a Seattle-area artist and poet who creates pop-surrealist art, painted a whimsical grim reaper. A third corner housed self-taught mixed media specialist Sarah Casto who assembled her miscellaneous sculptures. Northwest native SuZanne Steben ran a costume-rich photo booth in the adjacent room. In the center of the room sat a rock-covered table at which attendees could make a little art of their own with paint pens and sharpies. One man parked himself at this station and drew disturbingly realistic faces on a series of stones. I drew a window on my own small rock. Unfortunately, I lacked the artistic capabilities to actually draw something that resembled a window.
For musical ambience, "Lettuce" bumped the clean version of SZA's album "Ctrl" through a speaker stack. I found this a compelling yet bold move considering that "Doves in the Wind" ended up pretty much half censored.
I spoke briefly with event creator Monique Simkova, a University of British Columbia graduate who returned to Tacoma and wears golden, wire-framed hexagonal glasses.
"My idea behind it is I had so many artists who were saying 'I need to either move to Seattle or Portland to be able to make it as an artist' and so wanting to have a place where we could show there's so many artists who are in Tacoma who are amazing and spectacular, having a place where we could showcase the talent that's here. Sometimes I do have other artists, Vikram's from Seattle, so I will every now and again pull in an artist who's not from Tacoma, but my idea with bringing that artist in is so that other artists will come and be able to connect and share," Simkova said.
"I love creating events because of the fact that I get to make the rules and so when people walk in it's a 'welcome to my world' type of thing, and I want it to be something different, something out of the norm that you normally don't experience."
Lettuce 253 definitely provided a unique and interesting experience.
"The first one was January. It was the last Friday of every month from January to May. It was always at Feast. Feast is fantastic, it's a community arts center in Tacoma. This is my first time branching out of Feast, and next month Lettuce is going to be at the Tacoma Art Museum."
I asked Simkova why Puget Sound students should check out Lettuce 253.
"You should come out to the event if you're an artist, if you're interested in art, if you're interested in community, if you're interested in having an experience that's different than what you've experienced before," she said.
Simkova also mentioned that she does the Spaceworks program, a joint initiative of the City of Tacoma and the Tacoma-Pierce County Chamber of Commerce that supports the transformative work of local creative entrepreneurs and artists.
Lettuce 253 Part seven will take place from 5 to 8 p.m. Dec. 21 at the Tacoma Art Museum. More information on their Facebook page Lettuce 253.