From the pool to whitewater rapids with Kayak Club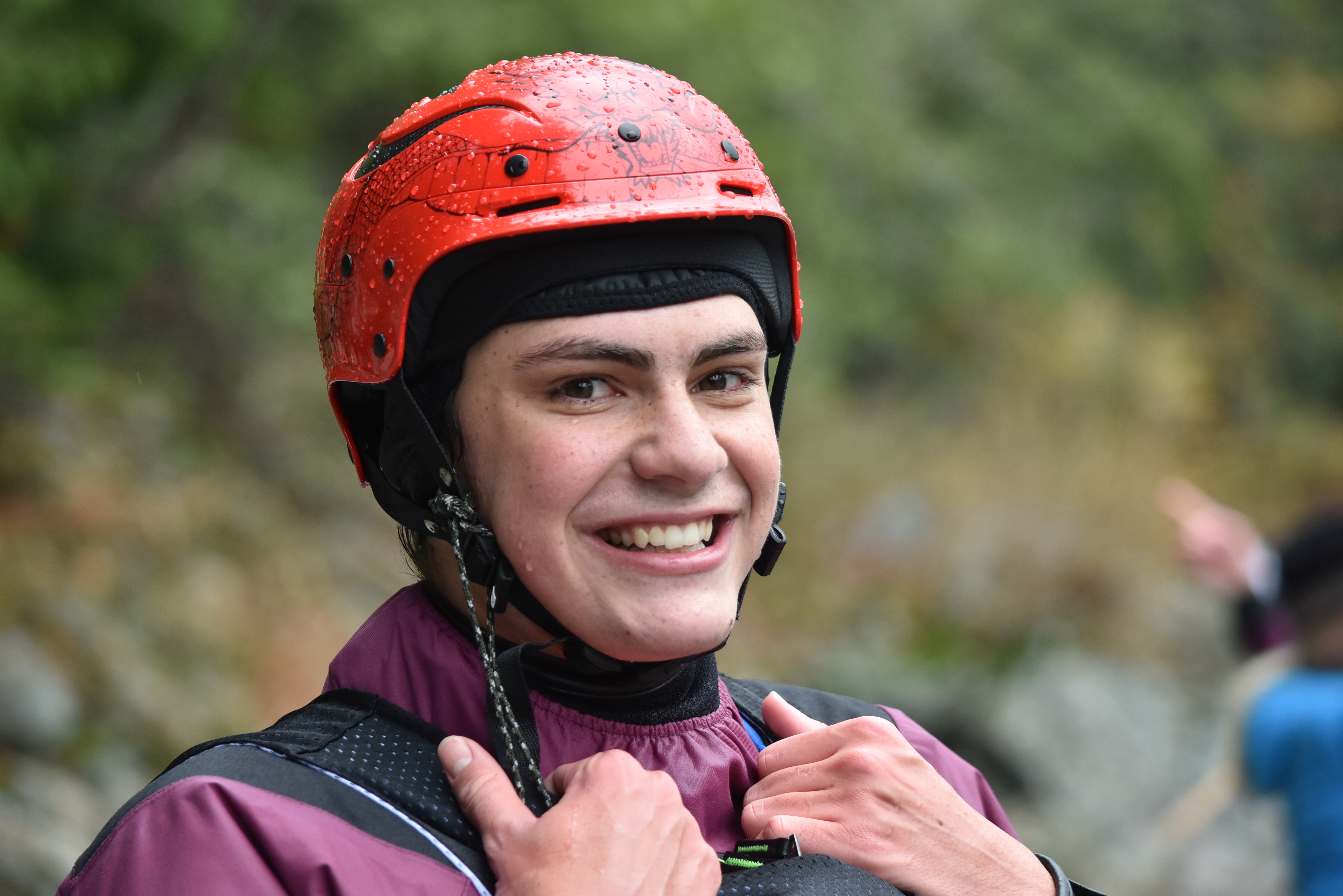 Photo Credit to Sean Grealish
By Gabi Marrese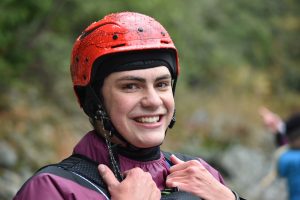 "There is nothing better than just being out on the river in a boat, and that is something I don't want to give up," junior Josh Pi (San Jose, California) said.
Kayak club teaches all levels of boaters, from people who are just stepping into a boat to those who have been boating competently, to enjoy the sport safely. The club prepares boaters for whitewater events by partaking in pool sessions that are made possible by alumni and the use of Wallace Pool.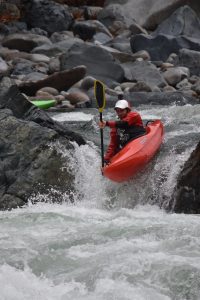 "The reason that the kayak club exists is because Chris Meyer, the swim coach, gave us this time slot back before I got here. When they wanted to start the kayak club, an alumnus, Jonathan Blum, went to him and asked if there was a time they could have and Chris game him 8-10 p.m. Monday and Thursday. And that's what we have had ever since," coach Clay Ross '09 said.
In these pool sessions, the first hour is a time for advanced boaters to teach and assist the new boaters in areas of need. During that time, Coach Ross and his wife Jordan spend the time videotaping students to allow them to see what they are doing and fix specific techniques.
"I love teaching mostly because I can remember when I was first sitting down in a boat. It is fun and rewarding to be able to have someone come to pool session for the first time that's never been in a kayak, and be able to work them up to the point where they are helping me out on the river now,"  junior and club president J.T. Hartman (North Bend, Washington) said.
The philosophy of the club is to share the insight that was learned from the previous generation of boaters. They do this by teaching newcomers and then going through the instructor course to teach the people that proceed them, thus extending the legacy of the club.
Pool sessions are not the only part of kayak club. Active members have the ability to participate in the Collegiate Whitewater Event in the fall, the Northwest Creeking Competition in April, a race on the Wind River in late spring and on the Deschutes River in late June.
"This is an event started by myself, a couple of student leaders of the club, and the staff advisor (Jordan Ross) three years ago.  The event is organized by the Puget Sound Kayak Club, a national non-profit called World Kayak and a local outdoor retailer and outdoor advocate named Outdoor Adventure Center," Coach Ross said.
The Collegiate Whitewater Event is the only race just for students on the west coast. The purpose of this event is to create an opportunity for schools on the west coast to come and network. The first event had 15 racers, more than half of which came from Puget Sound.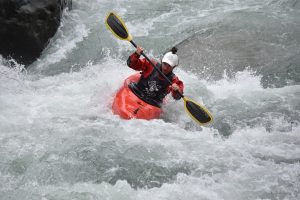 This year, the event took place on Saturday, Nov. 4 with 40 races including 11 from Puget Sound. Hartman is competing in the event for his second year in a row.
"Last year I was really caught up in the idea that this is a race and I have to do well and go as hard as I can. This year I just want to go and enjoy it, the river, the people and the gathering afterwards. If I go out with the sole intent of having as much fun as I can, the rest of it — the race, the time, whatever — will come naturally," Hartman said.
This event brings people from 14 different schools along the west coast, the furthest being from Bozeman, Montana. This year the event was two weeks late which fell on the first snowstorm of the year.
Due to the weather, there were lower flows — about 2100 — compared to the really high flows last year.
"We have a lot of safety, which is a little unusual for the race. Every single person who is racing 'advance' is required to set safety for the intermediate race.  In the four rapids that the intermediates do, there are going to be five or six advanced boaters there to cheer them on and set safety. Then there are my safety volunteers, including alumni, who will set safety for the advanced race," Coach Ross said.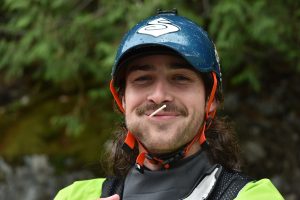 Both advanced and intermediates race about a mile and a half. The difference is the class of the rapids. Intermediate racers face the biggest rapid, Anderson Hole, at the very end of their race, which is class three. Pi raced intermediate for his first time on this course. Some other intermediate races from Puget Sound include Sara Wille, Izzy Lidsky, Molly Jennings, Quinn Martell, Noah Bader-Fourney, Austin Kindig and Tristan Winquist.
"I feel prepared and pretty confident in my boating skills. For my river-reading skill, I'm just a little nervous as it is my first race ever and I havn't been on that course a lot," Pi said before the race.
The advanced boaters started their race just after Anderson Hole and they faced their biggest rapid, Boulder Drop — named for the large boulders mid-channel — which is class four plus. Puget Sound's advanced boaters included Rose Triolo, Amaya Rodriguez, J.T. Hartman and Calvin Bauer. Both races are about 10 minutes with boaters starting in 60-second intervals.
"I'm a huge believer in the only way to get better at kayaking is to kayak. So in terms of personal preparation, I have been doing a lot of laps on the race course. I'm trying to familiarize myself with that even more and just enjoying it because that's what it is all about," Hartman said.
Puget Sound's Sara Wille finished second in the women's intermediate race with a time of 10.56 behind Montana State. On the men's intermediate race, Puget Sound's Quinn Martell and Noah Bader-Fourney finished first and second with times of 9.35 and 9.46 respectively.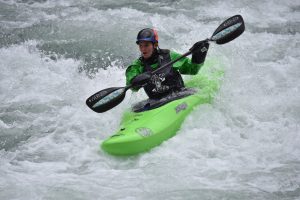 "I think it was a really good start for me to kind of jump into racing. It's a lot more fast-pace and when you're going so fast, things jump out at you more. You have to juggle between staying calm and collected and really focusing on river reading. At the same time, you have to try to paddle fast because you know you want to get a good time," Pi said after the race.
The top advanced women's races for Puget Sound were Rose Triolo and Amaya Rodriguez with times of 10.48 and 11.18. Puget Sound's J.T. Hartman finished third with a time of 10.15 behind Whitman College, who finished with a time of 10.05.
"It definitely wasn't a fantastic lap. It could have gone better but I had a lot of fun and that's what matters. I could have done better on a couple of lines that I had through the first big rapid. I feel like in general, I could have pushed a little harder," Hartman said after his race.
The club is back in Wallace Pool to continue their work on kayaking skills in a controlled environment before the Northwest Creeking Competition come spring. Trust in their methods of becoming a good kayaker, and let the outdoor fun begin.
"We have a lot of active members, a lot of people coming from all around that are interested in learning about kayaking — and even since my freshman year, it's grown into this community beyond just kayaking. You look out at the pool right now and you see people that don't just leave and don't see each other. These guys are good friends, best friends, and people that I trust wholeheartedly," Hartman said.