"Shot": a powerful dance interpretation of police brutality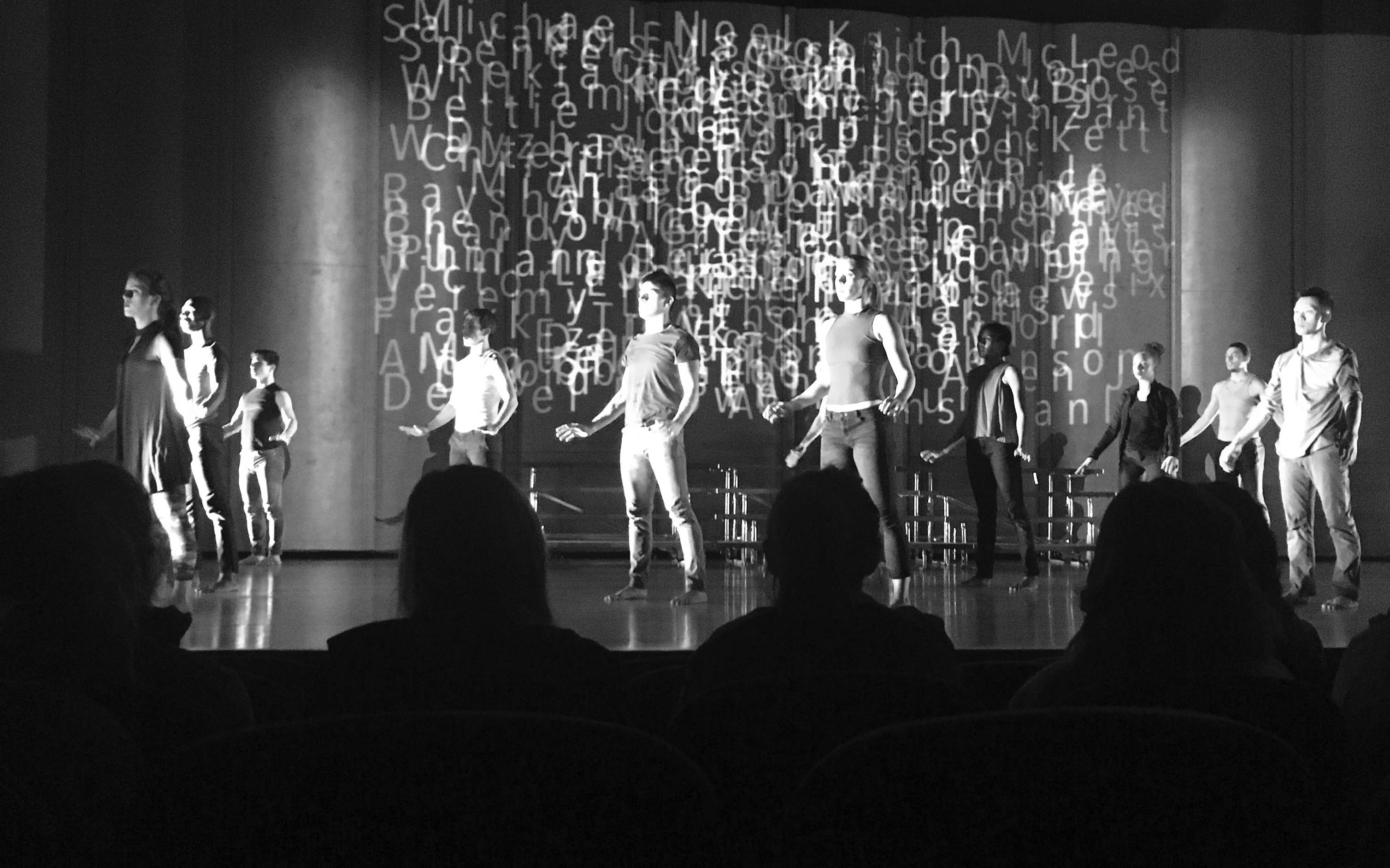 Photo Credit to Brynn Svenningsen
By Brynn Svenningsen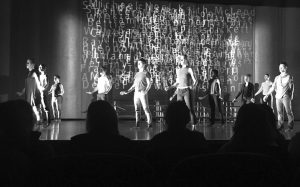 "He doesn't have a gun! He better live! Don't you do it! Don't you do it!" dancer Nia-Amina Manor yelled  during "Shot," an interpretive dance performance that came to Schneebeck Concert hall on Nov. 1. During this emotional moment onstage, Manor was representing a women named Rakia Scott through dance and spoken word. Scott was the wife of Keith Lamont Scott, a man fatally shot by a Charlotte police officer. Scott recorded the whole experience in a cell phone video to provide evidence that her husband was not a threat to the officers who shot him. Scott's story is one of many that the company recognized and drew influence from for their performance. "Shot" was performed by Seattle's Spectrum dance theater company, and focused on police brutality toward young black people.
For director Donald Byrd, this is a pressing issue that he was very interested in exploring. The use of interpretive dance allowed Byrd to combine dance, written word, video, images and spoken words into a single jarring piece. A variety of mediums were required to express this complex and emotionally charged issue.
For an audience member viewing this piece, it was extremely intricate and well-thought out. The use of long sequences of small body movements increased throughout the performance. As each new body movement was added, the meaning that was being expressed by the dancers continued to grow. Repetition and precise movement worked to communicate the details of the stories of those they were trying to represent. This occurred during a scene in the middle of 'Shot,' in which all the dancers slowly began to perform the same sequence of body movements. This elaborate sequence represented the police brutality toward the person who each dancer was playing.
"'Shot' is a prime example of how one can express their political beliefs through less violent means. 'Shot' also demonstrates the potential and power of using such an artistic medium to communicate heavy subject matter," first-year student Zeno Deleon Guerrero said after watching the performance.
The issue of police brutality has become much more important in recent years, as it seems to touch more and more people in some way. Scott's story is one of many, and Byrd spoke of a change in the conversations that black parents are having with their children. They are forced to teach their children from a young age how to protect themselves from police violence. Byrd recited a section of a sample of one such conversation. He listed a set of rules in which he instructed young black people to follow if they have to interact with the police.
"1. Calm down. 2. Have your hands visible, 3. Shut up. … 10. Remember everything," Byrd said.
In one of the most dramatic scenes of the performance, the dancers split onto two sides of the stage. These two groups stood behind two large roadblocks and used spoken word and performance to share different perspectives on police brutality. On stage right, the company members yelled words in favor of the police. Some dancers stated statistics on shootings, others dramatic words and facts, but all shared a common ideal in appreciating the work of the police force. On stage left, dancers spoke out against the police and of the brutality that is occurring. Yelling, carefully focused light and silence in the theater all emphasized the significance and weight of this onstage argument.
"As a performance, 'Shot' was intricate and extravagant. The array of dances compounded with minimal but effective audio and visual effects kept me wanting more. However, the performance did feel a bit dragged out towards the end," Deleon Guerrero said.
For the finale, there was a focus on honoring young black men and women who died at the hands of police brutality. This began with one company member dancing a solo to recognize Bobby Gross. Spectrum Dance company chose to recognize these individuals as those who were wronged by police brutality. The dancers also shared their interpretive dance representations of Tamir Rice, William Chapman, Samuel Debosen and many more. For some, groups of three or four dancers emerged and worked together to tell the story of an individual.
"Shot" meaningfully presented difficult subject matter through art. The intricacy of the actions, the importance of the chosen words and the emotions of the performers all worked together to create an impactful performance. This performance was a great addition to the Puget Sound campus and would be extremely beneficial for more college campuses to see. Police brutality is a huge issue occurring today, and continuing conversations and activism surrounding it is essential to achieving change.