Paolo Larano investigates colonial mentality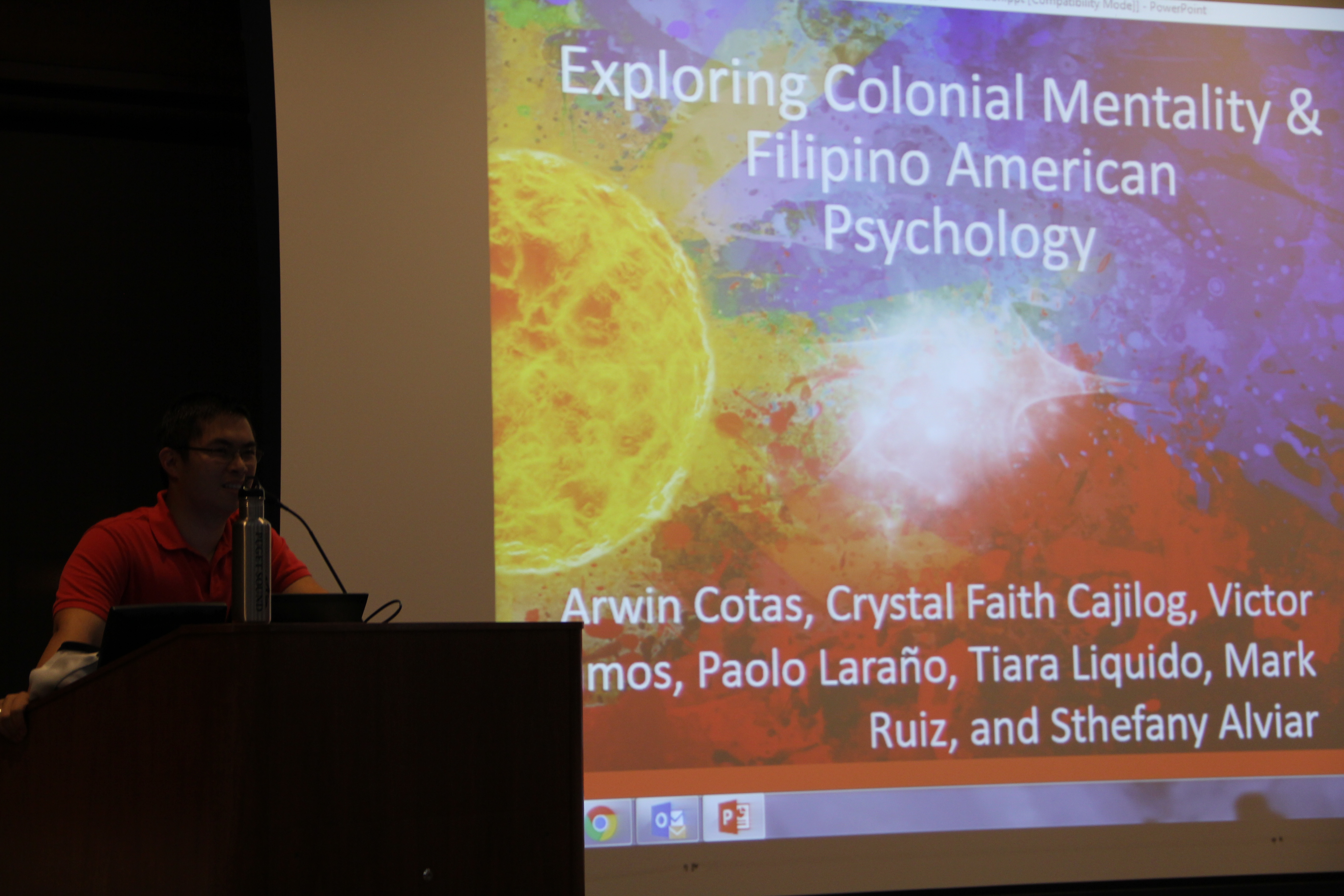 Photo Credit: Presley Reed
By Christina Pelletier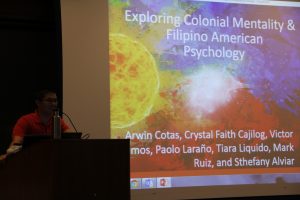 Filipinx-Americans are one of the largest groups of Asian-Americans in the United States, yet often are forgotten about in terms of mental health resources and research.
On Monday, Oct. 30, Paolo Larano gave a presentation on Filipinx Psychology and Colonial Mentality. Larano explained that most people use the term "Filipino" to describe all genders of people from the Philippines; however the term "Filipinx" has been on the rise as a more politically-correct way to include all genders. The term change is a form of decolonization from the Spanish, to take away the idea of grouping people in a single-gendered way. He encourages the audience to have humility during the presentation and conversation, where emotional and raw narratives are shared to show the real life struggles Filipinx-Americans go through.
Larano is currently a psychology doctoral intern at Counseling, Health, and Wellness Services (CHWS). One of his main research interests is Filipinx-American Psychology, as well as body image and masculinity issues. Larano is committed to social justice.
Larano was introduced by Jae Bates, a current junior at University of Puget Sound and president of the Asian American Pacific Islander Collective.
Because October is Filipinx-American History Month, Larano's presentation was centered around Filipinx-American History and the aspects of it that affect the mental health of Filipinx-Americans in daily life.
Larano began by talking about his team, the other individuals who have worked on the presentation alongside him for the past three years, and how the presentation has been developed and modified by his team members over time.
Larano recognized that when talking about Filipinx culture and history, people often imagine he will be discussing popular foods from the Philippines. However, the presentation given focused on the colonization of the Philippines and what that means for Filipinx Americans today.
The Philippines was colonized by Spain in 1542 and was named after Prince Philip II of Spain. A movement was created to change the name of the country earlier this year to become "truly independent" from the Spanish, but the majority of the people wanted to remain named after their colonizers. The United States held sovereignty — complete power over the country's government — until the end of World War II.
While Filipinx are well-represented in the American population, they are extremely underrepresented in terms of resources of psychological help and welfare.
Larano broke down Colonial Mentality, the psychological harm that being Filipinx-American has on an individual into five groups: colonial debt, the "costs" a country owes to their colonizers; ethnic inferiority, the belief in lack of self-worth due to one's ethnicity; cultural shame and embarrassment; within group discrimination, the act of being victimized and singled-out by one's own group; and denigration of indigenous physical characteristics, criticizing someone intentionally because of their physical traits.
Larano read aloud narratives written by himself and the other members of his presentation team that fit into each group of Colonial Mentality.
He continued to discuss cultural norms such as extreme hospitality and kapwa, an initial connection you have with someone you might never see or meet again.
A professor of Larano's blames depression and feelings of cultural inferiority of Filipinx-Americans on colonization. "All of the shame and pain that we feel, it's not because we're inferior … it's because we've been infected by this disease of colonialism. It's not our fault. It's so deeply embedded in us right now that it's hard to tell what's really us and what's really not."