Crew teams having success through season so far
By Will Keyse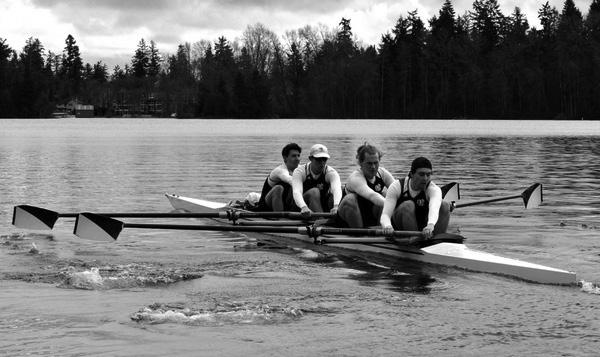 The Puget Sound men's and women's crew teams are preparing this week for their upcoming appearance in the Northwest Conference Championships on Sunday. If the teams do well at the Championships, they will advance to Nationals held the following weekend in Golden River, California.
The women's teams the focus throughout the season has been on staying sharp mentally and physically, first-year novice rower Katia Mrdjan (Portland, Oregon) explains."We have managed to keep a positive mindset through the entire season," Mrdjan said. "We have channeled anger in productive ways and became better from it. Every person has committed to high levels of fitness and worked hard to achieve our personal and team goals. Our coaches have put together a challenging and competitive training plan and each person has capitalized off it."
The team will look to continue practicing these principles as they head into the conference championships. Mrdjan provided her take on what Puget Sound needs to do in order to be successful in the postseason.
"Maintaining composure and not stressing will be the most important key to performing well," Mrdjan said. "We need to focus on training and taking care of our bodies these next few weeks so that we are at peak performance when we need to be. We have trusted the training process so far and it has not failed us, so we must continue to do that. Our motto 'fast is fun' serves as a reminder to not only row fast, but to have
fun while doing it."
The men's crew team has had a successful spring season despite having to work around adversity. There have been a host of injuries and the numbers have continued to dwindle, but the team remains focused and optimistic about their chances. Junior Alex Klein (Seattle, Washington) emphasized the team's resilience and ability to adapt.
"I think our main strength this season has been our ability to integrate our new novices into an already experienced, albeit small team," Klein said. "It was a steep learning curve but it has allowed us to stand out despite the relative youth of our team against much larger [Division] I crews."
This dedication cumulated in a first place finish for the Logger Novice 4
boat at the Covered Bridge Regatta in Lowell, Oregon two weekends ago. First-year rower Nick Ehrhard (Lake Bluff, Illinois) sees this as a sign of good things to come.
"Right now, in these next two weeks, our main focus is to perfect what we've learned so far and work harder than any of the schools we're competing against," Ehrhard said. "We know we can win as our [Novice] 4's victory this weekend showed, but we need to keep our heads in the boats and remain focused no matter what is going on in the race around us."
The Northwest Conference Championships will be held at American Lake in Lakewood, Washington, with Puget Sound acting as the host school for the event.