Are landlords taking advantage of Puget Sound Students?
By Val Bauer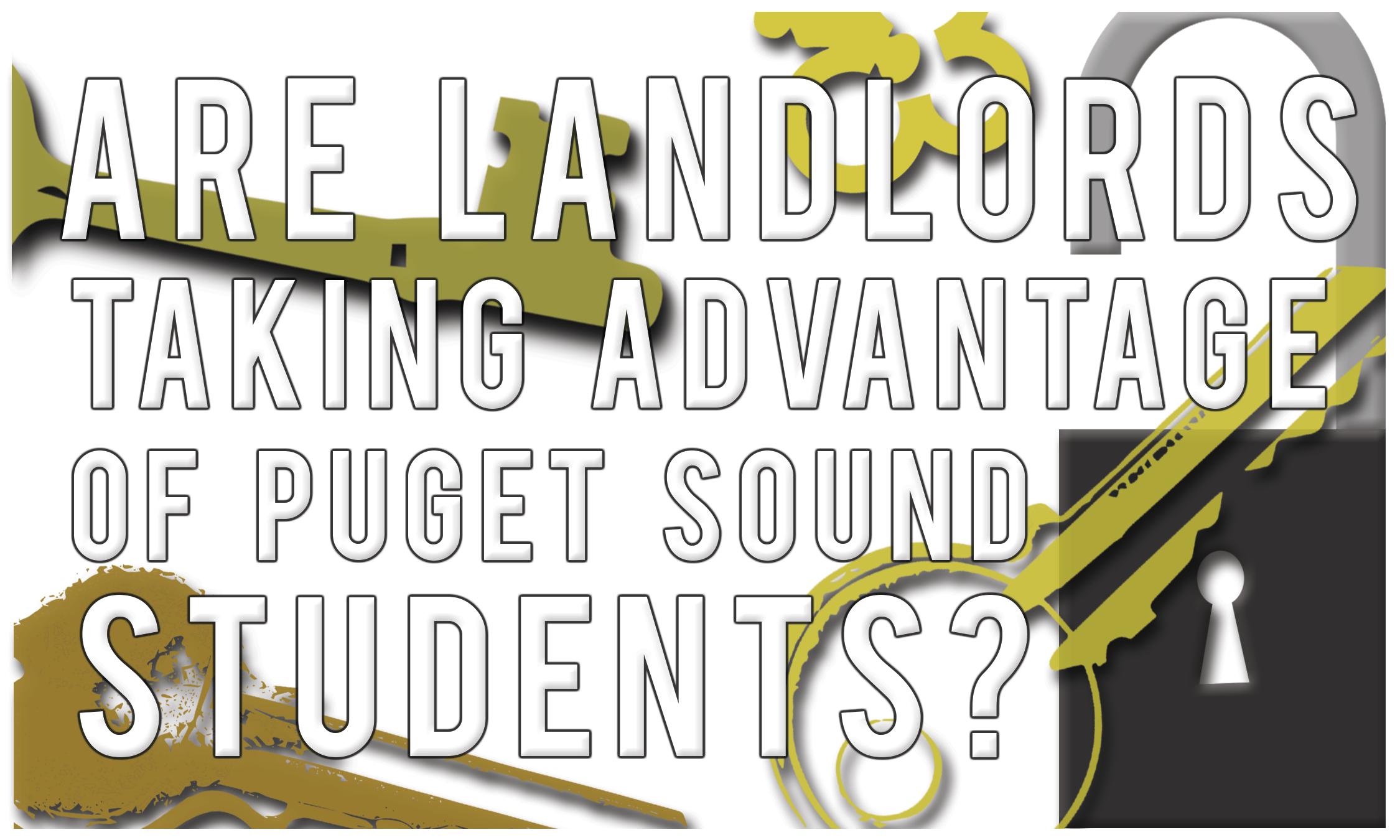 University of Puget Sound students who live in privately-owned off-campus housing often struggle with their landlords and housing conditions.  Some sources who shared their experiences with this issue have chosen to be anonymous, which The Trail has allowed in order to protect the students who spoke to us.
For the first two years as a student at University of Puget Sound, on-campus housing is required. For the remainder of their time at the University, students can choose to live off campus. For most students, this is their first experience renting a living space.
As a result, "many students don't know their renters' rights, and many landlords know this … and take advantage of us," junior Hannah Houser said. A senior, who chose to remain anonymous, echoed this sentiment, describing the nature of their previous landlord's actions as "exploitative."
"Our landlord didn't take us seriously," they said, comparing the leasing of houses to "pet projects for families with an extra house."
Some houses rented to students  are in utter disrepair. "Our house is really gross, there's mold in all the walls, cracks and missing paint and dents everywhere, and [our landlord] totally overcharges us" said another student, who also chose to remain anonymous.
"Our back screen door is falling off, the ceiling leaks, the bathroom wallpaper is peeling, and there is an industrial fan in the basement to deal with flooding in winter," Houser said.
Some houses violate safety codes. "There's a guy renting out at least one house as a six bedroom when the 'sixth' bedroom is a tiny basement storage area with no windows," said alum Elizabeth King. "So it's astoundingly dangerous and illegal, and if you try to call him on it he says basically 'Well, you knew it was like that when you moved in.'"
Landlords are not always responsive to the issues students report. Arda Bulak, who graduated in 2016, said, "I … had an experience with my landlord off campus who would not respond for over a week to calls about a flooded basement because he was on a yacht in Argentina."
"When I was at UPS I had a landlord that refused to fix the drain in our kitchen, effectively leaving us without a working kitchen for a week. He then tried to blame us for the problem," said '15 alum Ari Solomon. "Turns out, he didn't actually do any house maintenance in between tenants and the entire pipe was rusted completely through due to his neglect."
Another anonymous student reported that they had asked their landlord to "to fix some holes in the sideboards and edging of the house and to repair some of the broken stuff like a second washing machine," none of which was done when they moved in, "which was dangerous because we had cats. The second washing machine is still broken and he says he'll never be able to fix it, but it's living in our house."
"Now our only washing machine is broken and has still not been fixed and it's been a month," they said. "I went to a laundromat and spent a lot of money to clean my clothes, and it looks like I may have to do that again. He told us 3 weeks ago that he'd fix it and hasn't, and hasn't offered to pay a repairman to fix it either."
An anonymous student with a broken dishwasher has "had [the landlord's] fixer guy over several times to 'fix' our dishwasher, and all it does is spray water at the dishes and then dry the food on them to a crust." In addition, "our stove caught fire earlier this year because the coils were so worn through, and he made us replace them," they said.
Some instances of landlord neglect are dangerous. "Someone broke into our house two months after moving in because the bottom lock wasn't functioning," Houser said. "We had to beg her to change the locks." After the incident they "wanted their rooms to have locks." The landlord replied that they "don't do that," Houser said.
A student who chose to remain anonymous cited their main issue with their landlord as "his total lack of concern for our house security. He has been promising for months now that he has new locks on the way because two of our housemates with severe drug abuse problems mysteriously just disappeared one day and took their keys to the house," they said.
"Our landlord … promised us two months ago that we would have new locks within a week. They are still not here," they said. "Furthermore he has 100% stopped responding to any of our emails concerning anything house related. He has also been verbally abusive to some other girls I lived with in the past and overall treats us with less than no respect."
A recurring theme in negative student experiences with landlords is that students don't know their rights as renters. On the Collins Memorial Library website, Social Sciences Liaison Librarian Benjamin Tucker compiled a Financial Literacy Guide for students, which includes helpful information about renting living spaces.
The guide contains four "residential rental resources": City of Tacoma Landlord-Tenant Program, State of Washington Residential Landlord-Tenant Act, City of Tacoma Code Compliance, and Tenants Union of Washington State. These resources elucidate renters' rights in the city of Tacoma, which previous knowledge of can help to minimize landlord-tenant conflicts.     `
There is also a link to a page on Puget Sound's website, "Living Off Campus." This page includes information about what to look for when renting a space for the first time, as well as rights and responsibilities for tenants and landlords.
Regarding the importance of the availability of these resources, Tucker said, "rental issues can get complicated and stressful if you're not well-informed … As a tenant, having an understanding of your rights and responsibilities under the law and the specifics of your rental agreement can be the difference between a repaired furnace or an eviction."