CICE hosts phone bank, makes contacting representatives more accessible
By Keely Coxwell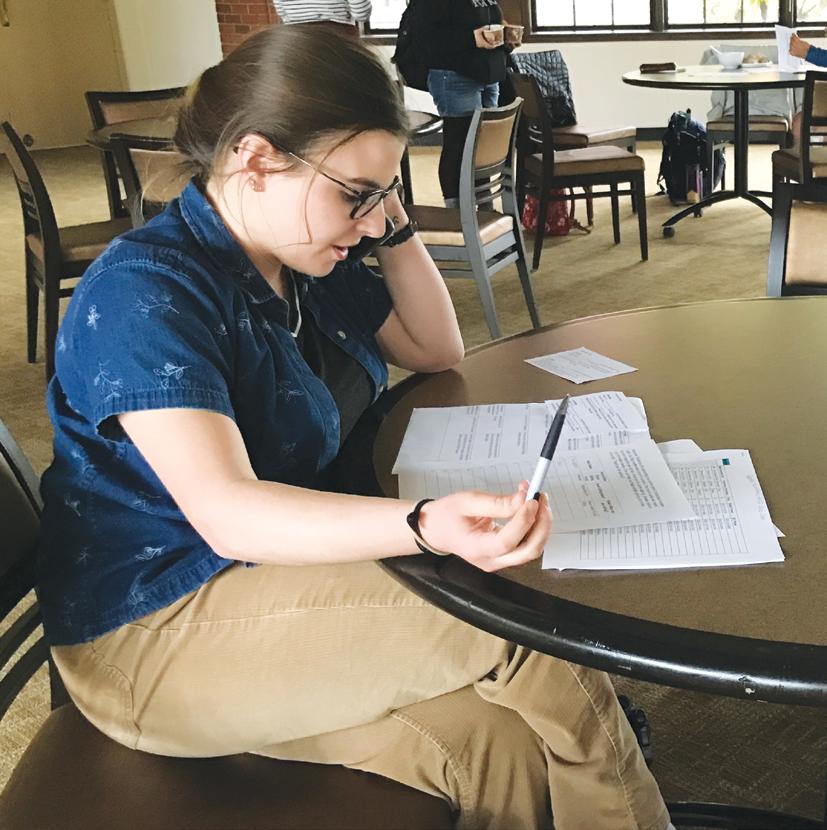 For the last four weeks, the Civic Engagement side of the Center for Intercultural and Civic Engagement (CICE) has been putting on phone banks to encourage and facilitate student interaction with their representatives.
"Phone banks are important because they get people directly in contact with the office of their representatives," Voter Engagement Specialist and first-year Micaela Seaver said. "While emails and letters are viable options for getting your voice heard, very few get personal responses. With calling, it interrupts the flow of the office, and people are forced to listen to what you have to say."
"I believe that civic engagement and political activism must extend beyond the ballot box and be a year-round practice," Matthew Bell, first year, said. "Calling your elected officials ensures that your voice is heard by those whose job it is to represent you." Bell will be the Voter Engagement Specialist next year.
CICE aims to increase student involvement with their representatives by providing a space for calls and assistance in the process.
"Some people can see calling as intimidating because they think they will have to defend their  position and argue with the person on the phone," Skylar Bihl, Assistant Director for Spiritual Life and Civic Engagement, said. "In reality you will just tell an intern how you would want your representative to vote. The interns keep tallies of how many people called and why, then pass it on to the representative … they are just keeping track of who cares about what things."
For example, "Senators Collins and Murkowski cited the mass amount of phone calls bombarding their offices as having been a significant factor in their decision to oppose the nomination of Betsy DeVos," Bell said. "Phone calls work."
When you go to one of the phone banks there are lists of representatives and their numbers, a script that you can follow and a list of proposed national laws that was compiled by Seaver.
"We have eight or so proposed laws for bills that are going through, either they are still in committee or they've finally reached the house or the senate with a short blurb of what the [bill is], who's sponsoring it," Bihl said. "Just so that if people do come in and they want to make calls but they don't necessarily what to call about we've got some prompts."
"The scripts are very general, it is all nonpartisan. I wanted to make sure that we had something that was pretty basic … so that it could help anyone who came in, regardless of the topic they were [calling] about, and be able to insert what they valued into that script," Bihl said.
"I adapted the scripts from some that Tim Beyer found for the phone bank last semester," Bihl said. "I supported the Psychology department when they did a phone bank at the end of last semester that was a sort of test run."
According to Seaver, over the last four weeks, twenty-two calls were made by eight people.
"I wouldn't say that [the phone bank] has been super successful at this point in time … I think that April is just really hard for any programing," Bihl said. "I also think there is a sense of, it's easier to post things on Facebook than pick up the phone and even though time wise it really doesn't take very long to make a call."
Seaver, Bell and Bihl have talked about continuing the phone bank next year.
"For the last few weeks we have been in the Rotunda, for next year, I think we should change the location, a smaller, more intimate space that doesn't feel so overwhelming," Bihl said. "We could set up a system that allows us to respond rapidly to things that are going on and provide that venue for students to get involved if something happens and be able to plug right in immediately."
Bihl also mentioned establishing a voter committee. "I think putting that into place we will be able to advertise more in the Politics and Government department and in classroom settings that I think will drum up support," she said.
"Next year we want to work on creating a space for actual civil discourse with people who differ," Bihl said. "I don't think, on this campus, we do a good job of creating spaces for people to honestly say what they believe and have it be engaged respectively back in a way that allows for dialogue I think there is a time and space for that and I don't think we do that every well. I also think there is a time and place for folks to be able and upset and express that."
"I think we are so afraid of being wrong on this campus and I think that is really problematic," Bihl said. "You don't learn if you are so afraid of being wrong that you never try."
"I also think there is something to be said on a predominantly white campus where students do need to take that learning upon themselves," Bihl said. "In addition to that I think that learning has to be something that one challenges one self to do through reading or just googling it to find resources."
"I want to help others be able to make their voices heard in our electoral system.  I find it discomforting that younger voters tend to have a very low voter turnout rate nationwide.  I want to be one of the forces working to raise the voter turnout rate, especially among young voters," Bell said. "I believe that our democracy functions best when we have as many members of our society as we can engaging in electoral processes."
The last phone banks this year will be on the next two Mondays in the Rotunda from 12:00 to 2:00 in the afternoon.