Students broaden horizons at diversity conference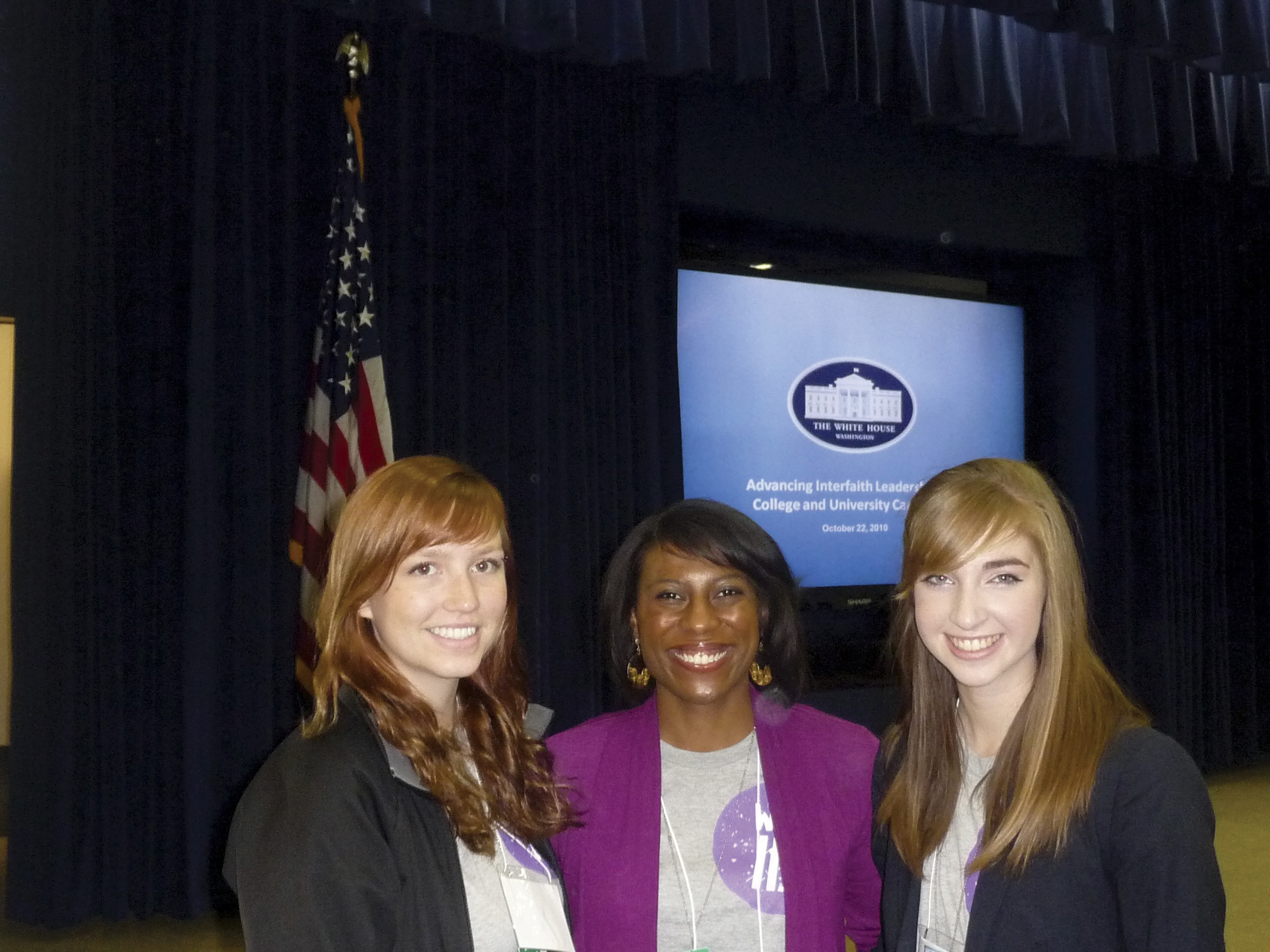 On Oct. 22 through 24, Puget Sound students Adriana Flores and Mary Krauszer had the opportunity to attend the highly anticipated White House Interfaith Leadership Institute, a conference sponsored by Eboo Patel's non-profit organization, which took place in Washington D.C.
The event was comprised of leadership training sessions focused on equipping students with the vision and skills to make interfaith cooperation a priority on their respective campuses.
Patel shed light on the need for interfaith dialogue on college campuses with his talk titled "Acts of Faith: Interfaith Leadership at a Time of Global Religious Crisis," which kicked off this Puget Sound's 2010-2011 Swope lecture series in September.
His lecture underlined many of the core values of Puget Sound's Interfaith Council, a student club that works to create a safe space for students to come together and engage in conversation about their spiritual identities and/or non-theistic value systems. As Interfaith Coordinators, Flores and Krauszer are active in Interfaith Council and have been involved in many interfaith initiatives on campus this year.
"As American citizens, it is inevitable that we will interact with people of other faiths," Flores said. "We need to get an interfaith conversation going so that we can learn not only how to cooperate with each other, but how to work together and benefit from our relationships."
Patel's visit to Puget Sound prompted an alliance between the University and Interfaith Youth Core (IFYC), the non-profit of which Patel is founder and president. As a result, IFYC invited three members of the Puget Sound community to attend their highly anticipated conference.
In organizing the event, IFYC was given the opportunity to partner with the White House Office of Faith-Based and Neighborhood Partnerships. This alliance and top-down interest in interfaith initiatives was encouraging for many conference attendees such as Puget Sound's Director of Multicultural Student Services, Czarina Ramsay.
"It's thrilling to see that the value of religious pluralism is a White House priority, and that the government is committed to providing resources to the youth of America to spread it," Ramsay said.
IFYC's objective is to introduce a new relationship of mutual respect and collaboration between young people of differing religious traditions. The non-profit put together the Interfaith Leadership Institute in hopes of tapping into the power of our country's youth to combat the religious bigotry and polarization plaguing America today.
"Interfaith dialogue and awareness is crucial because there is such a negative narrative in the media about religious expression right now," Flores said. "It's important to me that other students understand that this bigotry is unacceptable, and that we need to be the ones to start fighting it."
As a result of their conference attendance and their positions as Interfaith Coordinators, Flores and Krauszer will be expected to implement what they learned on the Puget Sound campus starting next semester. Although plans are not yet concrete, the girls will start by focusing their energies on spreading awareness and knowledge about the interfaith issue.
"There is an anti-religious stigma on our campus," Krauszer said, "and I think it causes a lot of students to feel uncomfortable discussing their, or anyone else's, religion."
It is this stigma that Krauszer and Flores hope to elucidate and combat. "Before our campus can become more active in interfaith initiatives, we need to become conscious of our unwillingness to engage in religious conversation," Krauszer said.
According to Ramsay, the University has instituted a healthy resource structure concerning spirituality and multiculturalism, and Puget Sound Interfaith Council members are very active and passionate. However, she sees room for improvement in the sensitivity of the campus community.
"The University is invested in cultivating a healthy atmosphere for interfaith cooperation here, and staff members, Chaplain Dave Wright in particular, work so hard to promote these initiatives with students," Ramsay said.
But these initiatives can't be successful without student participation. "It's so important for students to be aware of the differing roles that a spiritual presence has their lives and in the lives of their peers," Ramsay said. "This awareness is crucial in helping students feel comfortable interacting with each other and working cooperatively."
The Interfaith Council is always looking for input from students whether or not they prescribe to a religion. If you have comments or questions about the Council or are interested in getting involved, email Mary Krauszer at mkrauszer@pugetsound.edu.
To stay up to date with the Council's initiatives, sign up for their bi-monthly newsletter by emailing sssj@pugetsound.edu.
[PHOTO COURTESY/ CZARINA RAMSAY]