Unexpected benefits of rat infestation: love?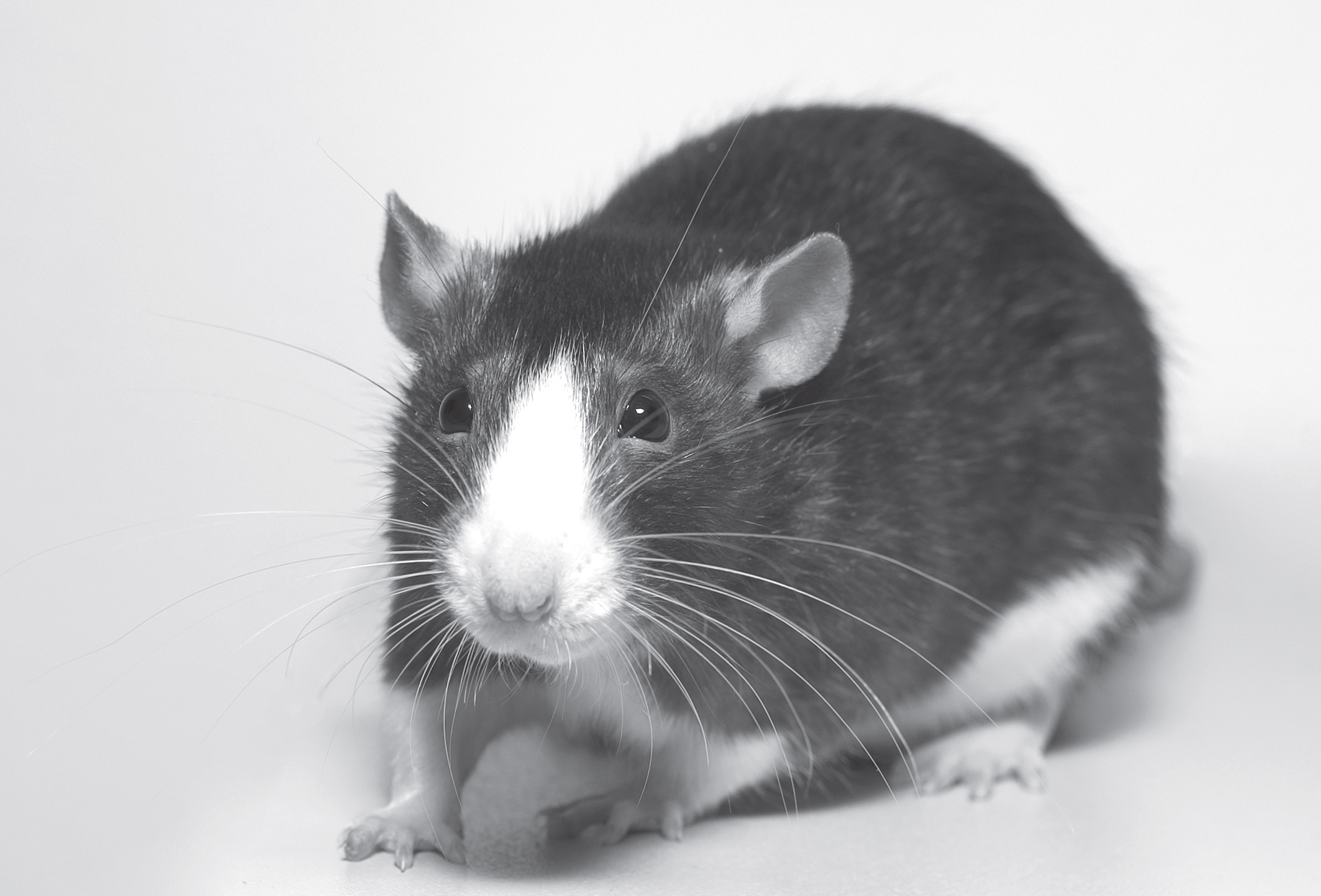 Pictured: Charles, sporting a "casual Friday" look. What a little scamp!
By Pagliaccio
in its article publicizing the vermin outbreak in on-campus houses. Further, the journalist only told the story from one side, and wrote a fabricated narrative.* The article implies that the rats were an unwanted addition to the households, and they might be to some of the residents. One source approached The Combat Zone to tell their side of the story. Pedro Murinus, junior chemistry major, explains the relationship he had with one special rat.
"Charles and I met when I first saw him in my basement," Murinus said with a gleam in his eye. "Charles loves studying the effects of catalysts on salt reactions. And boy, wasn't it just my luck Charles was rushing through the plumbing right beneath our basement. He emerged from the toilet in our basement just as I was going down to the basement to cry because I did not think I could complete my lab report in time. Thankfully, Charles was able to help me by analyzing my data. He also came with me to organic chemistry lab several days later. We established this system where he would pull on my hair or on my clothing to assist me in titrating chemicals or calculating my results."
Pedro's chemistry lab professor was aware that something had changed in his student, but could not quite place it. "Pedro would always be whispering to himself, almost to his back collar. His lab grades radically improved, so really I couldn't complain," Dr. Michelin explained. "And now you're telling me he had a rat in there the whole time? You know, can't say it surprises me, especially since we have been missing the ingredients we use for the food chemistry lab. Pablo's lab partner Maria Martinelli also noticed a change in Pablo's behavior. "I let Pedro do most of the work since he understood what we were doing. I noticed all of the bite marks on his neck, but I assumed that was just from a fun night or something. During a lab once, he kept hitting the counter with his hand over and over again." According to Pablo, that incident came from Charles scratching himself and Pablo interpreting that as the "put hand down" signal.
Pedro also told The Combat Zone about Charles helping him get a girlfriend in a hilarious style of courting where Charles helped him woo the girl! Charles would whisper what Pablo should say to his girlfriend on dates, which led to a quirky mishap when Pablo realized she had fallen in love with Charles and not him. "I don't mind that Jessica left me after learning about Charles. He's more charming and smart — who wouldn't fall for him?" Pablo said with a twinge of remorse. When reached for comment, Jessica said, "What? Of course I didn't leave Pablo because I loved the rat. I left him because he was talking to a rat!"
Charles, too, found love in one of the rats from the Psychology department experiments. The couple is now on honeymoon to the dumpsters behind the Metropolitan Market and therefore are not available for comment. But Pablo, the best man at the wedding, sings nothing but praises of Charles' character and integrity. "He's a real goofball. I gave him a lot of artistic liberty in controlling my life. After the whole girlfriend thing worked out, I let him tell me what to say to my mother, and he even gave me signals when I was testifying in court to protest a parking ticket." Upon questioning if Charles was controlling his words during the interview for this article, Pablo declined to comment. Pablo says that he and Charles also enjoy cinema together, and the next movie on their list is "Ratatouille," because they both love food and heard the movie has lots of food featured.
Since the breaking of the rat infestation story, more news of animals around campus have come to light. Facilities tells The Combat Zone that the Rotunda is now infested with bats, one of whom helped student Jessica Waters learn how to cook lasagna. The fish in the swimming pool taught senior English major Felicia Daly how to tap into emotional memory. And most important of all, a great grizzly bear taught all of us how to love.